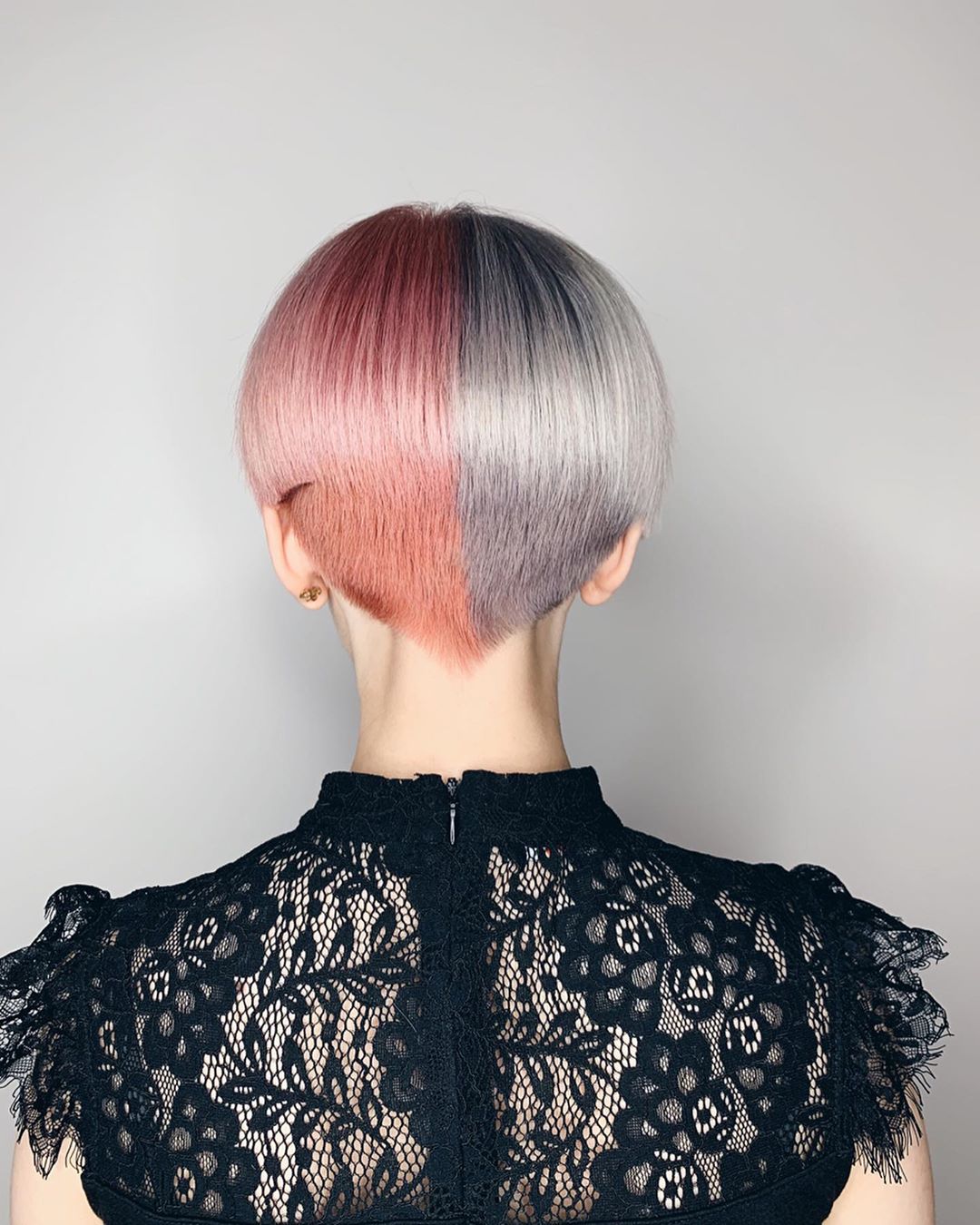 10 Chic Short Pixie Haircut & Color Options for Fashion Fans
Chic, short pixie haircut and color options could change your whole image. Are you ready for half 'n' half color designs – they are incredibly chic. Or perhaps you've always wanted to try rich, copper brown – or blue roots on a silvery ash-gray short pixie haircut. Maybe you're just looking for a trend-setting short haircut and a hairstyle makeover. Whatever you're looking for today, you'll get some fabulous inspiration for today's amazing gallery of new looks!
1. Coral-pink & gray half 'n' half – chic short pixie haircut & color
Warm coral-pink and gray with a a hint of lavender look super together in this contemporary short haircut. The main style is a perfectly-groomed basin cut with lots of layers creating a lovely curved into the nape. There's a carefully cut V-shape at the nape, which softens the line and adds even more interest in this fabulous dual-color pixie haircut!
2. All-over chocolate brown – chic short pixie haircut & color
This simple layered short haircut is full of texture and volume, so it works best on medium to thick hair types. It's cut in special, 'sliced layers' which are used to cut vertical layers with tapered points, so all the bulk is removed from the ends of thick hair. The blurred side-part is styled to give an asymmetrical vibe and a cute, curved fringe covers most of the forehead. The profile shows how the hair radiates out from the crown to give an attractive round silhouette. And short side-points frame the eyes!
3. Silvery ash-blonde asymmetric – chic short pixie haircut & color
This short, pixie-bob hairstyle is a classic asymmetrical haircut that is always flattering and fashionable. But it has beeen beautifully brought up-to-date with the eye-catching, silvery-ash-blonde all-over hair color. The roots are a shadowy gray shade, and there's a very subtle touch of beige-blonde balayage in the long, side-swept fringe. The small quiff adds attractive height that accentuates the model's nicely shaped forehead and the ears are almost covered to soften the look. And the casually tousled finish adds volume to fine hair in a trendy, relaxed and classy look!
4. Blue roots on silver-gray – chic short pixie haircut & color
I love to see the new root colors that are chosen to match the whole hair-color design. They're futuristic and more attractive than the black roots fashion that could look quite harsh. These blue roots have been perfectly matched by an expert colorist and the transition into silver-gray is done very gradually for a soft vibe. The asymmetrical side part is swept across the head with defined strands left to form a light fringe. And edgy disconnected layers create a trendy peek-a-boo look over one eye!
5. Super-short lavender haircut
This haircut focusses lots of attention on the face and creates an open, relaxed image. It's a great choice for an oval face and fine hair. The short layers can easily be styled forwards or sideways across the head to vary the look. And a micro-fringe softens the hairline above the model's well-shaped forehead, while side-points soften the look of hair shaped to display bare ears. Cute natural volume is created at the crown, where the hair stands up naturally. And the whole image is of high-fashion and fun!
6. Textured mid-blonde short haircut on heart-shaped face
Heart-shaped faces tend to have a wide forehead and a narrow, well-defined chin. And you can use a haircut like this to balance the face shape towards a more oval shape. The stylist has cut the hair into lots of layers to give fabulous texture and cover the whole forehead.  And the forward styling finishes in a casual, tousled fringe, with a cute, uneven line. The sides are also used to cover the corners of the forehead and soften the profile. This helps offset a large forehead and a strongly defined chin and jawline. The dual tones of medium and old-gold look classy and add volume to a fashionable, modern haircut.
7. Glam light ash-blonde with long textured messy top
This glamorous short haircut is full of fantastic contrasts that come together to create a flattering, contemporary look. The back and sides are trimmed into short layers that lay flat against the head in neat lines. But the top section is cut in long layers arranged in a windswept, but well-balanced, shape that adds volume, texture and tons of lively movement! The deep side part adds trendy asymmetry and the unusual side fringe has disconnected layers that cover half of the forehead. It's a trend-setting look that's easy to style!
8. Ash-blonde & black basin cut with wispy nape
Black and white hairstyles have always had niche appeal, but they are becoming more popular this season. And the newest way to wear these contrasting colors is to have all the underlayers colored black, with the top layers lightened to a fashionable ash-blonde. This trendy basin-cut has lots of interesting twists. For example, the top basin-cut layers are long and the same length, except for a cute V-above the nape. But underneath there are wispy layers of black that create an uneven finish, which contrasts in color and cutting style!
9. Four views of a short haircut in violet, gray & silver-blonde
This trend-setting haircut is full of creative contrasts that give it lots of edgy style! The closely-cut nape contrasts with the long, side-swept, extra-long fringe. And the back has ultra-violet balayage, contrasting with the silver-gray blend on the top and front. Natural height at the crown comes from cutting the hair short and styling it upward to make an irregular line of volume from the front view. But the front is kept fairly flat to the head! The whole haircut shows-off a well-shaped head and lots of different textures, too!
10.  Rich copper-brown asymmetrical bob
This rich, copper-brown shade is such a classy, and different color, which always makes the wearer stand out from the crowd. And the beautifully-shaped short, asymmetrical bob works well on medium to thick hair, as you need natural volume up around the temples. The off-centre part suits oval and round faces, as the diagonal line from the forehead down to just below the chin adds length to a round, symmetrical face. And wispy, asymmetrical tips around the mouth and chin make the jawline appear slimmer!