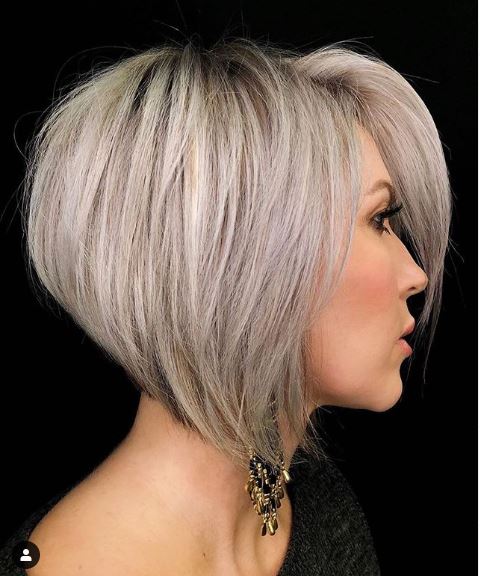 10 Trendy Short Haircuts for Thick Hair
Thick hair can be tough to pull off for women with short hair. Short haircuts can look bulky if not cut and styled in the right way. However, if you have thick hair and want to go shorter, don't lose hope. A flattering short haircut is definitely achievable for women with thicker hair types.
These trendy short haircuts are designed to accommodate women with thicker hair types. If you have thick hair, you can pull off one of these haircuts without getting your hair thinned out too much. You can keep your thick hair and rock one of these fashion-forward styles. If you're considering cropping your thick locks, check out these 10 trendy short haircuts for thick hair before making your next salon appointment.
1. White Blonde A-Line Bob
White blonde hair and A-line bobs are two of the top trends on the world of women's fashion and hair.
This cool white blonde A-line bob combines these two top trends into one ultra-stylish look. Its layers extend down to your chin to frame and flatter your face while cutting out unnecessary bulk.
2. Subtle A-Line Bob with Balayage
Balayage can be tough to pull off in short styles, but this chin-length bob with balayage proves that it can be done–and done well.
This bob features subtly angled layers that frame your face without cutting down your styling options. You can style this low-maintenance cut to be straight, wavy, curly, etc. It's easy to pull off a variety of styles–from sleek and pin-straight to beach-y waves–with this ultra-versatile bob cut.
3. Short Platinum Blonde A-Line Bob with Side-Swept Bangs
This white blonde cut A-line bob is super short and super low-maintenance. Its cropped layers frame your face with angled lengths that follow your jawline.
The back of this A-line bob is cropped at the nape of your neck, but its front layers extend down to between your chin and shoulder with long side-swept bangs. You have plenty of styling options with this bob, but it's also extremely low-maintenance and quick and easy to style in the morning.
4. Blunt Blonde Bob with Shadow Root
This classic blunt blonde bob rests between your chin and shoulders, and it's the perfect cut for women with thick hair–although it may require some thinning out of your hair to pull off, depending on your hair type.
An elongated shadow root adds dimension to this cut and helps prevent it from looking too flat or too bulky. Plus, this shadow root adds a natural-looking finish to this cut and extends the amount of time you can wait between salon visits.
5. Ash Blonde Pixie Bob
A pixie bob is a haircut that has elements of both a pixie and a bob. Its length is usually somewhere in between your ears and your chin, like this elegant ash blonde pixie bob.
Glamorous and sophisticated, this pixie bob is ideal for thick-haired women with its many versatile layers. The layers of this pixie bob cut fall at the nape of your neck in back and extend down to a few inches below your chin in front. This unique cropped cut also features longer side-swept bangs that help frame and flatter your face.
6. A-Line Brunette Lob
This unique bob is cropped at the nape of your neck in back but extends down past your shoulders in front.
The diverse asymmetrical layers of this A-line bob add dimension to this cut. This bob's longer layers in front also give you more styling options, but its shorter layers in back keep this cut low-maintenance.
7. A-Line Auburn Bob
This A-line auburn bob is perfect for any woman with thicker hair. Its angled layers extend from the nape of your neck in back to between your chin and shoulders in front.
These angled layers remove the bulk from your hair and keep this cut low-maintenance without requiring much thinning.
8. Chin-Length Blunt Bob with Highlights
Blunt bobs are ultra-flattering for a wide range of face and hair types. The cropped layers of this chin-length blunt bob are ideal for women with thicker hair types who want to pull off a shorter cut.
Platinum blonde highlights add dimension to this brunette cut, so you can style it to be sleek and straight without worrying about it looking flat or dull.
9. Blunt Purple Pixie Bob with Undercut
This one-of-a-kind hairstyle is bold and eye-catching. A deep shade of dark purple adds impossible-to-ignore flair to this already attention-grabbing haircut.
The short, blunt-cut layers of this cropped bob extend down to the bottoms of your ears, and it features an undercut shaved back. Blunt bobs can look heavy on thick-haired women, but this cut is ideal for thicker hair types because its undercut cuts out bulk from its blunt layers.
10.  Wispy Auburn Pixie Bob
This wispy auburn pixie bob has plenty of volume, but no high-maintenance unflattering bulk.
Its light auburn color blends perfectly with its lightweight layers to create a fun, flirty look that is perfect for all hair types.