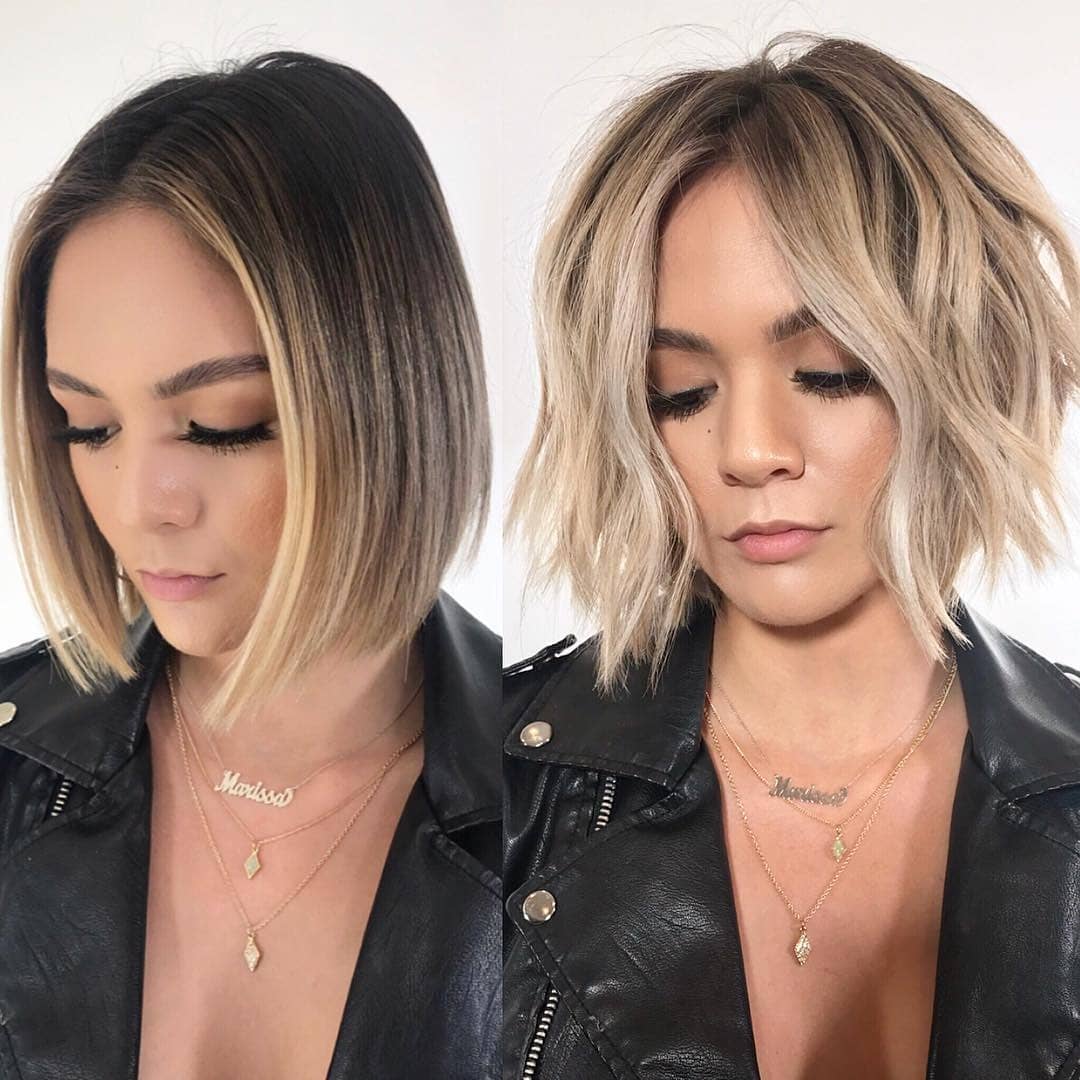 10 Casual Modern Short Hairstyles for Women
Casual short hairstyles are famous for being at the cutting-edge of trendy haircuts! They make it easy to manage your hair and can be expertly shaped to highlight, or hide, individual facial features. And an up-to-date casual short hairstyle is a great way to wear the latest high-fashion hair colors!
1. Two styles on one short haircut – casual short hairstyles
Most of us love to change our style to suit our mood and short hairstyles make it easy to vary your image. The center-part smooth bob haircut frames an oval face and its simplicity draws attention to the eyes, lips and complexion. But you can also style this short bob haircut to project a lively, party vibe. With bendy waves and spiky tips styled forwards, the look is lively and totally trendy!
2. Side-swept back with white highlights – casual short hairstyles
This is an adorable new twist on the short bob haircut with several cute new features. The side-swept back adds loads of extra style and the oat-white blonde highlights create a fabulous, eye-catching color design. And peeking out at the nape is a pretty, underlayer shaped into a cute tip in the center. Love the clever blend of brown, iced-brown and soft white here!
3. Messy asymmetric glamor – casual short hairstyles
If you prefer a relaxed style that lasts for hours without losing its appeal, try this. It's a fashionable asymmetric bob haircut, draped to a couple of inches below the chin. The casual quiff blurs side-part and adds attractive height to off-set a round face or low forehead. Layers are styled for spiky volume and the blonde over brown hair color design is super-fashionable!
4. Edgy white-blonde casual short hairstyles for large nose
These styles show how to cut hair to draw attention away from a large nose! The longer style hides the profile and lacks extra shape at the back to balance the nose. Never style hair in a forward curve that emphasizes the 'forward' shape of the nose. Instead, add balance with volume and shape at the back and various textures. And hair in backward-facing curves shifts attention away from the nose!
5. Rich fantasy green shades on long pixie haircut
Green can add tons of contemporary style to a long, pixie cut. The hair has long layers on top to get lots of shape and movement in tousled strands. The side part is blurred to avoid any strict lines. And the gorgeous hair color design has dark, fir-tree green roots that lighten up to peppermint, with pastel-green balayage. Suits skin with cool undertones and fine/medium hair.
6. Sexy unstructured medium bob with surface waves for long face
This casual short haircut is perfect for a special date when you want a relaxed, but glam look. The deep side-part creates a daring sweep of hair across the face that will make you look mysterious and 'shorten' a long face shape. Lots of windswept volume at the sides adds balancing width to a long or thin face, too. And the rich, deep rose-red shade is incredibly sexy!
7. Cropped bob with center-part in beige & bright blonde
The cropped 'unfinished' vibe of this center-part bob complements the model's natural makeup look very well. And as the fabulous, baby-blonde shade is so eye-catching, it's best to show it on a simple style. The roots are mid-golden beige-blonde, softening the color design. And the slight bendy waves create a face-flattering frame. Easy to style and very attractive!
8. Fancy asymmetric bob with waves & head braid
For a party or dinner-dance it's easy to jazz up a casual short hairstyle to an eye-catching special look. Adding a head-braid always adds interesting texture and this asymmetric bob has a short undercut section on one side, too. The contrast between coffee-brown roots and the beige-blonde highlights adds 3-D color depth. And loose, tousled waves complete a cute party look!
9. Ice-cool chic in silver pixie haircut with bangs on long face
This bowl-cut is trendy pixie haircut that really accentuates the brows and eyes beautifully! The model has a slightly long face, but a deep, straight-across fringe covers the forehead and 'shortens' the face. It also keeps all of the attention up on the centre face and the gorgeous, silver-blonde top. Tousled styling adds interesting texture and color-depth to a very flattering haircut!
10. Electric-blue & lime-green fantasy short haircut
Break free to show your amazing personality and love of color, with this is stunning hair-color idea! The long pixie-cut is short at the nape, with long layers on top. The curved volume around the crown creates a fab profile and the separated, swept-across fringe softens the line. And for an ultra-fun look, wear the strands up in extravagant blue and green spikes!
These days, there are so many different ways to wear casual short hairstyles that you're definitely spoiled for choice of trendy cuts and color!