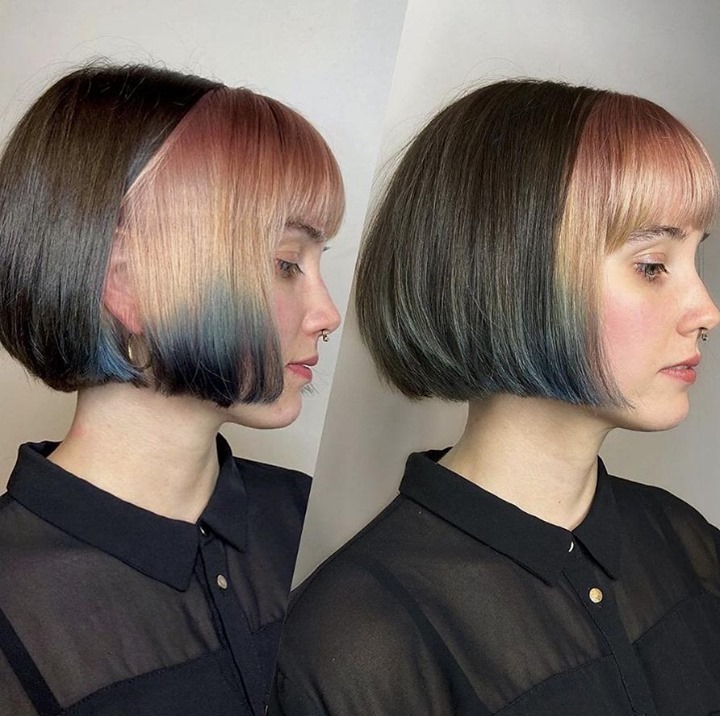 10 Short Haircut Designs for Straight Hair – Color Me Trendy!
Short haircut designs for straight hair keep your hair in excellent condition, which is a vital part of your beauty look. Dry and broken hair shafts from over-use of hot curling tools ruins the look of your hair and is quite ageing. So if your hair isn't looking its shiny best at present, perhaps you should consider a makeover to a short haircut and cut-off all of the damaged ends. These ten ultra-modern looks show how to add volume, texture, movement – and fantastic color – to short, straight hair!
1. Chic peek-a-boo hairstyle in lavender-blonde – short haircut designs for straight hair
Short back layers, and long layering from the top, combine to create this alluring look for medium to fine hair. The stylist has combed the hair fashionably forward to cover the forehead and one side of the face, before curving in to the jawline. And this creates an attractive peek-a-boo vibe that's incredibly chic. The asymmetry is extreme, giving an edgy image, with the short side left darker to create even more contrast. And the lovely, soft lavender and platinum blonde color makes the whole look gorgeously contemporary!
2. Neat & natural brunette angled bob – short haircut designs for straight hair
This sleek, straight short bob haircut is incredibly easy to style, so it will stay in great condition. The deep, straight-across fringe covers a high forehead and the stylist has softened the line by cutting choppy tips. The back is cut about 1 1/2 – 2 inches shorter to create an attractive graduated line just below the chin. The fringe and face-framing sides flatter the face, and clean, profile lines show off the model's neck. And the stylist has added 'comb-line' texture plus subtle vertical highlights for a lovely, natural look!
3. Cute platinum-pink blonde bob – short haircut designs for straight hair
Centre part bobs are very popular this season and flatter oval faces. And the stylist has designed this short bob haircut to be easy-care and trendy! So the length is just a couple of inches below the chin, which is a great length for medium and fine hair. Any longer, and fine hair can look thin and flat. But this length lets you get plenty of volume from a tousled finish. The stylist has kept the thickness by only adding layers and texture at the ends. And lavender-pink shades add texture and color depth for a super-cute look!
4. Rounded back inverted bob with cherry-pink tips -short haircut designs for straight hair
This classic 60's haircut is such a flattering hairstyle for all ages and many face shapes. It can be worn with a center part for an oval face, or with a side part to balance out other face shapes. You need medium – thick hair to get the full rounder volume at the back and a stylist who knows how to cut 'sliced' layers for thicker hair to be thinned out at the tips. The modern twist comes from mixing warm, golden-beige-blonde vertical highlights and a cool, deep cherry section one one side!
5. Super-straight beach-blonde choppy bob
This bright, white blonde color and warm beige roots adds lots of summer-sun bleached personality to this straight style. The stylist has made a trendy feature of the tips, by making them both straight and choppy and heavily textured for a shattered finish. And the sides have shorter layers to soften the line between the chin and collar-bone. But the colorist has created fantastic 3-D texture with the hair color design, which features mid-beige roots beneath surfer-blonde lengths! Suitable for medium – fine, fair hair types.
6. Radical hair color in rose-gold, golden-beige & indigo on coffee-brown short bob
This is a fabulously trend-setting hair-color idea that adds wonderful color dimension to a natural, straight short bob! The all-one-length cut is expertly layered in the final inch or so, for a concave curve that hugs the jawline. And instead of 'under-cut' detailing, the colorist has used 'under-color' blocking for a truly original new look. So underneath the top layer at the side, you can see retro-pink, changing to rich, golden beige, and then inky-indigo blue! And a lovely soft, rose-gold fringe!
7. Sunshine yellow, pink and beige-white blonde on short layered hairstyle
This gorgeous hair-color design is suitable for skin with cool undertones. And you can see how beautifully the cool blonde sections around the eyes and cheeks bring out the lovely blue of the model's eyes. This layered cut is suitable for medium to fine hair, which is light and fluffy to get attractive volume. The stylist has cut the hair to create a rounded silhouette that echoes the model's nicely shaped jawline. And with pink, canary yellow balayage blended with pink-beige-blonde, this is a very pretty and youthful look!
8. Icicle-white windswept short bob with side-swept long fringe
This is another easy-care way to wear medium – fine hair, without going too short. The bob finishes at chin-level and that's one of the most flattering hairstyles for a range of face shapes. At this length, fine hair isn't weighed down and will fluff up nicely to give attractive natural volume. The side part and long, side-swept fringe cover up a high or wide forehead and spiky tips add an edgy vibe. And fair hair can be lightened to this sensational ice-blue, white-blonde color for a high-fashion look for skin with cool undertones!
9. Undercut basin-cut with blue-green hair-color design
This classic bowl-cut has several high fashion features that lift it right up out of the ordinary range of haircuts! First of all, the short, buzzed side points suggest an edgy punk vibe. And then disconnected layers are swept forward over the fringe to add shaggy, uneven finish covering the eyes. But the great shade of blue-green with an overlay of drab-green-blonde balayage makes this an outstandingly original look!
10. Mary Quant retro-bowl-cut with blue & green balayage
Neat, strong lines make this classic hairstyle a favorite with trendy women year after year. And every season, clever hair designers come up with a special twist to make the look at the forefront of contemporary high-fashion. This seasons version features a long, curved line from ear to ear and no side points. So the look is very clean and symmetrical. But to keep up to the minute with trend-setting hair colors, there are fabulous color splashes in the fringe in peacock colors of blue and green!