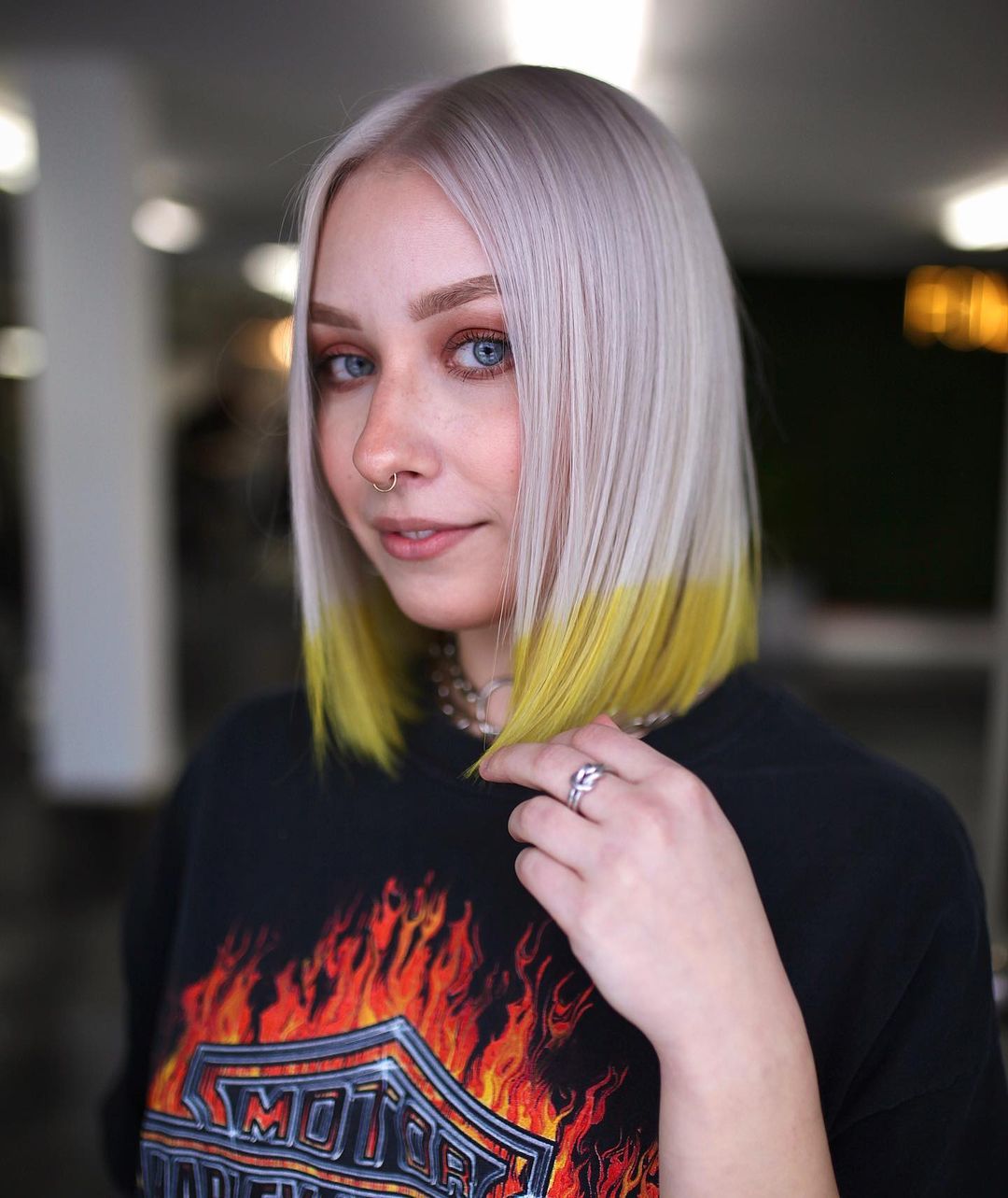 10 Inspiring Lob Hairstyles for Women – Color Me Trendy!
It's that time again, when the new season's inspiring lob hairstyles for women have just been revealed! And they really are better than ever, with so many twists and new color ideas to keep you're beauty-look fresh and attractive! The lob is a versatile long bob haircut that can be worn straight, curly, messy or smooth, so take a quick look at what's new for you!
1. Beige-pink-blonde inspiring lob hairstyle for women
This new blonde shade is an expert combination of pearl, beige, white and pink to produce a romantic, pretty shade. The roots are light-beige to give extra 3-D texture and volume and there are gleaming pearly balayage highlights catching the light. The haircut is a slanted long bob, which is suitable for medium and fine textured hair. And it has a trendy center part to accentuate the model's oval face shape. Blunt-cut, textured tips add volume at the ends and the wavy, tousled finish creates a casually chic finish!
2. Subtle half 'n' half color with fringe – inspiring lob hairstyle for women
Half 'n' half styles don't have to be bright fantasy colors, you can wear subtle shades and create a casually trendy look. This is a slightly shaggy look that's suitable for medium to fine hair, that's not thick enough for a totally shaggy haircut. The talented colorist has actually used about four or five different shades that are very close together in tone, so the effect is soft and appealing. The full fringe covers the brows and the corners of the eyes, which the stylist has cut in longer layers to soften the line around the face. This type of fringe is great for covering up any lines at the outer edges of your eyes!
3. Party pink, golden-beige & purple fantasy colors – inspiring lob hairstyle for women
This is a show-stopper fantasy hair color design that's full of color, texture and movement. And it's also decorated with a hair-slide accessory to add even more interest at the back. The top layer and roots are purple, with a layer underneath of golden-beige. This transitions into a lovely raspberry shade on the curvy lower waves. You get a real kaleidoscope of colors depending on how you style this fabulous look, which can be worn up or down and in lots of different wavy or straight hairstyles. It's definitely a great choice for a party or a night-club!
4. Casual & natural mid-blonde haircut – inspiring lob hairstyle for women
This hairstyle is suitable for medium to fine hair, as it combines the silky texture of fine hair with all the tricks to make hair appear thicker. The waved hair falls casually around chin-level, which is one of the most flattering lengths for most face shapes and age groups. The blend of blonde and light-brown shades have been applied by a talented colorist to produce subtle color highlights in flattering golden-blonde next to the face. There's no actual parting, just a little quiff giving extra volume on top and an alluring peek-a-boo swathe of softly waved hair. Just add a touch of tousled finish for a relaxed and naturally trendy look!
5. Brunette bob with vertical coral-pink & beige highlights
Combining brown base with different shades of beige and coral pink totally changes the image of brunettes. It's not 'bronde', blonde-streaked, or copper balayaged or any of the recent new hair-color options. So if you enjoy being a trend-setter, this is a great new makeover style to choose. The lob haircut is slanted down steeply from the back and the hair is not layered, except for the heavy texture cutting to produce wispy tips. And one long, surface wave adds movement and style to show-off the 3-D color dimension.
6. Ash-blonde sleek medium haircut with yellow border
This simple hairstyle is easy-care, but still extremely trendy because of the fabulous new hair-color design! Ash-blonde from a center-part frames the face with a flattering cool shade that really accentuates the model's lovely, blue eyes. And although you may not think it, trendy yellow is also a cool color that complements skin with cool/neutral undertones. So the colorist has made great choices to create a simple to care for, everyday bob hairstyle for fine hair – that's also totally eye-catching and high-fashion!
7. Romantic & feminine long bob hairstyle in light-brown with mauve & copper balayage
Here's a gorgeously attractive wavy haircut that's perfect for a heart-shaped face. The off-centre parting has a little quiff to add height, and match the shape of the narrow chin. And the waves on either side are perfect if you want to minimise a broad forehead. The sides are styled off the face and there's hair volume around the chin, which makes a narrow chin appear broader. So after the stylist has cut a face-flattering hairstyle, the colorist has added beautiful touches of balayage in mauve, copper, blonde and beige to complement the model's attractive brown eyes and skin tone!
8. Orange-coral waved mid-length hairstyle
This trendy hairstyle is also easy-care and will stay looking great all day. The slanted lob hairstyle can be worn in lots of different styles up in various types of bun, knot, or braid and down, half-up, straight. So you never get bored with looking the same every day! And if you like to look special, but don't want to spend hours styling your hair every day, a simple style like this in a bright high-fashion color attracts attention without needing hardly any attention!
9. Ash-blonde with yellow and blue margin colors
This natural-blonde lob has been transformed with fantasy hair-colors to create a futuristic and original look. It has a trendy center-part that suits oval faces. And the face-framing waves are highly fashionable canary yellow, which fades in intensity as it moves down the strands. Another new technique has been added by the colorist in the horizontal band of yellow in the underneath layers half-way down the head. Finally, the bottom edge is a beautiful mid-blue, which accentuates the heavily textured tips on a stunning and edgy haircut!
10. Deep rich copper-brown with orange balayage
The deeper shades of copper have become one of our favorite colors for the new season. They brighten up brunette hair, without having to use lots of bleach to create blonde highlights. And that protects the health and good condition of your hair. It has always been one of my favorite colors and I'm delighted to see more women embracing this rich and unusual color. It's the latest high-fashion choice for women with naturally dark-blonde, mousey-brown and brunette hair!
Anyone who want to share your hair ideas or any beauty tips, please email us and we will publish it for free if your article meets our guidelines. And you can write articles for the fashion, beauty website: her style code, which also accepts guest posts recently.