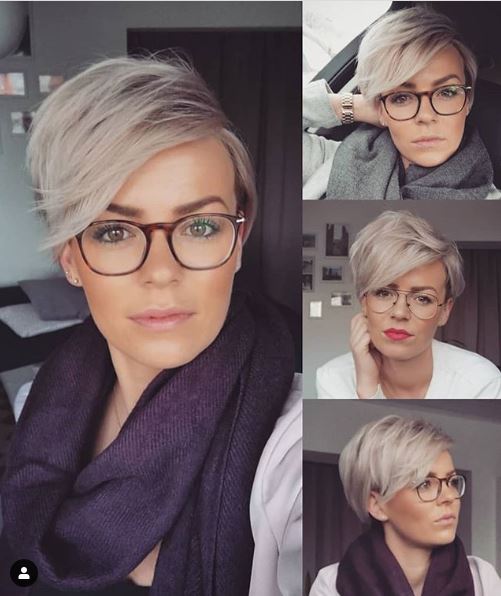 10 Trendy Office-Friendly Short Hairstyles for Women
If you're like most working women, you probably spend somewhere around eight hours a day, five days a week in your office. You probably spend more of your waking hours in your office than you do in your own home. That's a lot of time to spend in one place, so you might as well look and feel good while you're there.
These 10 low-maintenance short hairstyles are designed specifically to wear to the office.  They blend trendiness with professionalism to create the perfect office-friendly styles that are ideal for any professional environment. Plus, they are all very quick and easy to style–which comes in handy on mornings when you're groggy or running late for work. If you have short hair and are  in need of inspiration for styles to rock in the office, check out these 10 short office-friendly hairstyles for women.
1. Curled Ash Blonde Pixie Cut
Ash blonde is currently one of the trendiest hair colors, and this pixie pulls it off perfectly with its cool-toned finish.
Ringlet curls adds much-needed volume to this sleek pixie cut and keeps its layers from falling flat while still looking pretty and polished with plenty of luminous shine.
2. Long Platinum Pixie Cut with Deep Side Part
Keeping some length in your pixie cut like in this long platinum pixie helps your style retain flirty, feminine flair as well as volume and dimension.
This sleek pixie features cropped layers that blend into smooth, shiny long side-swept bangs with an asymmetrical part for added eye-catching style.
3. Short Strawberry Blonde Bob with Shaved Sides
Strawberry blonde is a timeless shade that will turn heads wherever you go. It's an impossible-to-deny color that still looks natural enough to rock even in work environments with stricter rules about unnatural hair colors.
This strawberry blonde bob keeps it simple and clear-cut with voluminous top layers and shaved sides that balance out the volume on top for a sleek finished style that looks polished as well as bold.
4. Spiky Platinum Blonde Pixie Cut
Spiky styles can be tough to wear at work, but this platinum blonde pixie cut proves that you can pull off subtle spikes in a professional setting.
This platinum pixie cut features tousled layers on top with smoother layers at the sides and bottom to create a balanced look that is also ultra-versatile.
5. Short Curled Brunette Bob
Neat curls add polish and professionalism to any hairstyle, including this short brunette bob.
You can style this versatile, short bob in many ways with office-friendly results. Wear it sleek and straight for a subtle and polished finish, or curl it into shiny ringlets that show off the dimension of this cropped cut.
6. Short Piece-y Blonde Bob with Long Side Bangs
Tousled hair can be tough to rock in a professional setting, but this short piece-y blonde bob shows that it can be done–and done well.
This platinum blonde bob features tousled layers and long side bangs that add volume and dimension to this cropped cut. Shorter, face-framing layers in front prevent this cut from looking overly messy and give it a subtle sleek finish that's perfect for the office.
7. Short Asymmetrical Gray-Blonde Pixie Cut with Shaved Side
Ash blonde, silver blonde, gray blonde, and virtually any variation of a cool-toned blonde shade are all very in style according to the current trends for women's hairstyles and fashion.
Shaved sides and undercuts are also currently topping the trend charts. This means that this gray-blonde pixie cut with shaved sides gets extra trend points. This pixie is daring yet cute and flirty yet polished, making it the perfect office-friendly hairstyle for a professional setting.
8. Sleek Angled Blonde Pixie Cut with Micro Bangs
Trendy and office-friendly styles are all about blending sleekness and polish with bolder accents that define these trendy hairstyles and give them their one-of-a-kind character.
This sleek angled blonde pixie cut embodies this ideal balance. It features asymmetrical angled layers and micro bangs, all of which are polished with a sleek finish. Pair this asymmetrical pixie with a bold lip like the red lipstick in the picture above for an attention-grabbing finish.
9. Classic Brunette Pixie Cut with Long Side Bangs
Long side bangs add polished professionalism to any hairstyle–including this classic brunette pixie.
Subtle highlights give this brunette pixie cut dimension and help it appear more voluminous. Angles and pointed layers add dimension and help balance out the sleek finish of this pixie with daring, feminine flair.
10. Undercut Brunette Pixie with Side-Swept Bangs
You might be concerned about showing off a bold undercut in your office. However, this undercut brunette pixie blends together sleek, polished style with a daring undercut. This creates a balanced, office-friendly look that can't be described as unprofessional.
This undercut brunette pixie features sleek, side-swept bangs and smooth layers. Its layers drape neatly over its eye-catching undercut in back to add balance and polished professionalism to this daring style.