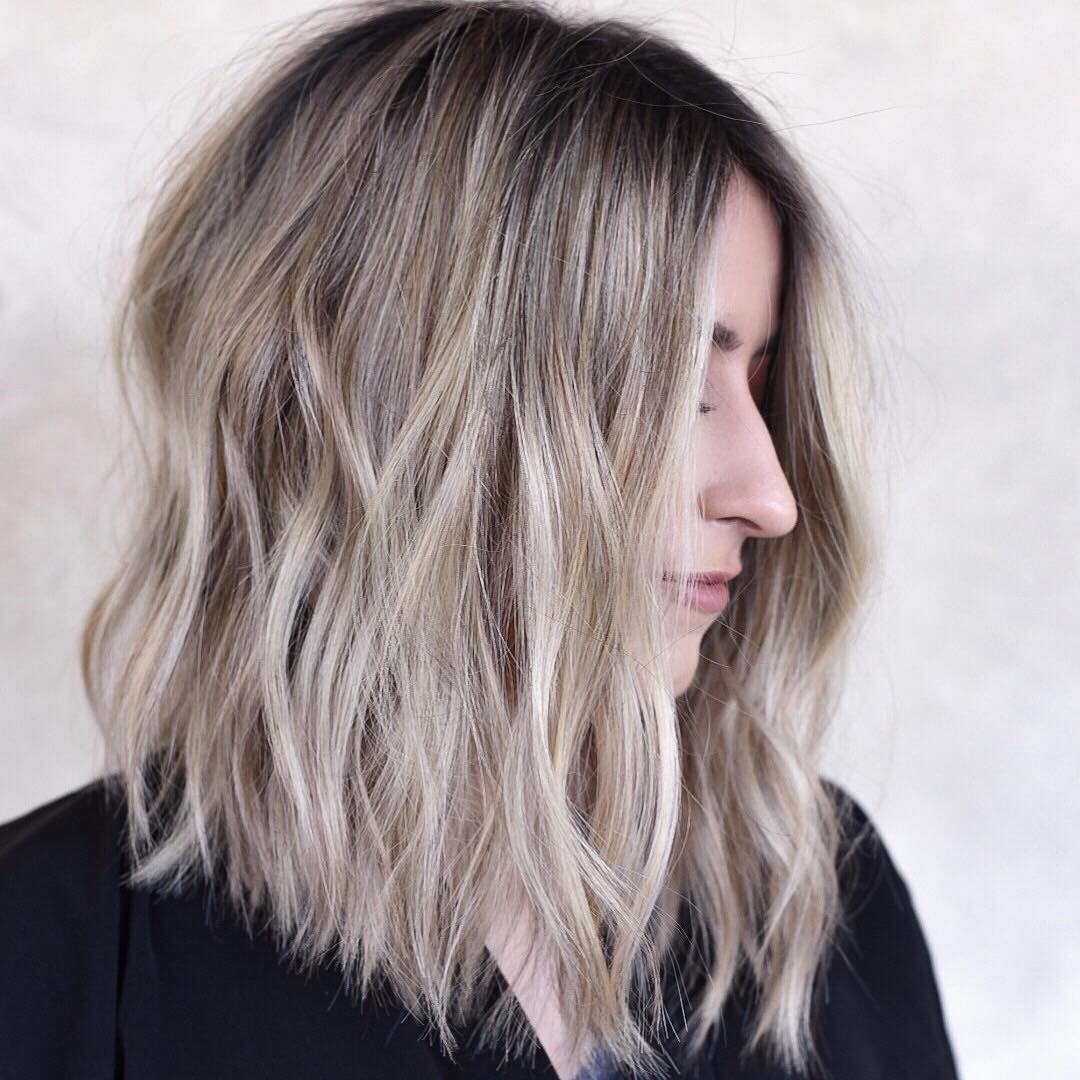 Stylish Shoulder Length Haircuts for Thick Hair
If you're looking for a fabulously fresh shoulder-length haircut for thick hair just read on! Shoulder-length cuts are extremely popular right now, owing to jazzy new layering techniques and amazing color combos. So if you think shoulder-length bobs are just easy-care and practical, think again! 'Cos these long bob haircuts are packed with exciting new textures, fabulous movement and gorgeous color twists!
Ash-brown roots & neutral-blonde balayage – shoulder length haircuts for thick hair
This style is perfect for just about any occasion, as it can be worn loose or in an up-style for formal events! It's trendy ash-brown roots and neutral-blonde balayage are bang up-to-the-minute, and suit skin with a cool or neutral undertone. Heavily textured tips complement the shaggy, tousled waves cut in a stylish, graduated profile. And defined waves show off gorgeous beige/brown 3-D effects!
Steep inverted bob in gray & white-blonde – shoulder length haircuts for thick hair
Thick hair is perfect for extremely graduated cuts, which are highly fashionable and easy to wash and wear! This red-carpet look has a fab color design of dove-gray, with fine, vertical highlighting in soft, swan-white. Sliced layers and heavily textured tips shape the long layers into naturally curved movement at the ends. And white side layers reflect light onto the face in a super-flattering face-frame!
Sexy wavy medium bob – shoulder length haircuts for thick hair
This face-flattering medium bob cut gets extra glamour from the front quiff and wavy texture. Height over the forehead can add length to balance a round face or low forehead. Deep waves softly frame the face and neck and there's an edgy, windswept finish. With so much ink on show, this model has chosen a lovely ash-blonde shade to complement her gray and blue-black tattoos.
Sophisticated straight bob – shoulder length haircuts for thick hair
Thick straight hair looks great in a medium bob with concave layers creating a natural curve at the ends. A center parting suits the symmetry of an oval face shape and the colorist knew exactly how to complement this model's golden skin-tone. The colorist has added delicate golden-blonde, vertical highlights to lift the glossy coffee-brown hair. And this is a great way to add texture and movement in a simple, yet sophisticated look!
Wavy shaggy medium bob
Here's another model wearing a sexy, Bardot top, because the medium bob is perfect for this style. The hair is short enough to show off a pretty pair of shoulders, but long enough to soften that gap between jawline and shoulders. Rich brown hair-color and coral lips flatter the model's pale skin, which has warm undertones and cute freckles!
Shaggy cascade bob in gorgeous golden blonde
Expert stylists love layering long, thick hair to show off its density. And these trendy, choppy layer look amazing with highlights in four golden-blonde shades. Styling is easy to do if you lightly tease the crown to create vintage bouffant volume and the front center-part has cute, face-framing wings.
Pretty beige-blonde on long straight bob with bangs
This long straight bob has fashionable, uneven tips created at the end of sliced layers. Sliced layers sculpt the hair so that each vertical layer finishes in a finely tapered tip. This removes the bulky ends that can spoil the look of thick hair. And this trendy style just falls back into shape after washing. Notice how the colorist has softened the light shade of blonde with cute, neutral-beige toner. And she's added an adorable hint of pink around the roots!
Gorgeous silver bob with ice-blue tips
This is an edgy twist on the traditional, gold-blonde, Hollywood glamor wavy hairstyles. Silver shades flatter cool or neutral skin tones, and create a snow-queen glamor men just can't resist! This steeply graduated bob has choppy textured tips and defined, tousled waves for fabulous texture and movement. Taupe roots switch to sexy, silver-blonde waves tipped by eye-catching, ice-blue balayage!
Warm honey & caramel wavy long bob
And here's a contrasting, beach-babe cut and color! The stylist has trimmed the ends to create a shaggy, graduated finish to casual beachy-waves. And the delicious blend of amber, honey and caramel complete a gorgeous haircut full of 3-D dimension and lively movement!
Straight-edge long bob in beige-blonde with coral ombre
You can make a simple lob hairstyle 'effortlessly sophisticated' if you choose a skin-flattering beige-blonde shade. This model's pale skin has a warm undertone, which the colorist has matched with pale, golden-beige. And the stylist has created edgy, choppy tips, highlighted in soft coral-beige to complete a very attractive, contemporary haircut!
So the trends for shoulder-length haircuts this season are straight bobs with concave layers. And shaggy bobs with modern, surface waves styled for a casual, windswept finish. But whether your hair is straight or curly – you must get one of these amazing color designs to make your style unforgettable!