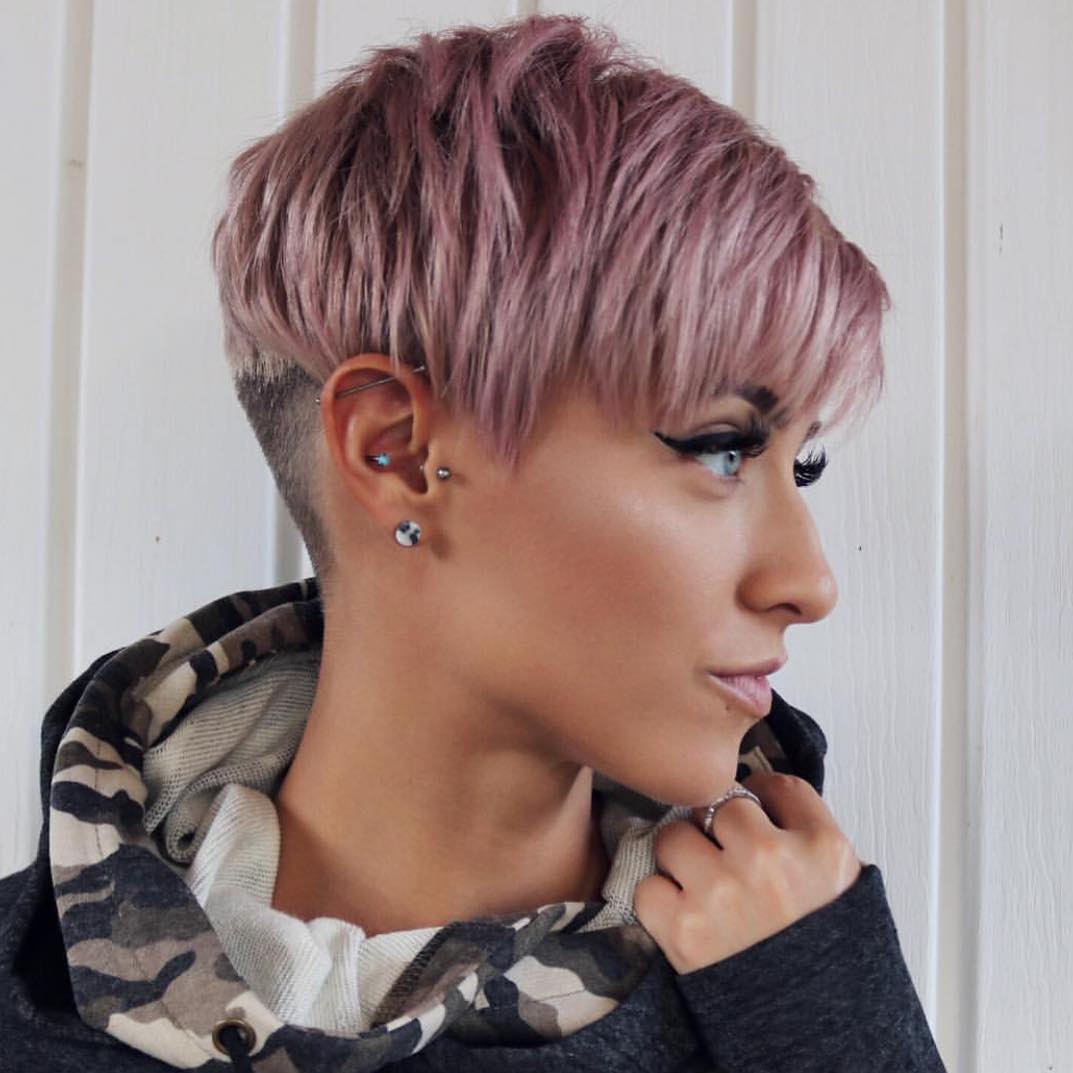 10 Trendy Very Short Haircuts for Women
Cropping your hair into a super short cut is a bold move than can be fun and freeing, but can also be intimidating and nerve-wracking. That being said, very short haircuts are easier to pull off than you might think. Super short styles can flatter any woman, regardless of coloring or face shape.
The key is to choose the right style for your hair type, face shape, and lifestyle. Whether you're considering cutting your long hair or already have a short style that you want to switch up, these very short haircuts can give you the inspiration you need to make the best next hair move for you.
1. Light Pink Undercut Pixie Hair Cut
Pink hair makes a bold style statement all on its own. Combine pink dye with an edgy undercut, and you get this daring, ultra-trend cut.
Short, choppy layers and undercut give this pixie its bold, attention-grabbing finish. Light pink color and feathered layers in front add delicate style and subtlety to this pixie and keeps it from looking too gaudy.
2. Asymmetrical Bleached Pixie with Deep Side Part
This asymmetrical pixie cut is daring and elegant at the same time. Its super short layers on one side and longer, swooping layers on the other create an eye-catching look that frames your features. Its cool-toned shade of bleach blonde is widely flattering and less jarring than warmer, brighter bleached tones.
A deep side part adds more drama to this cut. It also creates the illusion of heightened volume, because the majority of your hair is pulled to one side. If you have thin or fine hair, this cut helps you fake thickness and volume effortlessly.
3. Black and Gray Pixie Hairstyle with Bangs
Multiple super-short layers give this brushed-forward cut a sleek, smooth finish that is easy to manage and maintain. Its rich gray color is ultra-trendy and adds stylish edginess to this look.
Natural roots are very obvious in a pixie cut due to how short the hair is. Black shadowed roots give this look a unique, edgy finish and give you more leeway with root growth so you don't have to run back and forth to and from salon appointments every other week.
4. Short Blonde Pixie with Shaved Sides
This simple, no-nonsense pixie is super easy to manage, but it's far from boring and flatters a wide variety of face shapes.
Buzzed sides add interest to this style and spiky layers in front help frame your face and emphasize your features. A bleach blonde color gives this cut an edgy, trendy finish that helps it stand out without overpowering your whole look.
5. Long Blonde Pixie Haircut with Bangs
If you want to crop your hair short but are nervous to go too short, this long pixie style might be right for you.
Piece-y, feathered ends and a forward-swept finish definitely classify this cut as a pixie. However, longer layers all around help you feel less exposed and give you more styling options while still remaining manageable.
6. Short Spiky Blonde Pixie Haircut Ideas
This spiky pixie cut is a classic style that makes a bold fashion statement without requiring much maintenance.
Its short, spiky layers are easy to style with just a small amount of holding spray and a comb. The result is a daring, trendy style that draws in just the right amount of attention.
7. Blonde Pixie with Side Bangs
The forward-swept, piece-y side bangs of this stylish pixie cut frame your face and draw attention to your features. They also help conceal wrinkles and other visible signs of aging, which makes this cut an ideal short style for middle-aged and older women.
Super short layers in the back and on the sides of this cut make it easy to manage on a daily basis. If your hair color is naturally blonde or light brown, you can just bleach your bangs and leave your shorter layers natural to minimize hair damage and reduce visible root growth.
8. Pixie with Bangs and Highlights
Buzzed sides add dimension and interest to this pixie to offset its blunt ends. Blended highlights add brightness and depth.
Short, blunt bangs are easy to manage and draw more attention to your features. This flirty pixie style is interesting and unique enough to be trendy, but just simple enough to avoid coming off as too overwhelming.
9. Curly Pixie with Side Bangs and Deep Side Part
Many curly-haired women think their hair type is incompatible with a pixie, but this style shows that you shouldn't let your curly hair hold you back from a super short cut.
A deep side part helps minimize the bulk of this style while maintaining its volume. Long side bangs show off your natural curls, while shorter layers on the sides and in the back help tame frizziness and give this style a smooth, sleek finish.
10. Bleached Pixie with Long Side Bangs
This gorgeous bleached white blonde pixie looks both edgy and sleek. Its long side bangs and smooth layers flatter a wider range of face shapes.
Styling this pixie is easy and doesn't take much time or effort. Just blow dry or flat iron straight your bangs and use a small amount of gel or holding spray to keep them sideswept all day long. Apply a little bit of smoothing serum to your shorter layers and let them air dry.