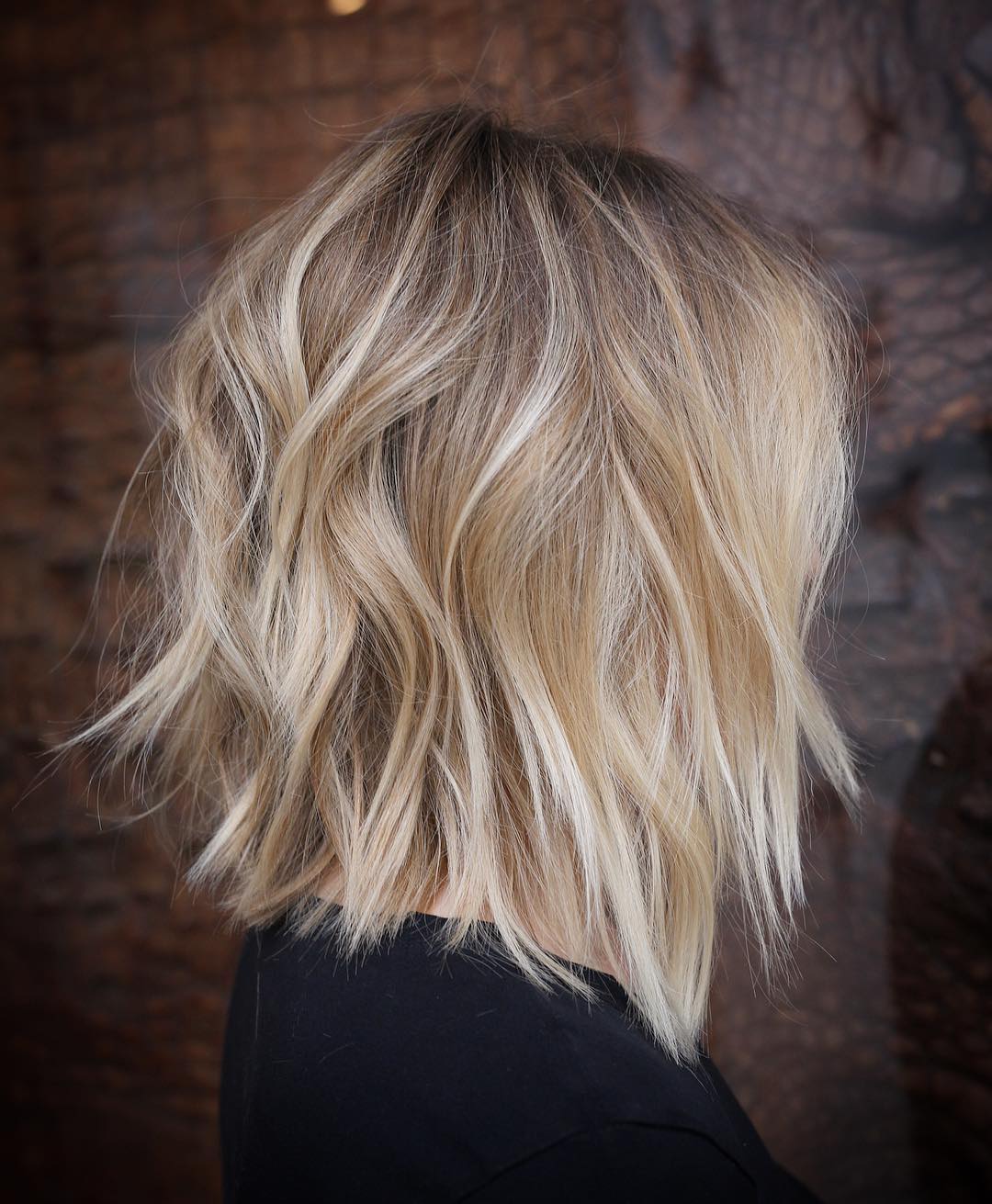 10 Stylish Lob Hairstyle Ideas, Shoulder Length Haircut for Female
Ready for a change? This splendid new gallery of stylish lob hairstyle ideas covers a lot of ground, so prepare to be amazed! Stylish lobs have often been described as the favorite style of off-duty models. And that's because they're long enough to style in several different looks, but short enough to be easy-care and sassy! From professional, to contemporary casual and sheer fantasy, you'll get tons of ideas from our new lob hairstyles!
Triple beige-blonde balayage on stylish lob hairstyle
Fine or medium hair gains lots of body when bleached, and as long as you keep hair well-conditioned, the results look gorgeously soft and romantic. Another clever trick is having 3 or 4 shades of color, so you get super, 3-D color depth. And along with texture from gentle, defined waves, this lovely lob with shaggy tips is one of the most popular styles ever for fine hair!
Hi-fashion faded pink & ice-blue ombré stylish lob hairstyle idea
This fabulous cut and color is perfect for a trend-setting, social occasion. And it just needs a stylish, little black dress to show it off! It's a chic urban lob, with arty touches and heavily-textured, choppy tips. The side part lets a sexy, peek-a-boo strand drape over one eye. And cool, raspberry-blonde, with ice-blue & dove-gray balayage ombré, suits skin with neutral or cool undertones!
Super-stylish lob hairstyle in blue-steel & ice-blue blonde
Here's something I'll bet you've never seen before! I certainly haven't, and I love the lovely metallic finish on this essentially gray lob. The cut is also edgy and original, with a steeply graduated line done to long lines framing the face. Softly defined waves give a creative contrast with wispy, feathered tips. And the center-part suits oval face shapes.
Long to short makeover lob in brunette
Are you mature enough for a more sophisticated hairstyle? Cutting your long, hippy hairstyle is the first step to creating a more professional image. Switching to a smart, contemporary lob haircut can totally change your chances of landing a new job, a promotion or a better quality boyfriend! So if you'd like to change your luck, this easy-care lob may be just the ticket!
Triple beige-blonde hair color on tousled lob
From cocktail party, to a special dinner-date or a wild night on the town, this blonde lob will keep you looking fabulous! Light-brown, beige and oatmeal blonde shades project a very classy blonde image that suits skin with neutral/warm undertones. Twisty waves add movement and volume to long layers. And heavily-textured tips create a fashionably shaggy finish.
Twists & choppy line lob in neutral blonde shades
Whether you prefer LBD's or casual, black T-shirts, you'll always look young and trendy with this gorgeous beige-blonde bob! Pale beige-blonde is the fashionable alternative to ash-blonde for skin that has warm undertones. There's a touch of warm, copper-blonde blended in beautifully with twisty, beige waves. And palest, neutral blonde highlights edgy, choppy ends.
Party fantasy lob in purple, raspberry & steel gray
Blue-steel is one of this season's most exciting new hair-color ideas! It's a super-modern, industrial inspiration for a female hairstyle. And matched with heliotrope fantasy color roots, this medium gray creates quirky, ultra-modern styles. Spiky, defined layers continue the metal, industrial vibe on a daring look for a fashion-conscious individualist!
Center-part lob with blonde ombré for oval face
Nature doesn't always give us the most flattering natural hair color, but happily a good colorist fake it for you! Dark-blonde or mousey hair can drain color from your complexion. But medium-golden blonde is a lovely, natural shade that flatters ladies over 35 or so. The light-brown base shifts to a mid-blonde ombré with lighter balayage, to highlight a sunny smile.
Cute side-swept twist on brunette lob with copper-blonde balayage
Liven up dark coffee-colored hair with warm peach-blonde balayage. This swish long bob, is great for an easy-care, but fashionable look. The off-centre parting can be adjusted to suit most face shapes. However, the cute swept-over top adds height that flatters round faces. And volume around the lower half of the face adds 'width' to a narrow chin, in this smart-casual look!
Copper balayage twist on ash-blonde straight bob haircut
Neutral, nordic blonde is a super choice for fine, fair hair and cool skin-tones! Adding bleach does help fine, naturally fair look thicker and have more body. Beige tones are complemented by fine, strawberry-blonde balayage high up. And there's a trendy touch of ash-blonde ombré from lip-level to the tips. Silky, fine hair hangs beautifully in this center-part style!
As you can see, these modern, lob styles are packed with exciting twists and edgy cutting techniques. So whether you need a new professional image or a quirky, fantasy look for a party, just take your pick!