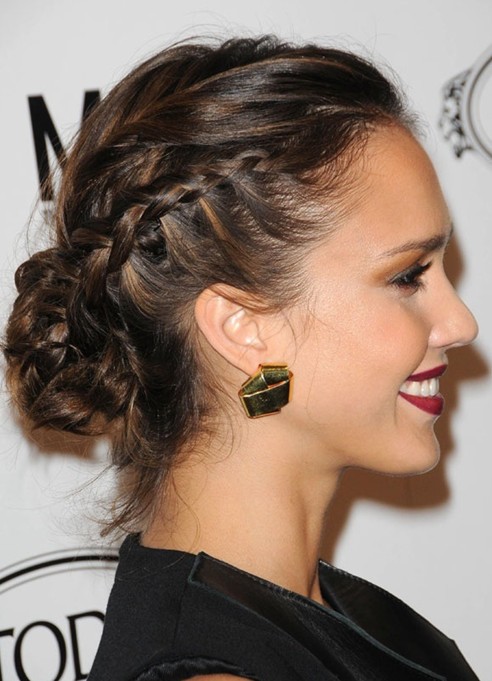 26 Jessica Alba Hairstyles
Jessica Alba is a gifted and talented young actress. She has already played a great number of roles, which rang from light comedy to gritty drama.
Her charming hairstyles always leave people a deep impression. She has the super ability to rein her hair. No matter the long wavy or straight hair or the mid-length one, she always wears it stunningly and enhances her flawless look.
Jessica Alba Hairstyles: Medium Wavy Haircut
Long flowing brown layers shape in angles beginning from Jessica Alba's stunning line toward her face. The bangs begin with a short side part and then midsection, are heavy going under her eye that add mystery to the lustrous hairstyle.
Jessica Alba Hair styles: Medium Straight Haircut
Jessica Alba's smooth layered hairstyle looks attractive and fashionable. This look is full of romantic appeal and coolness. This classic seductive hairstyle is the option of a lot of celebrities and people who desire to gain head-turns.
Jessica Alba Long Wavy Hair styles
The long tapered sides are swung on her shoulders, which look like large wings. Layers and loose curls create much volume to this trendy and strangely sexy long hairstyle.
 Jessica Alba Long Hairstyles: Straight Hair
Jessica Alba styles her ombré long hair in sexy beach waves and a deep center part. The flowing layers and luscious waves dance on her shoulders. The ends are tapered and jagged to lighten the weight. Some smoothing spray helps to keep it luxury and supple.
 Jessica Alba Hairstyles: Long Wavy Hair for Center Part
This luscious layered long hairstyle with brilliant highlight and windblown tousles turns heads. The elegance and style come in with the beautifully curls softening her sides. The fine-tuned curls and waves are created into the lustrous locks using a hot iron.
 Jessica Alba Hair styles: Ombre Long Hairstyle
The top section is darker black brown color and the medium length is lightened with warm blonde and platinum which give her lengthy hair a fun and feminine finish. The sexy and brilliant lipstick adds irresistible charm to the beautiful look.
 Jessica Alba Hairstyles: Side Low Tight Ponytail
Jessica Alba gathers her long smooth hair into a neat side low tight ponytail. A strand from the pony is pulled to wrap around the hair in order to hide the elastic. The smooth one-length hair brings finesse into the chic and sophisticated look. This simple hairstyle with the sheer healthy hair is enough to be an eye catcher.
Jessica Alba Hairstyles: Straight Hairstyles for Long Hair
Her long sleek hair is blow dried straight and neat, with a plain and causal side part. Her healthy hair flows down just like heavy silk and with the luscious and warm rich radiance. The tapering brings about the stunning angle from her chin to the hair ends.
 Jessica Alba Hairstyles: Simple Smooth Updo Hairstyle
The simple smooth updo hairstyle in her back is highly of elegance and extraordinaire. A little serum and shine spray can help keep it in style longer. The wonderful updo exposes her lovely tattoo on her nape.
 Jessica Alba Hairstyles: Ombre Long Wavy
Jessica Alba styles her long ombré hair in sexy waves and wispy side sweeping bangs. Jessica Alba's lengthy wavy hairstyle is of natural shine and absolute femininity.
Jessica Alba Hairstyles: Side-swept Hairstyle for Long Hair
Soft glamorous volume suits Jessica Alba's flaring long side-swept hairstyle. The hair is cut below shoulder length and face-framing layers are cut to add volume and create fullness. This lengthy hairstyle suits her oval face shape greatly.
Jessica Alba Hairstyles: High Tight Ponytail
Jessica Alba styles her blonde golden hair into a high tight ponytail. All her hair is brushed backwards and secured into a ponytail, which offers her a clean and fabulous look.
 Jessica Alba Hairstyles: Red Long Straight Hairstyle
This glamorous long straight hairstyle has distinct layers to give it a cool swing. The irresistible brilliant fiery copper which is of iridescent shine creates a turn eye catcher. This cool alluring hairstyle works best on naturally straight hair. A flat iron help create a sleek and neat finish.
 Jessica Alba Hairstyles: Sleek lustrous Medium Hairstyle
Sleek lustrous hairstyle like this is always in trend. The shining hair just hugs her face in its satiny fall an only around her shoulders. The hair ends are tapered and blunt, which create a modern effect. The center part exposes her natural make-up. Straightening balm helps calm the flyaway hair.
Jessica Alba Hairstyles: Glam Hairstyle for Long Hair
This long glam hairstyle is cut with a curly shape plus long side-blended bangs. The careless side part gives the hairstyle a sultry and adorable finish. The hair reaches below her shoulders and has a luscious swing in the various layers. This is quite a youthful and fun look that has a slender effect.
 Jessica Alba Hairstyles: Elegant Messy Retro-inspired Updo
Jessica Alba shows up her elegant messy retro-inspired updo with a delicate ingenious halo of braid on the right side. It is fun to crate the splendid hairstyle. Take a two-inch section of hair from the right side. And braid it then tuck the hair ends in. sweep your length back and twist until the hair buckles to create a loose bun. Apply some finishing spray to lock it better.
Jessica Alba Hairstyles: Elegant Updos
Soft volume and brushed-over bangs spcie up Jessica Alba's charming voluminous updo a fun trendy and romantic vibe that has finger-tousled texture and height. The diamonded earrings and neutral makeup enhance Jessica Alba's look.
 Jessica Alba Hairstyles: Brown Slightly Wavy Hairstyle
Jessica Alba's gorgeous brown slightly wavy hairstyle enhances her romantic smoky eyes. The beautiful medium long hair is layered throughout, creating much volume and motion.
 Jessica Alba Shoulder-length Hairstyles: Straight Hair
This smooth lustrous shoulder-length hairstyle shows off Jessica Alba's neat brunette hair. Her splendid sleek hair is cut in an extreme angle to achieve the sharp points in front and textured effect. Some hairspray helps maintain the hair neat and shine.
 Jessica Alba Hairstyles: Straight Long Bob
Jessica Alba rolled her shoulder-grazing brown black hair ends inwards. This smooth long elegant bob feature an edge and lots of shine. The amazing deep center partition divides her hair evenly and flatteringly. The sweetly pushed-over bangs blended into the sides enhance her cheek and add sophistication to he silky hairstyle. Some shine spray and offer added luster.
Jessica Alba Hairstyles: Short Bob Haircut
Jessica Alba flaunts her enhancing smooth brunette shoulder-length hairstyle. This is a timelessly charming hairstyle with blunt cut and razor sharp angles.
Jessica Alba Hairstyles: Simple Low Ponytail
Even the simple low ponytail at the nape of her neck suits and enhances Jessica Alba's sexy look. Her crown hair is teased to gain more volume and avoid making it look flat and boring.
Jessica Alba Hairstyles: Casual Braided Updo
Jessica Alba adds a unique braid at the left side to her casual updo-style. The strategically created braid creates more fun and cool factors to the usual up-do. This fabulous hairstyle is better for holidays.
 Jessica Alba Hairstyles: Messy Short Haircut
This slightly layers add much volume and movement to the black short hairstyle. Her face is beautifully contoured by soft fringe. This short hairstyle is of casual alluring sophistication. A bit of light hold spray guarantee a better finish.
Jessica Alba Short Hairstyles: Blonde Bob Cut
Jessica Alba's golden hairstyle features sleek roots and textured ends. She adds some mystery by the side swept bangs which are customized over one of her eyes. The delectable hairstyle matches her natural make-up and her lovely earrings.
 Jessica Alba Hairstyles: Long Hair with Side Bangs
Soft loose swirls provide much volume and movement through Jessica Alba's lengthy brilliant blonde hair. The long side sweeping bangs are curved and outward. The lower layers are turned inward. This beautiful hairstyle shows a wonderful combination of shape, texture and yet a lot of movement in each strand.