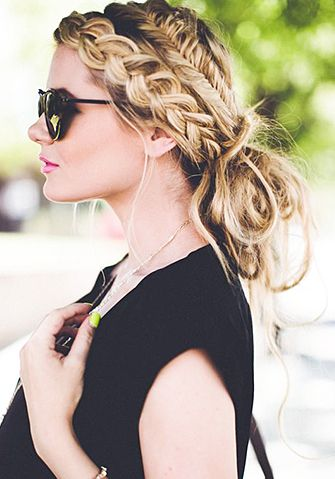 21 All-New French Braid Updo Hairstyles
Since the new French braid updo hairstyles hit the fashion runways a few years ago, stylists have taken up the challenge to create lots of fabulous new braided styles for each season!
And now, the choice of French braid updo hairstyles is an ever-changing explosion of flattering new looks for long  hair and medium hair. Even if your hair is cut in a bob, if it's all one length, you'll find it easy to add some trendy braided sections and pin your hair up at the back in a pretty updo!
Fishtail French Braided Bun: Easy Everyday Hairstyles with Updos /Tutorials Via
Look fabulous every day
In the summer, when keeping cool is a problem, French braid upstyles are the perfect way to keep your hair up off the nape of your neck. And a plaited fringe is the totally trendy way to keep your forehead cool in high temperatures.
In the winter, braided upstyles are equally practical as they resist the attempts of wind and rainy weather to ruin your hairstyles. A braided style with a touch of hairspray over the finished look will stay in place longer than any other hairdo!
Low, Side Updo Hairstyles: Waterfall French Braid Updo /Tutorials Via
For daywear, a neat or tousled braided style gives a professional and well-groomed appearance that will impress your boss, your colleagues and your clients.
Hair accessories add glamour
Hair accessories are going to be huge this year and a plaited updo is the perfect style for adding a touch of glamour with a hair accessory.
Hairbands can easily be incorporated into a plaited updo and silk flowers dotted along the braids will lift an everyday style and make it into a really stunning look!
Pretty Braid Updo Hairstyles for Women and Girls /Via
We love to see braids which have a brightly coloured silk scarf twined through the plaits. It's a very attractive, new look that can really mark you out from the crowd – wherever you are!
Highlights look fabulous
And the textures and patterns that can be achieved on hair that's highlighted, lowlighted, ombréd or sombréd are absolute scene stealers! The weaving of the hair shows off the differently coloured strands beautifully.
Messy, Chic Fishtail Braid Updo /Via
Diagonal chignon braid updo's
With French braiding, you don't need to have long hair to get a fabulously trendy look.Take a look at the super diagonal braids you can wear across the back of the head, to form a 21st century take on the chignon.
Fabulous French Twist Braid Updos /Via
So even though you may not have enough hair to make a bun, you can have an amazing new French braid updo hairstyle that everyone will love (and envy)!
Choose your fresh, new look from this gallery now!
New Fishtail French Braid Updo Hairstyles /Tutorials Via
French, Loose Braid Updo Hairstyle /Via
Easy Loose Braid Updo Hairstyles Back View /Via
Stylish French Crown Braid Hairstyles /Via
Perfect Braided Updo /Via
French Fishtail Braided Updo for Blonde Long Hair /Tutorials Via
Double Dutch Fishtail Braid Updo Hairstyle Tutorial /Via
Fishtail Braid Updo /Via
Loose Side Bun Updos with Fishtail Braid /Via
Messy Fishtail Braid Updo Hairstyles /Via
Easy Braid Updo Hairstyles for Women /Via
French Fishtail Updo /Via
Braided Crown Hair Styles: Updo Hairstyle Ideas for Medium, Short Hair /Via
Stylish Messy Updos /Via
Half Up Half Down Braided Hair /Via
Pretty Twist Hairstyles for Long Hair: Half Up Half Down Braided Hair Style /Via