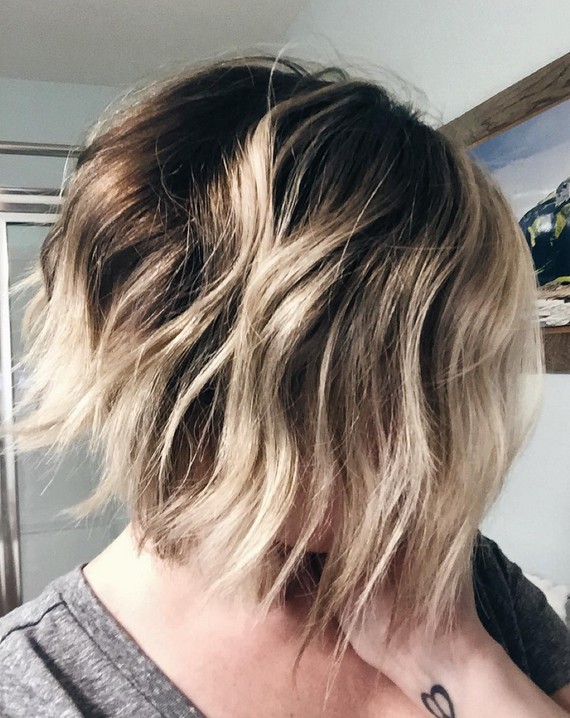 21 Cute Layered Bob Hairstyles
In love with layers? Why wouldn't you be! Layers are flirty and fun, immediately adding some delightful depth and bouncy body to your locks. Whether you opt for short layers, long layers, or contrasting layers of all different lengths, you're sure to enjoy a full-bodied finish that's fresh and youthful.
Short Bob with Lengthy Layers & Sea Foam Coloring
Short bobs are always a great choice for any woman, being a bouncy and cute style that's perfect with almost all face shapes. What makes THIS hairstyle stand apart from the crowd is the delightfully long layers that add some perk, and the hints of sea foam green for a burst of trendy color.
Wavy Blonde Locks: Blunt Medium Haircut
Need a great 'do for summer? Give this look a try! The back of her locks are left a darker shade of sandy blonde, with just a few summery highlights twisted in. She adds platinum around her face to brighten her appearance, and the waves just SCREAM summertime fun!
Vibrant Layered Graduated Bob: Short Haircut for Thick Hair
Didn't think a graduated bob could get ANY trendier? Think again! This lovely gal creates a vibrant, look-at-me style that's super stylish and cool with a graduated bob with tons of layers and of course an eye-catching intense hot pink to tie it all together.
Just a few short years ago this style was a HIT in the hair world, but it still remains popular to this day! This hairstyle is all about pumping up the volume and framing the face with plenty of teasing on the top/sides and a sexy side part that flips ever-so-slightly on the ends.
Extra Short in the Back, Lengthy on Top: Women Short Haircut Ideas
There's SO many awesome layers going through this mane, it's hard to pinpoint where one starts and another one ends! She leaves the back extra short while the lengthy locks on top are chopped with a ridiculous amount of funky layers. So youthful, SO cute and stylish!
Tousled Short Bob with Lengthy Layers
Layers are fun and bouncy, but when you tousle up your locks a bit, the layers really come to life! Her assortment of layers go from short to long, with a little flip on the end to frame her face beautifully.
Edgy Extreme Side Part Layers: Short Pixie Haircut for Thick Hair
This edgy style is perfect for students or younger girls that want a rough-n-tough twist on the classic pixie cut. Her locks are given an airy, dense look with loads of intense layers and an extreme part that's got some serious attitude. Jet black with deep red lips creates a very enticing finish!
Relaxed Waves: Chic Everyday Hairstyle for Shoulder Length Hair
For the days where you just want to relax and be casual, this is an excellent choice! The layers are given just a touch of casual body with some super relaxed waves, a tousled look that's relaxed but still fun!
Relaxed Curls
Much like the aforementioned style, this look is all about remaining cool and calm. It's an awesome everyday look that has just a hint of bouncy volume. Relaxed curls really make this a-line bob hairstyle come to life!
Contrasting Colors and Chunky Layers: Sleek, Straight Bob
Quirky and cool, this is a hairstyle that's sure to catch attention from the crowd. The chunky layers lay flawlessly over this super short bob hairstyle, creating a seriously unique and crazy look; but that's not all. Add to the wild style with some crazy contrasting colors like black, purple, and blonde!
Natural Chunky Layers: Classic Short Bob Hair Cuts
If you loved the thought of chunky layers but didn't care for the wild coloring, then consider this glamorous 'do. It features those bold, chunky layers, but the hair color is a bit more natural with a beautiful deep blonde cascading against darker hues underneath.
Extreme Angled Graduated Bob: Short Hairstyle Ideas for Straight Hair
Just LOOK at the back of this crazy graduated bob! Talk about an awesome, intense angle! The short is left extremely short, with an extreme angle leading towards extra lengthy strands around the face.
Graduated Bob with Side Bangs
This is a rather classic haircut, a subtle graduated bob with side bangs that frame the face and some wispy layers on top. What sets this hairstyle apart from the rest is the beautiful contrasting colors, with several shades of blondes and browns combined in one glorious mane.
Volumized Graduated Bob
Short on time, but still want to bulk up your look? Then simply tease the tops and sides of your locks. The end result? A super full-bodied look that is great for framing the face. A great choice for heart faces or round faces!
Graduated Bob Layers with Wave
Find your graduated bob could use a bouncy makeover? Then consider adding some lengthy layers to your already-angled frame! Add in some lovely wave for a charming finish that's beach-ready.
End Curls
We have to start out by mentioning we adore her bayalage coloring, a glorious blend of dark and light browns for an all-natural finish. She gives her hair some beautiful bounce that's perfect for fancier occasions with just a touch of voluptuous curls on the ends.
Extra Short Bob with Highlights/Lowlights
There's something about highlights and lowlights that drive us wild; it must be the way they add such gorgeous texture and depth to tresses. Her extra short bob hairstyle is styled up with some complementing layers of all lengths and sizes, a perfect addition to her stunning collection of hair colors.
Achieving that rich, full-bodied finish doesn't mean you have to add texture from root to tip; you can simply spice up the ends for a bouncy finish, like you see here. Her charming light brown tresses are lively and cute with just a few bouncy curls applied to the ends.
Tousled Gray Tresses
Gray hair is a top trend for 2016, and when you tousle them up just a tad, you get a very trendy finish that's simple but fun.
Ombre Curls
Who said cute layered bob hairstyles were reserved for younger gals? Think again! Layers work well for anyone, whether you're a girl in her twenties or a woman over 50. We're loving her gray to auburn ombre, adding a youthful touch to her appearance that's given an elegant finish with curls.
Double-Layered Graduated Bob
This is undoubtedly the most modern and polished hairstyle on this list. Her hairstyle features a perfectly done graduated bob haircut, and her contrasting platinum blonde and dark brown hair are given different layered lengths to let the highlighted locks lay delicately over the darker hues. Such a fab style.
If you couldn't tell, we LOVE layers; and you'll love it too! Your hair will thank you for giving it that perky, full-bodied, and youthful finish in an instant. Pophaircuts.com what's your favorite layered hairstyle?