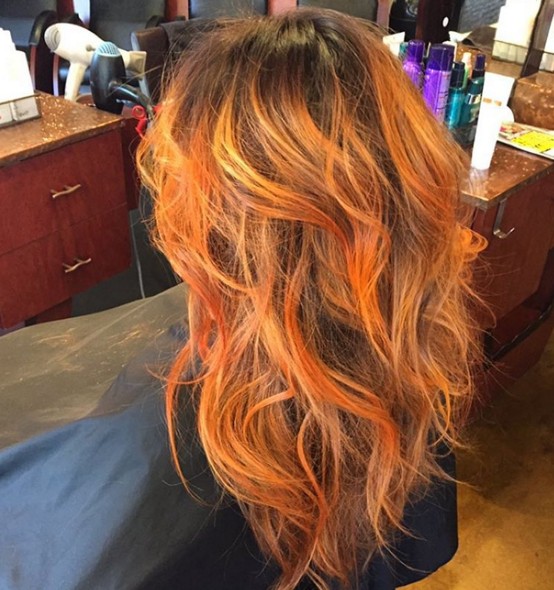 10 Hottest Layered Haircuts for Medium Hair Now
It's an exciting time for hair fashion right now, with an absolute explosion of original layered haircuts for medium hair bursting on to the hair-scene! These days, the new generation of young hairstyle designers have more freedom than ever before.
So find out what's new and fresh for your best ever makeover style today!
Hottest Layered Haircuts for Medium Hair
New cutting techniques
The category of 'layered' haircuts has expanded to include lots of new cutting and colouring techniques along with the latest styling trends. And unlike the plain look of long, straight one-length hair, layers can be used to tailor your new haircut so it balances out your face shape for a very flattering look!
Latest trends in layered haircuts for medium hair
Shag cut
Shag cuts are super-hot right now and that means more expert cutting and less time spent styling your hair at home!
Shags were first introduced in the 70's when they were seen as pretty unconventional and daring, especially on such stars as Jane Fonda, Joan Jett and Mick Jagger. A shaggy layered haircut for medium hair creates a casual image that's totally in tune with the current trends for 'undone' hair styles.
And as several top models have been spotted wearing 'off-duty' medium, layered hairstyles, with a windswept finish, you know this is a really up-to-the-minute look!
Choppy layers
Another strong trend is for layered haircuts for medium hair cut into choppy layers. This can be over the whole head or just on the fringe, but disconnected choppy layers have now moved from being avant-garde, to the cutting edge of contemporary urban chic.
Choppy layers,just in the fringe, with uneven, textured tips are being used to create a hot new 'ragged' finish which creates a strong high-fashion image.
Shattered layers
These look fantastic in a fringe and Rihanna has often been pictured with shattered layers in an extra-long, side swept fringe with defined strands to emphasise the futuristic style.
Fringes with edgy, disconnected layers are hot and if you add a balayage colour accent in honey, caramel or copper as well, you'll be really smokin'!
Best Styles for Face shapes
All asymmetric hairstyles with strong angles and shaggy, choppy layers are fabulous layered haircuts for medium hair, and can make a round face look less round and symmetrical and nearer to the ideal of an oval face-shape.
On long faces, layered haircuts hair should be no longer than medium length, so avoid long hair as it drags the eye down and makes the face look even longer. For long face correction, try a trendy medium bob that avoids volume on top and instead, has layers cut to produce added volume at the sides.
This adds the width that makes the proportions of a long or narrow face-shape look more balanced.
If you're excited about getting a truly face-flattering haircut, all you need to do is consult our latest gallery for some fabulous layered haircuts for medium hair!
Messy Layered Haircut – Ombre Hairstyles
Beautiful Hair Color with Medium Straight Hair
Caramel Highlights on Dark Brown Hair
Layered, Wavy Hairstyle with Grey Hair Color
Ombre Wavy Hair Style
Hottest Layered Hairstyles for Medium Hair
Layered Haircut Ideas for Medium ,Long Hair
Blended Ombre Hairstyle
Layered, Wavy Hairstyle