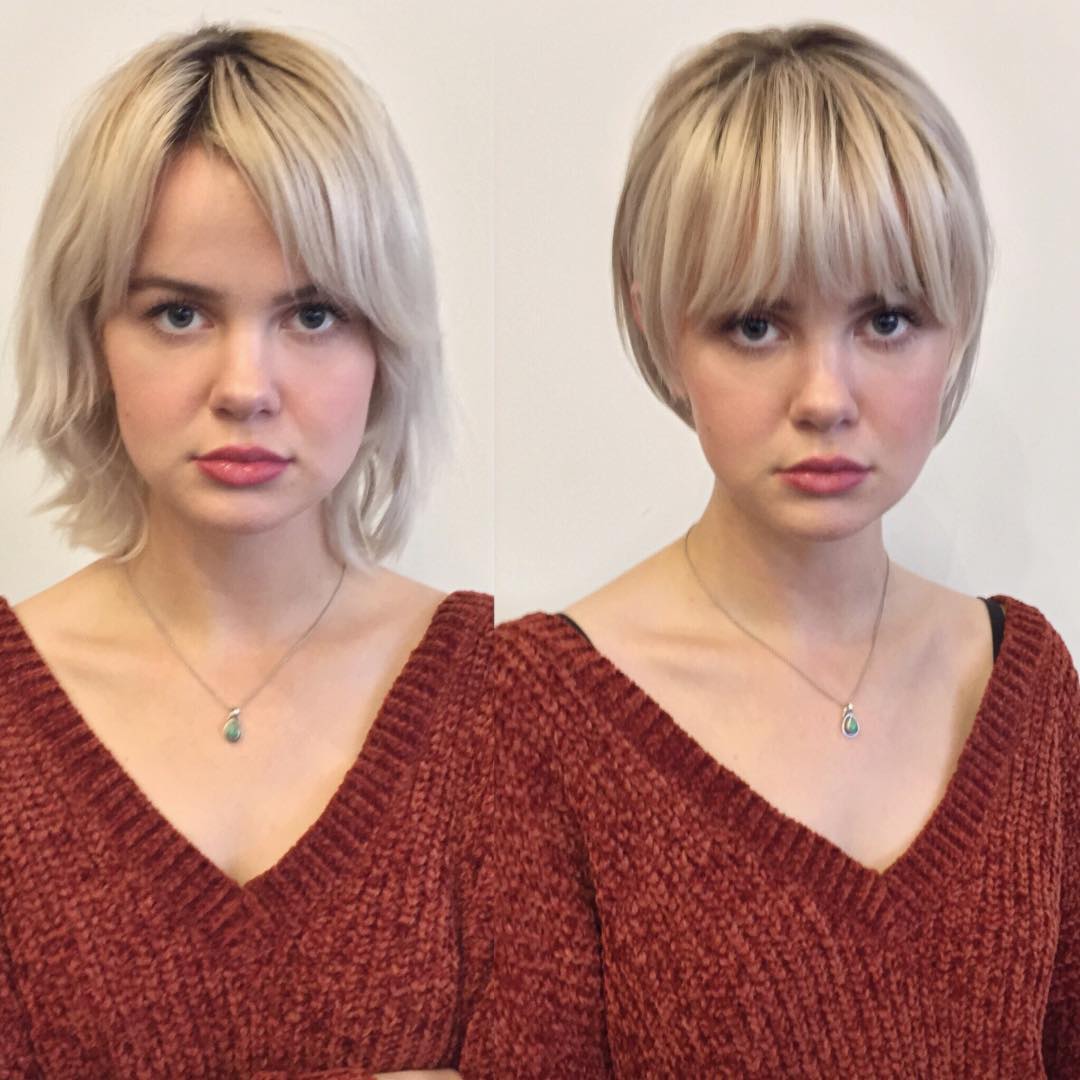 10 Trendy Before and After Transformations from Long Hair to Short Hair
Drastically changing your hair can be fun, but it is also very nerve-wracking. A transition to a short cut can be a refreshing change if you're bored with your longer style, but you shouldn't blindly face the scissors without doing your research first.
Check out for how to successfully pull off a transformation from long hair to short hair and achieve the most flattering results.
10. Bleached Bob to Banged Pixie
The cropped, rounded layers of this pixie help soften and add balance to long, square, and angular faces. Its long, blunt bangs are bold, eye-catching, and add interest to this simple, manageable style.
This transformation from basic, in between-length bob to layered pixie complements a wide variety of face shapes and creates a modern feminine style that is both trendy and polished.
9. Long Red Layers to Piece-y Pixie
This bold red pixie style is a trendy alternative to overwhelming long layers. Its piece-y, forward-swept layers are flattering and add a lighthearted finish to this style.
Although the color of this cut virtually stays the same throughout its transformation, the finished pixie style is a deeper, richer cherry red that looks smoother and more even. Also, its forward-swept layers hide unflattering root growth to keep your color looking fresh longer.
8. Simple Long Brown Style to Edgy Bleached Pixie
This transformation features a bold color change that adds edgy style to the 'after' pixie cut style. The switch from brunette to bleached gives this pixie a bright and eye-catching finish.
The cropped layers in back make styling effortless, while the longer layers in front add flattering femininity. The finished style is a manageable pixie that still looks polished and professional.
7. Basic Shoulder-Length Cut to White Blonde Pixie
The deep side part and sideswept layers that defined this original shoulder-length cut are still present in the cropped layers These features help the 'after' pixie cut flatter your face in the same way that the longer layers of the 'before' style did.
Piece-y layers add texture to this pixie cut and help break up the solidity of its bold white-blonde color for a flattering, eye-catching finish.
6. Long Wavy Hair to Even Banged Pixie
You don't have to undergo a drastic hair color change if you want to switch from a longer style to a short cut. Your natural hair color can transition smoothly between cuts for a versatile style that doesn't draw too much attention.
This brunette pixie cut is just as flattering, if not more so, as the long-layered 'before' style. It features the same sideswept front layers and wavy texture as the original cut, just cropped into a refreshing shorter style.
5. Long Straight Hair to Cropped Natural Pixie
The cropped, angled layers and sideswept bangs of this pixie cut complement round and heart-shaped faces. They give these face shapes more structure and add definition to your features for an eye-catching finish.
While the original longer style requires flat-ironing for daily styling, you can manage this post-transformation pixie style naturally without heat. This saves a ton of time and effort spent on styling, especially for women with wavy or curly hair.
4. Long Bleached Hair to Ginger Parted Pixie
Bleached hair and artificial ginger hair are both difficult colors to pull off, but this transformation successfully achieves a smooth transition between these two challenging colors with a flattering ginger pixie cut as the finished product.
This ginger pixie cut is versatile and easy to manage. You can pull its front layers forward to create eye-catching sideswept bangs. Or, you can create a side part to get your hair out of your face and achieve a more polished style at the same time.
3. Basic Shoulder-Length Bob to Colorful Undercut Pixie
Transitioning from a dirty blonde, blunt shoulder-length cut to a bright purple and gray undercut pixie is a huge change, but this transformation shows that it can be pulled off successfully.
Longer layers in front and an even transition from purple roots to more subtle gray ends help calm this shocking style so it doesn't come off as too overwhelming.
2. Long Bleached Hair to Voluminous Swept-Back Pixie
These before and after styles transform basic, hard-to-manage bleached long layers into a streamlined, professional, and trendy swept-back pixie cut.
The darker roots in the post-transformation pixie cut help this style look more even and natural. It also flatters lighter skin tones with pink undertones by not creating too much contrast between your skin and hair.
1. Shoulder-Length Basic Bob to Curly Sideswept Pixie
Gently curled front layers and longer sideswept bangs give this pixie cut a polished, lighthearted finish.
This 'after' pixie cut maintains the trendy, flattering balayage coloring in the original shoulder-length style. The balayage is just adapted to fit shorter layers.