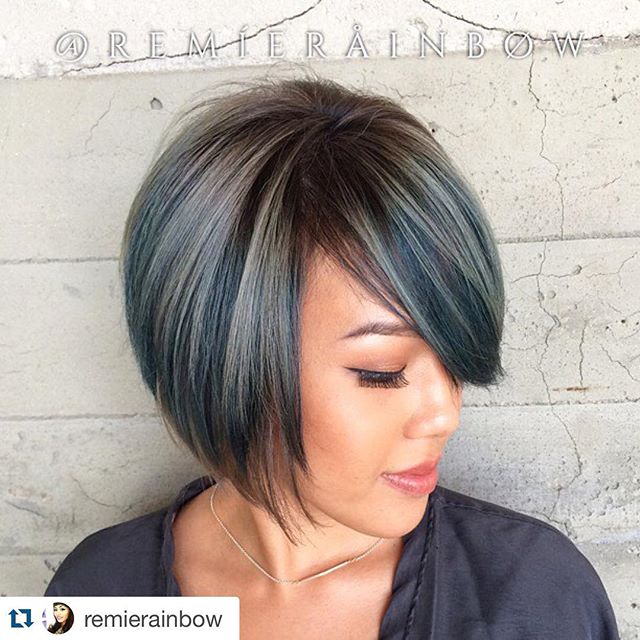 A-line hairstyles are positively chic. With sleek angles and a lengthier cut, there's really no wonder why these bob haircuts are so popular among women of all ages. Here you'll find a collection of the TOP a-line hairstyles you NEED to try.
Platinum Blonde Middle Part
Shocking platinum blonde locks is the ideal choice for spring and for summer seasons when you really want to glisten in the sun. Leaving her hair in a refined middle part and adding some bold red lips to her pout, her look is seductive and hot all at once.
Beach Waves
This hairstyle leaves you looking like you JUST stepped out of the ocean; and who wouldn't want that? Cute beach waves have plenty of beloved texture and give the hair some beautiful bulk that's downright lovely. An excellent choice for the upcoming warmer seasons.
Subtle Highlights
Leaving hair a single color can get a little boring or 'too tame' after awhile; and that's why we highly recommend adding just a few subtle highlights to your mane like you see here. It's nothing extreme or extravagant, but the few subtle highlights add some lovely contrast.
Classic A-line with Tons of Lowlights/Highlights
Ah, yes. The classic a-line short hairstyle. Simply can't get enough of this gorgeous look! Shorter in the back, longer in the front, she textures up her look by contrasting tons of lowlights and highlights for a very chic finish.
Bright Red Major Angle
Look-at-me red locks are given a highly chic makeover thanks to some serious angles. The back of the mane is cut incredibly short while the hair is left lengthier around the front, framing her face beautifully and really making her locks 'POP". Great choice for ladies with round faces.
Platinum Blonde Major Angle with Volume
This hairstyle SCREAMS sexy chic and totally swank attitude. Platinum blonde coloring creates an intense finish that shimmers in the light while a major angle gives this cut some seriously hot edge. If you're in the market for a style with edgy attitude, this is it.
Shaved Back and Framing Fringes
Unique? Absolutely. If you want to step out of the box and rock a totally funky and cool hairstyle, consider this one! Features a trendy shaved under-part in the back while the fringes up front frame the face perfectly, from lengthier edges to a blunt cut right above the eyebrow.
Lengthy Dark Brown
Simple, yet stunning. This casual style can easily go from a relaxed summer day at the park to an elegant winter night at prom. She leaves her seductively dark brown mane stick straight with a refined middle part. An overall medium-length cut leaves plenty of length for styling when needed.
Messy Waves
We're a huge fan of waves. Why? Because they're ridiculously flirty and cute and give hair an instant boost in texture. This particular textured hairstyle features messy waves that are absolutely fabulous.
Straight Side Part
Want to completely switch up your look without any tools needed? Then try sweeping your locks to the side instead of down the middle. Here we see a subtle side part that isn't overly extreme, leaving her with a casual and cute finish that can be amplified using makeup- or keep it natural like you see below.
Bayalage Layers
First of all we LOVE the bayalage blonde coloring, a light blonde base filled with tons of lowlights and highlights for a natural finish perfect for summer. Secondly, we're loving the addition of layers in this classic a-line. They give the hair tons of beautiful volume and bounce we can't ignore.
Blunter A-line with Side Sweep
For women out there who don't like sharp angles or extreme layers, this one is for you. This adorable cut features a 'blunter' a-line with extremely subtle angle. She tosses her mane to the side for a burst of trendy attitude and the addition of few light blonde highlights around the face ensures her complexion is stunning and bright.
Shocking Purple with Thick Fringe
Bold and shocking, this is certainly a hairstyle that's reserved for the gal who wants ALL eyes on her. She starts with a cute, classic a-line haircut, adding some thick fringes in front. She brings her mane to life using bright purple hair coloring, which just so happens to be one of the BIGGEST trends for 2016.
Lightly Tousled A-Line
This look is pretty and pleasant, a hairstyle that you can literally wear anywhere- from the office to the party downtown. Her a-line cut is left short in the back and extra long up front, which is perfect for round faces that need some extra length. She lightly tousles her mane, giving it lovely body and texture.
Classic Extra Long A-line
Love length? Afraid of chopping your mane too short? Still want to indulge in the lovely look of an a-line? Then consider an extra long classic a-line hairstyle like you see here. She still has plenty of length but it's just short enough to be perky and youthful.
Classic Semi-Long A-line
With the front of the cut being left just below jaw length and the back being left somewhat long, this is a great choice for women who want just a bit more cut off. It's similar tho the last hairstyle, just a tad bit shorter!
Half N Half Ombre
We've gone over unique colored ombres and gradual natural ombres, but what about a half n half ombre? We're loving this short haircut funky mix of black and light brown!
White and Blue Highlights and Thick Side Sweep
Everything about this look SCREAMS trend, from the stylish white and blue highlights to the teased back that leaves layers dangling off to the side. She finishes her look with a set of super thick fringes tossed to the side, a look that NEVER goes out of style.
Chic Black A-line
Her jet black locks are alluring while her chic a-line haircut is polished. We're loving how she perks this look up with a pair of seductive red lips and some shimmery eye shadow for a very intriguing finish.
Unique Ombre
Ladies, if you haven't heard already: ombre is HOT. So hot, it's SIZZLING! If you're looking to perk up your look and give your hair a trendy makeover, consider ombre. And if you're feeling daring, try a unique and stylish ombre like this featuring jet black top half and purple tinted bottom half.
Blonde Ombre
Want to keep your ombre a bit more natural? No worries! This lovely ombre goes from a sandy blonde top half to a platinum blonde bottom half. The transition between the colors is gradual, which is extremely beautiful.
A-line with Bowled Back
If you're struggling with thin hair, you may want to try out this cool cut. This a-line features a 'bowled' back, with hair tucked underneath and a touch of teasing up top for a very full finish.
A-line cuts are always a great idea, whether you're struggling with thin hair or need an easier way to deal with your thick hair. They're perfect for women over 50 or for girls in their teens and EVERYONE in between. Which stylish a-line hairstyle will you choose?