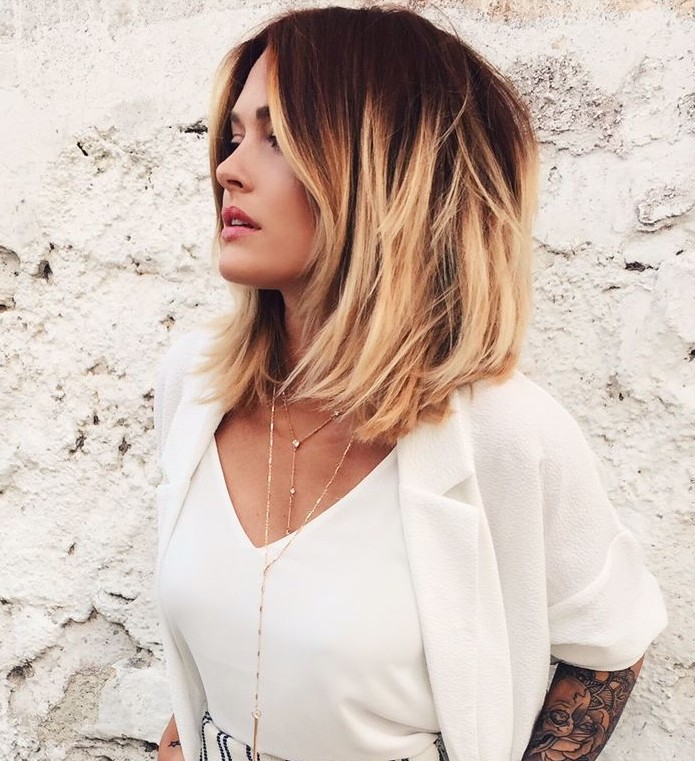 Most Popular Bob Haircuts & Styles
For women who enjoy a bit of length to their locks but don't want it going past their shoulders, a bob cut is the perfect way to go! Easy to maintain and still able to do a wide variety of styles, bobs are undoubtedly a hit among women of all ages. We've come up with an extensive list of must-know adorable bob haircuts and glamorous styles to choose from.
Straight Shoulder Length Highlights
This look is casual yet sleek, starting with a basic shoulder length haircut that leaves plenty of length around the face. Dazzling light brown highlights brighten her overall style and add a touch of dimension to her locks, while keeping them slick straight keeps things slick and polished. Don't forget your straightening gel!
Bayalage Body
Her bayalage hair coloring is simply flawless, with a stunning collection of blonde highlights and lowlights that are sure to dazzle in the sunlight. Her hair is cut just above the shoulders, instantly creating some flirty bounce, while tons of volume is added throughout the mane. We're especially loving the distinct rise around the face, which really opens up her face and brightens her look.
Straight Subtle A-line
If the thought of chopping your locks in the back frightens you but you still want to indulge in a little bit of that a-line hairstyling, then this is the haircut for you. The angle isn't sharp or intense at all. It's left extremely subtle, yet still has that polished a-line finish we love. Stick straight with no bangs, it's a highly refined look that's perfect for all ages.
Messy Blunt Cut
Why tame your mane with a brush when you can rock a sexy 'do like this? It starts with a blunt cut and ends with a set of messy tresses that are bouncy and cute. Love it!
Lengthy Romantic Curls with Highlights
Such a glamorous look; agreed? Luscious, romantic curls bring this hair to life with absolute beauty. It's the perfect hairstyle for prom or for homecoming, pairing perfectly with that dress you adore. With a hint of light blonde highlights, her mane gets a bright makeover that's textured and fabulous.
Side Swept Messy Wave
Side swept bangs NEVER go out of style and they ALWAYS look good- seriously! Here we see a super stylish and easy look: tousled waves throughout and a subtle ombre hair coloring from dark to light blonde. She brings her look to life with some vibrant pink lips and cool shades to match.
Straight A-line
We love a good a-line haircut; it's chic, it's cool, it's fabulous- it's downright perfect! We're loving this slick straight a-line bob haircut that can be worn anywhere. Keep it casual with jeans and a tee or rev it up with your favorite dress and some bright, look-at-me jewelry around the neck and ears.
Basic Middle Length Cut
Yes, this look is rather simple and 'basic'; but did we say it isn't ridiculously CUTE? For my girls out there who love an adorable haircut that's easy to take care of, we highly recommend this style. It's chopped a few inches below the shoulders so there's still plenty of length while layers throughout keep things coquettish and fun. With a cute side part and mousy brown coloring, this hairstyle is great for women of all ages.
Medium Length Ombre Waves
Simply cannot get enough of waves; we LOVE them! Waves instantly give the hair some beautiful texture that can't be ignored. It's casual enough for trips out with your girlfriends, yet can easily be played up with your wardrobe for date night. We love these lengthy waves, bringing her dark and light blonde ombre to life.
Relaxed Look
This style has calm and relaxed written all over. The 'unkempt' look is shown here, with a cute shoulder length cut doing whatever it pleases. No special styling gels or hairbrushes needed here; just get up and go!
Medium Length Waves
On those days where looking cute yet casual is an absolute must, this hairstyle is here to answer your call. Subtle waves create a coquettish finish while bright red lips gives your look a bit of sexy edge.
Ombre Waves
At this point we are one hundred percent convinced: every hairstyle looks better with ombre hair coloring! Here we see some simple ombre coloring that looks very close to natural, with sandy blonde up top and lighter hues of blonde on the bottom. A very cute hairstyle that is perfect for spring or summer!
Tossed Back Ombre
Ombre. Need we say more? Compared to the last picture, this ombre is a bit mroe intense with a super dark hue up top followed by a light brown hue on the bottom. She tosses her lengthy bangs back to the side, opening up her face and letting her eyes do the talking.
Blonde Messy Waves
Another casual look we certainly adore, these bright blonde locks are stunning and will dazzle and shine in the sunlight (perfect for summer, huh?). She bulks up her look with a touch of wave and a bit of messy attitude for a really relaxed style.
Simple Curls
This simple yet adorable shoulder length cut is brought to life with some very loose curls placed sporadically throughout the mane. It's a great look for days when you just want to sit back and relax in your yoga pants and enjoy the fresh air.
Graduated Bob with Fringes
Graduated bobs are always lovely, featuring tons of spectacular layers that really bulks up the hair. She completes her trendy look with a set of fringes just below the eyebrow, left wispy for a cute and bouncy finish. We're also loving the addition of subtle highlights near the tips of the hair, brightening her complexion.
Blue Blunt Bob
It's the 'triple B' and we're loving everything about it! The shocking blue hair color is an unbelievably hot trend for 2016, and we're loving her easy-going blunt bob hairstyle but a few inches above shoulder length. It's bouncy and cute while being intensely hot at the same time; what a combo!
Layers and Colors
This particular 'do has just as many hair colors as it does layers; and we're NOT complaining! This fashion forward look features eye-catching light blonde on the top half, while hints of pinks and purples lay underneath for a super stylish touch. With a graduated bob haircut chopped up with tons of multi-length layers, this hairstyle is simply fabulous with tons of texture.
Shoulder Length Ombre with Layers
What's not to love about this hot hairstyle? Perfect for girls in their teens and twenties, this rockin' hairstyle features the super popular ombre trend with dark brown roots leading to stunning blonde ends. The haircut leaves plenty of length around the face, accenting her facial features beautifully while a heavy dose of layers ensures this hairstyle has plenty of flirty bounce.
Black and White Super Short Bob
Totally chic in every way, this is a hairstyle that's reserved for the lady with plenty of rockin' attitude. The graduated bob features an incredibly short (but NOT shaved) back with tons of layers up top. Left lengthier around the face with side swept bangs, she creates a very intriguing look-at-me style that's perfect with a pair of wine colored lips.
Short Waves
A go-anywhere hairstyle, this versatile look is perfect for girls who like to keep things cool and casual. These lovely short waves can easily accompany you to school and then to the weekend parties.
Messy Graduated Bob
Of all the bob haircuts, a graduated bob is probably the most popular. Why? Because it gives the hair TONS of fabulous body and the length is entirely up to you. This particular graduated bob is lengthy, with the front dangling far below jaw level. Tousled up a bit, this is a great everyday style for all seasons.
Side Tossed Medium Length Bob
So chic, so glamorous; this girl has it going ON! We're loving her simple medium length bob haircut, which leaves plenty of room for styling. She tosses her hair over to an extreme side part, ensuring a feisty yet refined look that's nothing short of sexy. Pair with red lips or pink lips and keep eye makeup to a minimum for this intriguing look.
Messy Volumized Bob with Pink Hue
Platinum blonde + light pink hues = super trendy color for 2016. We're adoring everything about this sexy and cute hairstyle, from the vibrant colors to the above-shoulder length cut. Tousled up with some waves and teased up for ample volume, it's a bouncy look that takes the show anywhere it goes.
Tri-Colored Tight Waves
Talk about a hairstyle that says "all eyes on me"! This unique and trendy look features three levels of gorgeous hair colors, with dark brown roots, light brown middle, and light blonde tips to finish it off. Super tight waves gives this look tons of volume and it can easily be worn from the pool party to the prom.
Straight Blue Hue
There's no denying it: this look has 'exotic' written all over it! The gorgeous dark blue hue adds some serious style to this hair, taking a typical straight hairstyle to the next dimension. She leaves a bit of black in her mane as well to really create a vivid contrast that's nothing short of a knockout.
Pophaircuts.com which one bob will you choose?