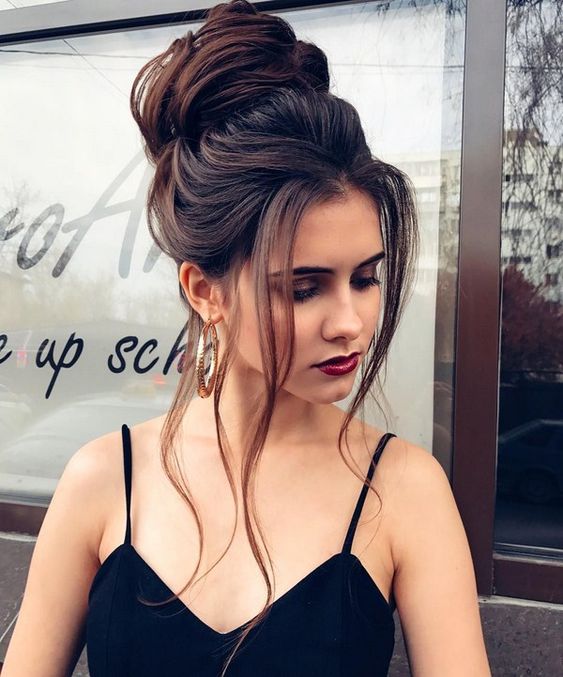 10 Pretty Easy Prom Hairstyles for Long Hair
Prom is one of the most exciting events for high school-age girls. It's an event that is usually reserved for seniors and sometimes juniors in high school, so many students look forward to their turn to experience prom for years in advance. As prom approaches, many  young women spend hours finding the right dress to wear, the right shoes and jewelry to go with their dress, the right makeup to wear, and–of course–the perfect hairstyle to complete their look on prom night.
If you're searching for the perfect prom hairstyle, look no further. These prom hairstyles are gorgeous, classy, and elegant–everything the perfect prom hairstyle should be. Plus, all of these styles are pretty easy to style yourself at home, so you don't have to worry about booking a salon appointment if you choose one of these hairstyles for prom. Keep in mind that these prom hairstyles are designed for long hair that falls at least a few inches below your shoulders. If you have short- to mid-length hair, some of these styles might not work out for you or you might have to alter them slightly to accommodate your shorter length.
1. Loose Top Knot
Top knots are no longer just a lazy day hairstyle. As you can see from this elegant loose top knot hairstyle, top knots can look ultra-glamorous and put-together if you dress them up right.
Gather your hair into a loose top knot at the upper crown of your head and secure it in place with plenty of pins. Leave a few strands loose in front and just behind your ears to frame your face and give this elegant style a carefree finishing touch.
2. Braided Low Bun
Styling this braided low bun is much easier than it looks. All you have to do is braid a small section of hair on one side of your head, wrap the ends, and secure your hair in a low bun at the nape of your neck.
Leave a small section of hair free in the front on each side of your head and curl these sections to frame your face. Also, try teasing the ends of your hair before securing your bun to add more volume to this style and make sure it stays secure as you dance the night away at prom.
3. Half Up Plaited Hairstyle
This half up plaited hairstyle combines the elegance of plaits with the carefree style of loose curled ends.
It's also super easy to style yourself at home. Just make sure you separate out more hair at the top than at the bottom for added volume.
4. Half Up Hair Bow
Whimsical yet still understated, this half up hair bow hairstyle is perfect for prom.
It will set you apart from the crowd, but it's still subtle enough that it won't make you feel out of place.
5. Waterfall Braided Wavy Hair
With two waterfall braids on each side of the head and relaxed wavy ends, this waterfall braided hairstyle is gorgeous and super simple to style.
This hairstyle keeps your hair out of your face and is flattering for a wide range of hair types. It is ideal for straight to wavy hair and fine to normal hair types that benefit from added volume.
6. Half Up Plaited Hairstyle
Plaited hairstyles are very popular for prom. This half up plaited hairstyle offers you the best of both worlds.
Its plaited crown is effortlessly classy and elegant, but its loose curled ends add modern flair to this classic prom hairstyle.
7. Half Up Curled Hairstyle
Keep things simple and classy with this half up curled hairstyle for prom.
Start by separating your hair at the crown of your head and secure the top section with a hair band. Use a wide curling rod to style the ends of your hair into loose, cascading curls. Leave a few strands loose in front to frame and flatter your face and balance out this high-volume, half up hairstyle.
8. French Braided Low Ponytail
A French braid adds interest and elegance to any hairstyle, including this classic French braided low ponytail.
Start styling by separating three thick sections of hair from one side of your head. Braid these sections together into a single French braid from roots to ends. Secure the rest of your hair into a low ponytail at the nape of your neck, and wrap the end of your braid around the base of the ponytail for a neater style.
Use a flat iron or thin curling rod to curl the ends of your hair to add volume, but don't add hairspray and either let the curls relax on their own or gently comb your fingers through them to create a loose, carefree style.
9. Dutch Braided Half Up Bun
Don't be fooled by how complicated this hairstyle appears to be. Styling this intricate Dutch braided half up bun is not nearly as complex as you might think.
Separate out small sections of hair on each side of your head and braid them from your roots to the crown of your head. Twist the ends of these braids up into a knot and secure the half up bun at the crown of your head. Curl the loose ends of your hair for an elegant finish that is definitely prom-worthy.
10. Twisted High Ponytail
Styling this twisted high ponytail isn't much more complicated than pulling your hair back into a classic high pony, but it is elegant and glamorous enough to rock at prom.
The loosely curled ends of this high ponytail cascade down from the upper crown of your head. These curled ends and the twists at the base of this ponytail give this hairstyle volume and prevent an unflattering flat, slicked-back look.