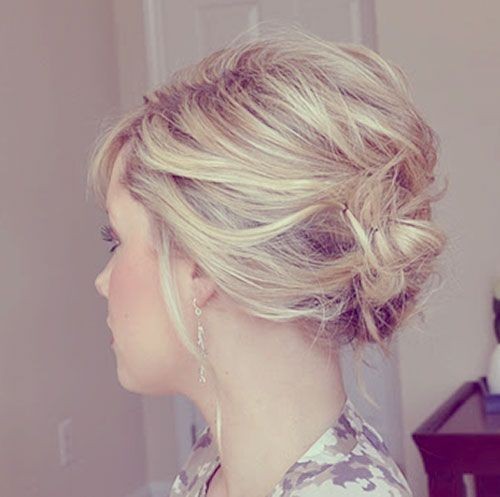 12 Short Updo Hairstyles Ideas: Anyone Can Do
There are a great number of ways of styling a long hair into a up-do, however, there are fewer ways to make short hair appear as longer updo. Here we will suggest some popular and smashing updos for short hair.
For shoulder-length hair, you can try some braiding or plaited hairstyles or pile it on top random tendrils to fall round your face. Or you can just pull it up to the top of your head and dress it with a fashionable ribbon. For quite short length hair, you can style it upwards and style it into a quiff hairstyle.
Besides, longer layers throughout the top and having a bang allow you to transfer your everyday casual look to a splendid updo with a few styling products and pins. In addition, bobby pins can help create illusion of longer hair. If you desire to create extreme volume, you can turn to an extra strength gel, putty or molding clay to give your strands and then manipulate them into your desired shape.
Chic Low Bun Updos /Via
The hair is styled into a low up-do with hair band and pins. The top section is combed loosely. You can decorate it with cute hair accessories.
Messy Updo Hairstyle for Short Hair /Via
The short –length hair is twisted into a messy and causal up-do. It works better one people with smaller face structures.
Headband Updo for Short Hair /Via
The black thin headband adds much cuteness and fun to the teased up-do. It is a cool option for summer.
How to Style: DIY Short Hair Faux Updo Hairstyle /Via
This is a luscious faux updo hairstyle. The short hair is twisted and applied with hold hairspray.
Sweet and Chic Short Hairstyle for Prom /Via
The sweet and chic up-do with teased top can be a great choice for braid and braid maid. This up-do gives the illusion of more length.
Holiday Party Hairstyles Ideas for Short Hair /Via
The short hair is braided into an up-style, which looks romantic and smashing.
Holiday Short Hairstyles Ideas for Updos /Via
The either side of hair is created into two French braids. And twisted and pined at the nape of neck. The fabulous knots also look charming.
Short Updo Hairstyles for Women /Via
The twisted up-style makes the short hair more luscious and feminine. The teased and loose top section creates a causal and natural effect.
Formal Short Hair for Updos /Via
This short hairstyle shows us that even a short updo may be a classic and daring. This chic and daisy style can be done on short stretched natural hair.
Twisted Updos Tutorials for Short Hair /Via
This twisted updo looks so sweet. It'll work well for those days of summer. You can create some messy curls, and then twist the front pieces to the back. The headband also adds much fun.
Perfect Simple Short Updo Hairstyle /Via
This style looks intricate, yet it is not simple to achieve. You will need a lot of bobby pins and then twist the hair.
Work Hairstyles for Short Hair /Via
This short updo hairstyle is super gorgeous and can be rocked starting from a set of bantu knots. To keep it in place, some hold-hairspray is needed.
updo