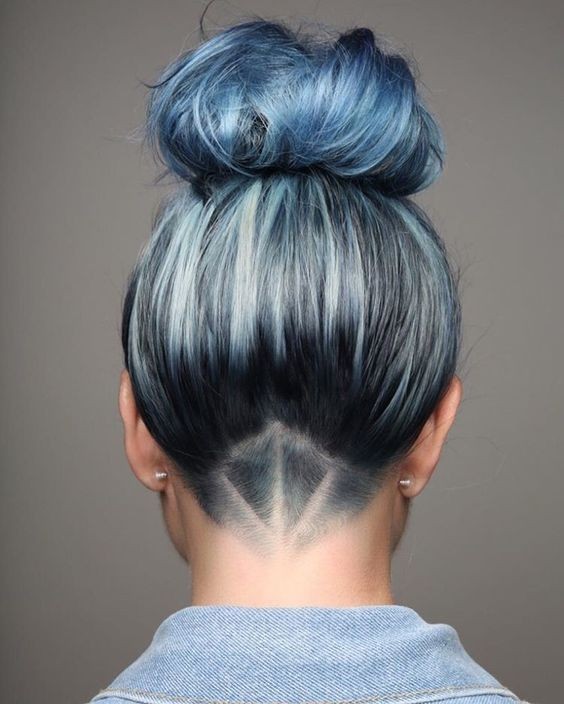 10 Intriguing Blue Hairstyles and Color Ideas
This year it's all about the BLUES! Any combination and shade of blue will work, but if you're in need of a little blue inspiration, check out these charming blue hair color ideas, complete with hairstyles and all.
Ocean Blue Ombre: Straight Lob Haircut
Black roots are the perfect setting for this magnificent ocean-inspired blue hairstyle. This indulgent shade of darker blue has hints of indigo intertwined right in for a cascading effect that's nothing short of beautiful. For a dark blue hairstyle idea, consider this ocean blue Ombre. No fancy styling needed- leave hair straight to showcase the unique blend of darker blue shades.
Icy Edgy Blues
When you go for a hairstyle as avant-garde and wild as this, you need a hair color to match the excitement. Her locks are lined with an intense blend of neon and electric blues alongside white pieces and jet black roots. Prepared for ALL eyes on you with this hot number.
Blue Medley with Design: Undercut, Messy Short Bob Haircuts
Blue hair doesn't have to be the typical blue shade; get wild with your blue color choices and go for a unique blend of denim, Aqua, and indigo. Together they cascade into a gorgeous medley, and if you really want to go over-the-top, ask your stylist to create a quirky designed undercut.
Bright Neon Blue and White: Straight Long Hair
To say this look is striking would be an understatement. This hairstyle has ALL the "wow" factor put in place, with a bright neon blue shade on top and white strands underneath. Looks especially grand on long locks where the colors can be extra noticeable and perky.
Icy Blue to White: Ombre Long Hiar
Icy, white hot shades are incredibly desirable when you're seeking a 'do that's loud and vibrant. She starts off with icy blue at the roots, leading down to a white lower half. A few subtle curls tosses in a dainty appeal that can be worn anywhere.
Blue Ombre: Curly Lob
Settling on a single shade of blue can be a challenge; instead of one-noted hair, dip into the Ombre trend and start off with deep blue roots, an icy shade of blue in the middle, and teal-tinted ends. Extremely vibrant and tons of fun, it's the perfect Ombre for short bobs or lobs.
Dark Indigo Highlights: Balayage Bob Hair Styles
If you prefer darker colors for your hair, you can't go wrong with strategically placed indigo highlights against jet black strands. The color combo is fierce and attractive, perfect with a dark red pout and seductive smoky eyes.
 Denim Bun with Design: Balayage Hairstyle for Long Hair
Denim is the up-and-coming blue hair trend that's taking over the fashion world by storm. Denim has a unique color that looks awesome on any base, but tends to look especially charming on darker manes. Toss it up in a bun and show off your uniquely designed undercut!
Denim and Teal: Messy, Curly Short Hairstyles for Thick Hair
Denim + teal = match made in heaven. This lovely pairing had the best of both worlds, with a darker hue of blue and lighter shades flowing underneath. These two shades are intriguing and fun and look especially lovely in waves.
Purple and Blue: Ombre Lob Hairstyle
Purple and blue are THEE hottest colors for the year, so don't just pick one- rock BOTH! Ask your stylist for a sexy Ombre technique with neon purple and lighter hues of baby blue with touches of teal inside. It's fairylike and VERG fun!