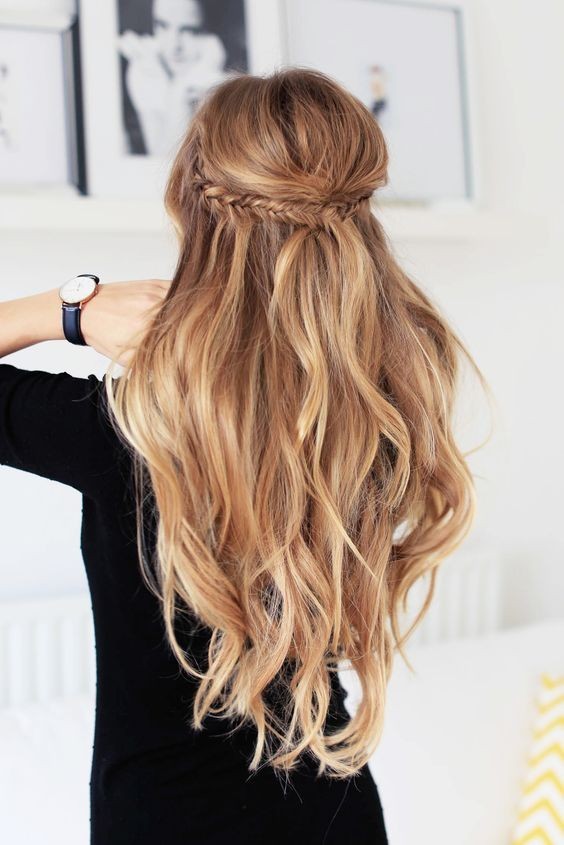 10 Beautiful Hairstyle Ideas for Long Hair
One of the best parts about having long, beautiful hair is there is plenty of room for styling! If you're in the mood for a new color or simply want to shake up your everyday hairstyle, you're going to fall in love with these long hairstyle ideas. Everything from glamorous braids to striking highlights is found on this must-see list!
Wavy Fishtail Half Updo:  Long Hairstyle with Braid
There's something so effortlessly elegant about waves, especially on extra lengthy locks like these. Alone waves are stunning, but to give your look an extra kick of style and flare while also getting rid of pesky strands around the face, make two small fishtail braids and pull them back into a half updo. Suitable for a multitude of occasions, fancy to ordinary.
Braids and Volume: Ombre Long Hairstyle with Straight Hair
With a delightful brown to blonde ombré hue like this, looking like a knockout is a cinch. But giving your look that extra spice of girly attitude is fun too! Add in some braids to your look (which just so happen to look extra flashy with Ombre coloring) and tease the top for some sassy height.
Romantic Ringlets: Balayage Long Hairstyle with Wavy Hair
Full, luscious ringlets kept intact never fail to be breathtaking; especially when your have rich dark chocolate strands enhanced with a lovely shade of golden highlights. Rock these ringlets to any formal event and have all eyes on you- don't forget a sexy red pout to match.
Straight Cherry Wine: Ombre, V Haircuts with Straight Long Hair
Sometimes it's best to forget the styling and let your color do the talking. Her exotic Ombre is a lovely cherry wine combo that's great for the colder seasons. Bring your warm hues to life with some glossing product and a straightener for ultimate shine.
Big Side Braid
The great thing about having thick, radiant hued locks is they look particularly well when pulled off to a side braid. The look is an instant classic that's oozing with sophistication and class.
Highlighted Loose Waves: Layered Long Hairstyle
Kick up your brunette game a notch by adding a slice of brightness, like these luxurious cinnamon and blonde highlights. Absolutely stunning, these strands are asking for some beautiful loose waves to bring them to life in a very feminine manner.
Edgy Undercut for Medium, Long Hair
Feeling daring? Step into the world of edgy look-at-me attitude with a cool undercut like this. Not a hairstyle for the faint of heart and certainly not the girly-girls first pick.
Loose Side Fishtail Hair Styles for Long Hair
That color blend is absolutely striking, that goes without saying. But you can blend and mix these colors together even more flawlessly by choosing a fishtail side braid. Absolutely on-trend and undeniably tasteful, she keeps the top half on the loose side to give it a more casual and carefree everyday appeal.
Extra Loose Curls: Pretty, Balayage Hairstyle for Long Hair
Giving your beautifully highlighted long hair a bit of body and elegance is a cinch when you opt for extra loose curls. It has a beachy appeal, but can also pair up with your fall leggings and scarf with ease.
Balayage Big Waves for Long Hair
Long hair is the perfect platform for Ombre and balayage coloring, offering plenty of room to let those colors stand out. We're loving her dark to light brunette balayage option, those big waves offering plenty of bounce with every single step.