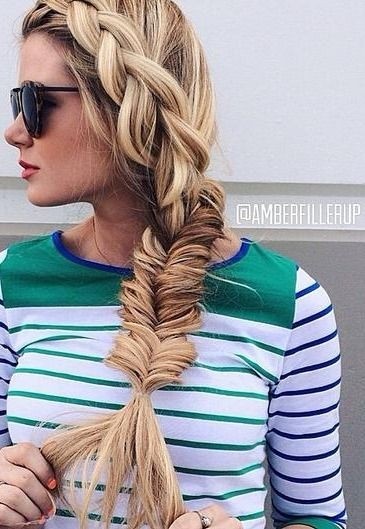 8 Chic Side Braid Hairstyles
If you get the braids hairstyle properly, it can make you more charming, attractive and graceful. If you are lucky to have medium or long locks, you can try out some stunning different kinds of braids. You can form a simple 3 strand structure, a French plait, Dutch plait or a fish bone braid. You can always find the most suitable braid hairstyle. In the text, we will share you some popular and dainty side braid hairstyles and ways to create them for women.
Classic thick side braid can make you fabulous and modern. To get such a style, first wash your hair with a volumizing shampoo. Make it dry straight and style a deep side parting to the left side. Then, collect your hair to one side and fix it to a low pony tail. Next, divide the ponytail into 3 equal parts and begin braiding it. When you get to the hair end, tie it with a hair band. Choose a fine-toothed comb to get rid off some tendrils of hair from the braid to create a bit messy look. A messy side braid looks quite cool.
French braids look charming for all formal events. If you want to show off your long manes, French braid will be your ideal option. The style can bring you a romantic yet sophisticated look. It is hoped that you have found the ideas useful and helpful. When choosing them, you'd better take your face structure, personality and lifestyle into consideration. Do not wait any longer, it is time to try them out.
Side Braid Hairstyles for Long Hair: So Gorgeous for the Summer Bride! /Via
Messy Side Braid Hairstyles: Long Hair Ideas /Via
Chic Dutch Braided Headband: Side Braid /Via
Side Braid: Loose Braided Hairstyles /Via
Stunning Side Braids: Holiday Hairstyles for Long Hair /Via
Half Up Dutch Side Braid for Short Hair /Via
French Fishtail Braided Hairstyle for Medium Hair /Via
Side Braid Updo: Prom Hairstyles Idesa for Long Hair /Via