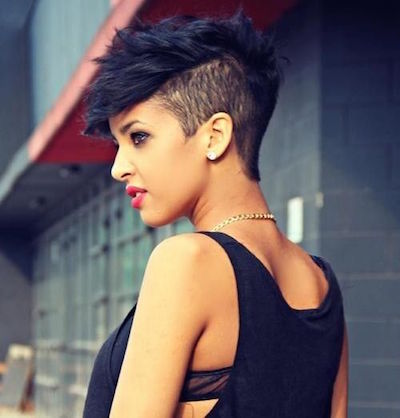 20 Edgy Women's Undercuts
It's the mark of what defines being "edgy" today. It's what women do when they are looking for a radical change. Undercuts are huge in modern society, for both men and women. They work on long and short hair, creating a dynamism that most cuts don't offer. They are daring, brilliant and most importantly, stunning. If you have the guts to pull one off, you should. Here are some great ideas to get you started.
1. Sweeping Undercut
Despite the sweeping hair, this cut remains edgy with it's intense undercut.
2. Rough Undercut
Definitely a risky move, this look is for those of your who are really "out there."
3. Sleek Undercut
This sleek look proves that you don't need messy hair to stay edgy. The colour does it here.
4. Edgy Undercut
This look is certainly rough on the edge, yet it's incredibly stunning.
5. Dark Undercut
Ginnifer Goodwin continues to "wow" us with this intense and gorgeous undercut.
6. Cropped Undercut
While this cropped look may be more more subtle, it's equally effective.
7. Easy Undercut
This look is great for those who are looking for a little (but not too much!) change.
8. Slicked Back Undercut
Slick your hair back to achieve this stylish look!
9. Voluminous Undercut
Bring on the volume! This looks stuns us with it's sheer height.
10. Ombre Undercut
Undercuts are a great opportunity to play around with ombre hair!
11. Intense Undercut
Intense and sweeping, this undercut is a definite style statement.
12. Blunt Undercut
Unique and tastefully done, this undercut is stunning due to it's originality.
13. Long Undercut
This gorgeous sweeping look is perfect for those who can't decide between short and long hair.
14. Casual Undercut
This chic look is definitely a winner.
15. Curly Undercut
Mix things up with a curly top, as shown here!
16. To the Skin Undercut
Proof that you can have long hair and still rock this style statement.
17. Pink Undercut
Pink nails it with this sexy, wavy undercut.
18. Design Undercut
This stunning and unique look is a subtle way to have fun without getting too intense.
19. Back Undercut
Another experiment that paid off: only doing the back of your head.
20. Mohawk Undercut
If this isn't edgy, I don't know what is.