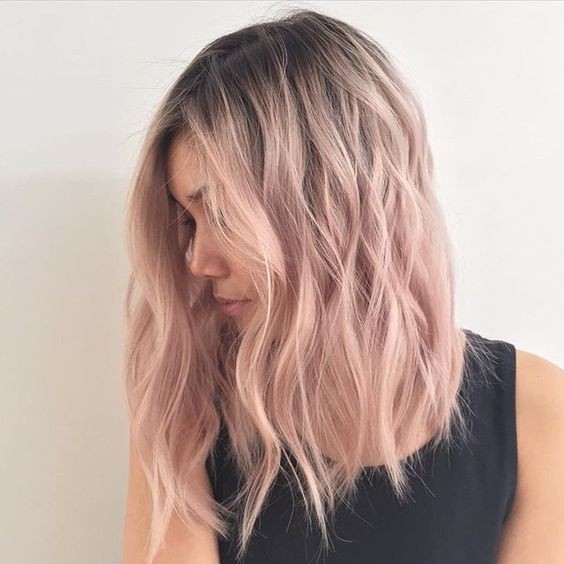 10 Unique and Desirable Pastel Hair Ideas
Looking to add some striking colors to your locks? Pastel shades are a favorite in the hair industry right now, including everything from striking purples to subtler denims. Make your pastel dreams come true and be inspired by one of these lovely pastel hair ideas.
Soft Pastel Blonde Highlights: Balayage Wavy Lob Hairstyle
Pastel colors don't always have to be quirky or vivid; this subtle pastel blonde shade is a quick and easy way to brighten darker blonde strands, and with loose beachy waves like this it's an excellent summer option.
Purple Blue Ombre
Purple is an insanely trendy color for this year, as is blue; so don't settle for just one fashionable shade- combine the two for a colorful knockout that's fun and daring.
Pastel Unicorn: Straight Lob Hairstyle
Right up there with the ever-popular mermaid trend is of course the unicorn style. This pastel blend shows off the bright, fairylike appeal of the unicorn style beautifully, with a bright and colorful collection of lavenders, pinks, teals, and so much more. Simply fascinating!
PINK Balayage, Ombre: Straight Shoulder Length Haircut for Thick Hair
PASTEL PINK- need I say anymore? This unique hue of pink is a little less girly and a bit more punk-rock. It's chic and pairs well with darker roots for a contrast that's truly rockin'.
Pastel Metallic Lavender: Curly Lob Hair Styles
Now here's a hue you won't see often! This utterly unique shade is defined by having solid lavender hues blended with silvery grey undertones for a metallic style that's enchanting. Give it that extra feminine appeal and beautiful bounce with some messy waves.
Pastel Pink Hints: Best Ombre Hairstyles with Wavy Lob
Give your look a little hint of girly attitude by throwing in some pastel pink highlights into your light blonde locks. Looks the best during the summer season when being bright and cute is a must!
Pastel Purple Balayage: Messy Curly Lob Haircut for Thick Hair
This desirable shade of pastel purple is the perfect matchup for dark brown roots. The colors connect for truly magical finish that's great for winter.
Balayage Denim Silver: Cute, Straight Short Bob Haircut
The grey trend is still going strong, but the latest craze in the hair world is DENIM! Combine these two on-trend hues for a remarkable finish that's warm and edgy, a great pairing for black or super dark brunette manes.
Lilac Ombre: Short Haircuts for Thick Hair
Lilac is such a sweet, magical hue of purple that's bright and enlightening. Pair this color easily with dark or light roots for a majestic finish.
Gray Balayage
The latest gray trend has proven that this shade isn't just for older folks; especially when there's such a beautiful and dimensional blend of lighter and darker tones. This awesome look combines silvers and deeper shades of gray for one very enticing finish suitable for women of all ages- not just old!