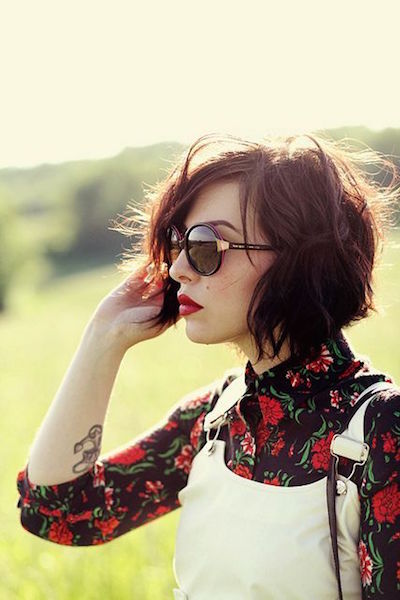 20 Chic Short and Messy Hairstyles You Have To Try
These days, it's all about natural beauty. I don't know about you, but when I wake up in the morning I don't have that effortlessly beautiful "I just rolled out of bed" hair. My hair is a mess. I'm sure I'm not the only one who struggles with this dilemma. Luckily, messy hair trending, and because of that we are getting a look at tons of super chic shaggy hairstyles that are easy and fun. And they don't require you to sleep perfectly still in order to achieve the above mentioned look.
1. Messy Pinned Curls
Pin up your wild hair in order to keep it looking in place, but equally messy.
2. Wavy Bob
When it comes to mastering the shaggy look, it's all about those waves.
3. Day Two Bob
Sleep on this twisted bob in order to achieve the perfect grunge look.
4. A Ruffled Pixie
Ruffled it up in the morning and you're set for the day!
5. Classic Twist
This classic twist is stunning because it is so simple.
6. Wild and Free
But, in the end, nothing is stoping you from letting it all be wild and free.
7. Flattering Bed Head: Short Haircut with Side Bangs
The ultimate Pixie we all dream of having. While it probably won't look like this when you wake up, with a bit of styling, it can.
8. Summertime Waves
Let out your summertime waves. Let the wind blow through you hair and go wild.
9. Girl Next Door Cute
This cute pixie is adorable and very flattering. Let you pixie grow out and have fun with your longer locks.
10. Grungy Wave Bob
Give into the grunge with this wavy bob! It's cute, sexy and easy!
11. Baby Buns
Throw in a few tiny buns. Their size will add some texture to your hair, giving the illusion of a short and messy do.
12. A Bun With A Twist
This gorgeous hairstyle may be more complex, but is definitely worth it in the end.
13. Messy Bun
The classic messy bun. You can never go wrong with this look!
14. Side Swept Pixie: Cute Short Hair Style Ideas
Nothing creates messy hair like going against your natural part. Give it a try and see if you like the results.
15. Rogue Curls
Don't pay attention when curling your hair. Instead, let them fall where they may to achieve this awesome look.
16. Thick Bob
Got thick hair? Don't thin it out! Keep it thick and luscious to achieve this hairstyle.
17. Cute and Messy
For a messy look that is more subtle, try out this look. Straighten your hair (if you need to) and then blow dry it to add some texture.
18. Big Volume Bob
Embrace your volume! Let it create natural waves in order to achieve a naturally messy look.
19. Classic Messy Bob
Diana Argon is the queen of messy bobs and it's clear why. Her layers create amazing texture, rendering this look grungy.
20. Wind Blown Pixie
An open car window is your friend and the easiest way to achieve a look like this without spending hours in front of the mirror.