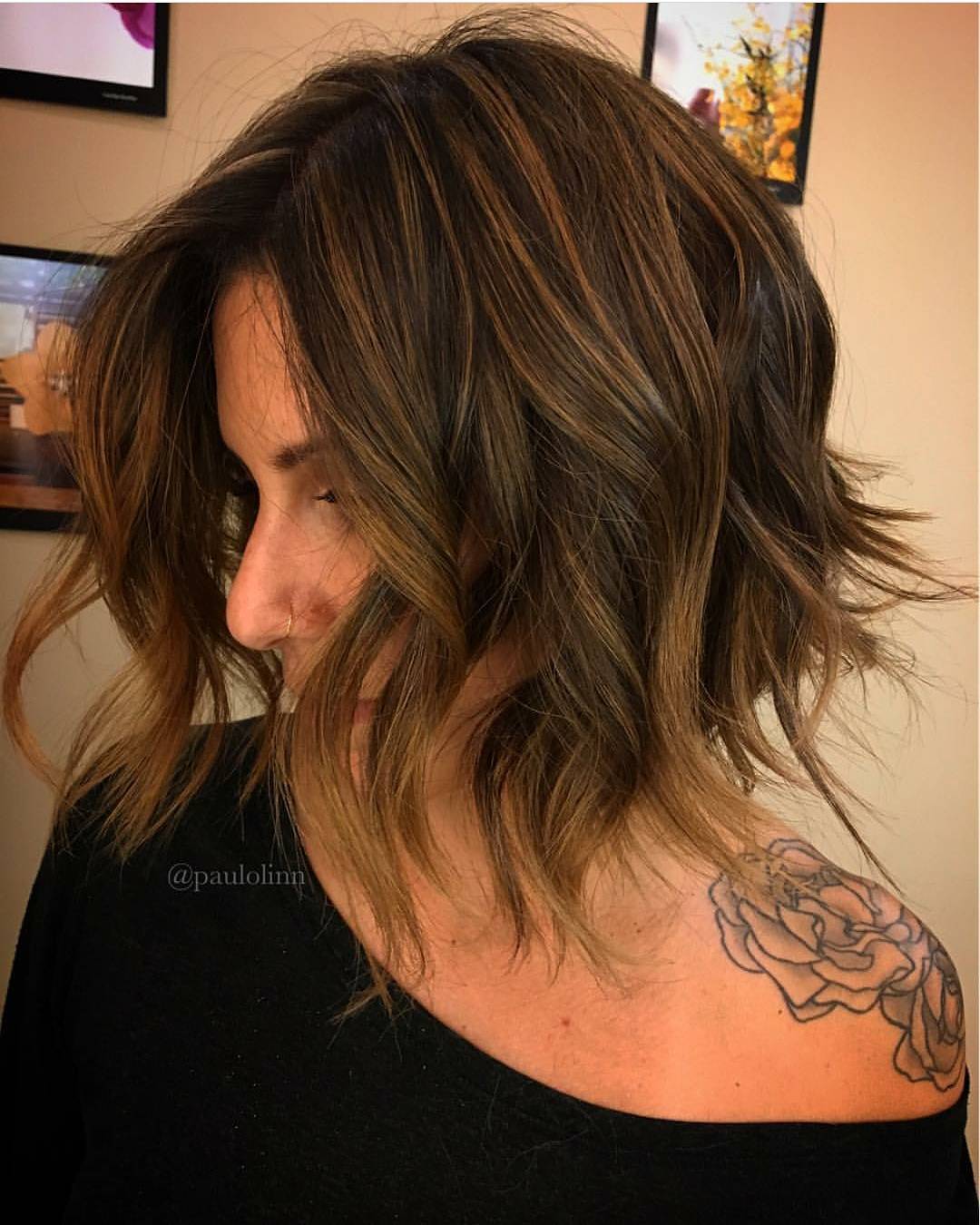 10 Short Brown Hairstyles with Fizz, Short Haircut Ideas
Solid, dark colors don't always reflect enough light to show-off the trendy texture and lively movement in your hair! But with a little clever balayage in a harmonizing tone, your short, brown hairstyle will be fizzing with fantastic fashion-flair. Welcome to the flattering, short brown hairstyles that guarantee you'll have more fun than your blonde companions!
Special-date styles to show-off tattoos – short brown hairstyles with fizz
This is a special-date look, which will show off a pretty tattoo when you're wearing an off-the shoulder outfit!  The hair is cut in a long, angled bob with tapered tips to remove bulk at the ends.  Styling is the clever bit about this lively short hairstyle, with overlapping twists creating fabulous texture and density.  Flicked-out straightened tips keep the vibe edgy and subtle, light-brown balayage highlights the lively movement to perfection!
Vintage bouffant bob with beige balayage – short brown hairstyles with fizz
If you have thick hair, it's almost a crime not to wear one of the many modern angled bobs!  The angled bob is a classic look that always manages to look modern and hip!  It seems that bouffant back volume is reminiscent of a formal up-style, but the face-framing strands suggest hair that has recently 'tumbled down'. The straight sides have lightly textured tips to blur and soften the edge.  But it's the exaggerated roundness and gorgeous copper-beige balayage that make this an eye-catching, party-ready look!
Light-up dark hair with neutral-blonde balayage – short brown hairstyles with fizz
Lighten the look of heavy, thick hair with this modern bob that catches the light beautifully!  You can control medium – thick hair with a medium/short bob cut just below chin-length – one of the most flattering lengths.  It's a trendy, but natural look using neutral beige-blonde shades cleverly applied between root and tip.  This emphasises the curved shape and lifts the solid look of dark hair through cute light reflections!
Pert short haircuts to show-off neck tattoos – short brown hairstyles with fizz
This model has got the right balance between fancy tattoo decoration on her neck, and a natural hairstyle.  The cut has a gently stacked back to boost shape and volume in the longer layers around the crown.  There's a beautiful, curved contour in smooth layers tapered expertly into the nape, and the asymmetric tattoo behind one ear is clearly highlighted.  The smart profile includes the latest style of parting long layers to display a bare ear and your favorite, trendy earrings!
Quirky bob with twists & copper balayage highlights
The rich and attractive colors colorists are putting into dark coffee hair this season are eye-catching in a very tasteful way!  So if you prefer attention from classier guys, this is definitely the way to go.  Solid dark hair has been broken up with natural waves and fashionable end-bends above strongly tapered, edgy tips. And with soft copper-beige balayage accentuating the fab texture and movement, brunette hair really comes to life!
Classic angled bob with chestnut-ice balayage
This style is perfect for thick, brunette hair that looks well-groomed, fashionable and youthful.  The hair is cut in long layers with concave texture in the last couple of inches to help hair fall naturally into curved tips.  The softly curved back creates a lovely round profile, above the blurred straight nape, on the model's super-healthy hair.  And the band of 'reflected light' at the back may look totally natural, but it's actually subtle, chestnut-ice balayage accentuating the feminine curves!
Messy angled bob with vertical blonde balayage
If you prefer a touch of edginess this angled-bob has asymmetry and trendy styling for a casual look.  The latest styling twist is to have hair parted to show a bare ear, and a statement earring.  Short layers at the back add interesting texture and volume that contrasts with longer layers at the sides.  There's a sexy peek-a-boo vibe in the long fringe falling casually over one side of the face.  And lots of fine blonde balayage highlights break up the solid dark lines adding texture and density!
Snazzy half-up bob & copper balayage
This blunt-cut, same-length bob is full of attractive style details, showing that easy-care cuts aren't the least bit boring!  This length, falling a couple of inches below the chin, is one of the most face-flattering options.  It can be adjusted to balance any face-shape and is incredibly versatile for a variety of up and down styles.  This same-length bob has blunt-cut tips which always make fine or medium hair look thicker.
Cute short & curly pixie haircut
Here's a cute look that suits different hair textures and can be adjusted to flatter many different face-shapes. This pretty model also has a long face, so the asymmetric line of the fringe helps break up the length.  Curly texture also distracts attention from the long, unbroken lines of a long or angular face.  Adding height on top isn't recommended for long faces, but you can see how beautifully this short hairstyle frames the eyes and eye-brows!  And keeping the hair color natural balances well with colorful neck tattoos, avoiding going over-the-top in color and pattern!
Smooth & chic asymmetric pixie for fine hair
Today's final short hairstyle shows the latest twists on the popular pixie-cut.  The long, angled fringe moves down to the opposite side to break-up the length of the model's slightly long face. Both profiles show side-points that are angled, but not pointed.  This creates a softer line and makes fine hair appear thicker.  The nape has feathery, textured tips for a cute, back feature.  And the cut frames eyes and cheekbones in a very flattering way!  Tip: Adding light-colored dangly earrings helps add width to a narrow/long face and minimises a narrow chin.  And, strangely enough, this straight, asymmetrical hairstyle with height on top is very flattering for round face-shapes, too!