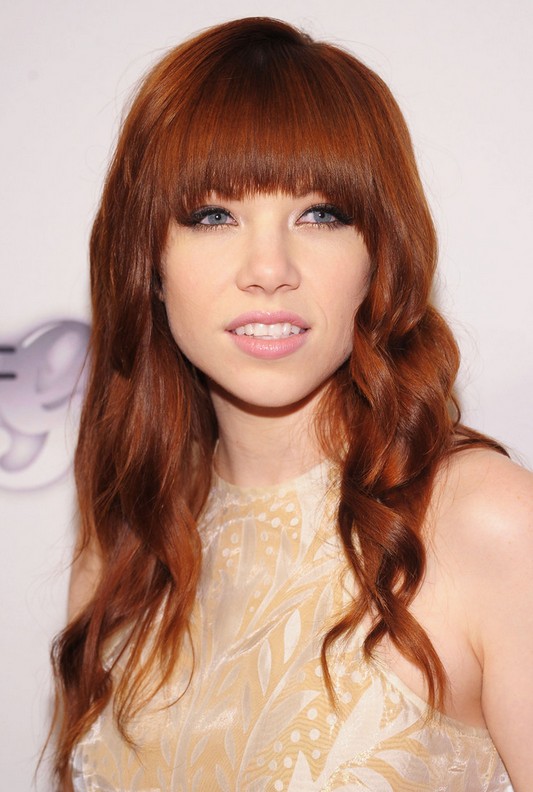 Carly Rae Jepsen Hairstyes: Cute Long Hair
This is a totally unexpected combination – fabulous copper-red and blue eyes! Carly's pale skin tone is perfectly complemented by this super-trendy colour and the amazing touches of darker copper balayage lowlights which accentuate the movement in the waves.
The hair is layered with a short side parting and an asymmetric touch in the swept over hair on top. The full fringe is cut in an arc that is shorter in the middle and graduated down to finish on the cheekbones.
And for an ultra-modern look, the waves are also asymmetrical and mixed with defined, straighter strands in this truly fabulous, eye-catching style!
Carly Rae Jepsen Hair: Casual Long Hairstyle
This fabulous young look is expertly cut to create exciting texture and movement around the focal point of Carly's fabulously blue eyes and pretty face. The hair is cut into long layers with carefully textured ends creating wispy tips that contrast with the strong lines. The short centre parting adds volume on top in the defined strands and the heavy fringe ends at eyelash level, before graduating down to eye-framing strands at the sides.
The tousled texture is beautifully accentuated by the subtle gold highlights that are just a couple of tones lighter than Carly's natural brown base colour.