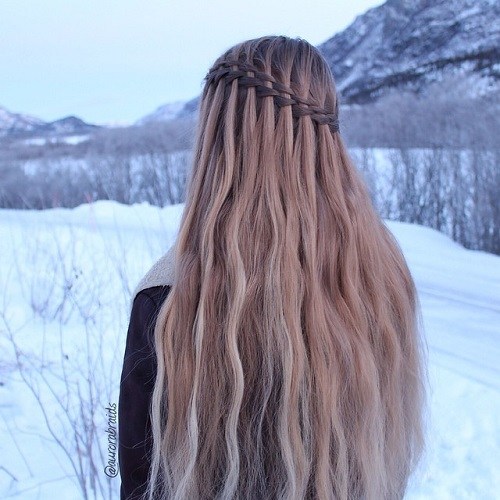 20 Gorgeous Waterfall Hairstyles: Cute Long Hair Styles
Waterfall braids are one of the trendiest ways to plait your hair. They offer a glamorous feel that's suitable for high-end events, while also being casual enough to wear to work or school. They remind us of the beauty of a real waterfall, with streams of water weaving in and out in a breathtaking manner. Fall in love with these truly pretty and dainty waterfall braid hairstyle ideas.
Double Waterfall Braids: Blonde Curly Long Hairstyles
The more the merrier- and that statement is certainly true for this romantic look. If you have long, illuminating blonde hair, you can add some serious robust texture by tossing together not one- but two lovely waterfall braids on top. The lengthy voluminous curls cascading below creates the illusion of romanticism and femininity that's undeniably breathtaking.
Pulled Together Double Waterfall Braid
Two is better than one, and giving your look double waterfall braids certainly creates some vibrance and dimensional that's feminine and soft. However, by simply pulling your locks together at the center of the head and giving it a cute little 'bun' feel, you create a sophisticated and mature style that's great for social events.
Highlighted Waterfall Braid: Blonde and Red Color
Striking hair combinations, such as this mix of blondes and red hot reds, look extra awesome when wrapped into a feminine waterfall braid. You can clearly see the unique combination of colors as they spin and swirl with each plait, which obviously makes this hairstyle an eye-catching number.
Mini Waterfall Braid on Balayage Brunette:  Curly Shoulder Length Hairstyles
Thick, luscious tresses like these needs a little break from fullness, and you can accomplish this by tossing in some weightless highlights on the ends with a cute little miniature sized waterfall braid up top.
Braided Half Updo: Dark Brown Color
For those days where you need to look extra nice but not too overdone, this is the ideal candidate. Her half Updo is both sweet and sexy, with a sassy half Updo that highlights the waterfall braid. Long flowy curls make a sleek appearance that pairs well with a pencil skirt and heels.
Renaissance Waterfall Braid
Simply breathtaking. This romantic waterfall braid hairstyle idea takes on a renaissance theme that is incredibly delicate and feminine. Fit for a renaissance queen, polished ringlets below add a sense of daintiness that ties the look together immediately. To twist this into a boho style, simply wear your fave boho apparel and call it a day.
Messy Side Waterfall Braid
If you are short on time and rushing out the door, it may be hard to complete an entire wrap-around style. For those days, try on a side waterfall braid and let the rest of your dry naturally into some loose waves. This is also an excellent choice if you're new to the waterfall braid style and can't quite get the entire wrap completed.
Long Beautiful Waterfall Braid: Balayage Long Hair
Long hair can be unmanageable at times, and it can certainly be difficult to style. The great thing about waterfall braids is they're super easy to throw together and look dignified on ALL hair lengths. When you're sick of your lovely long locks and don't feel like spending hours in front of the mirror, toss together a dainty waterfall braid and be on your way.
Blonde Goddess Half Updo: Loose Braid with Curly Long Hair
Undeniably one of the most impressive half updos around, this stunning look includes two waterfall plaits leading down to a hair tie in the middle for a polished, refined style that's made even more luxurious with long tight ringlets.
Accenting Waterfall Braid with Long Hair
Just because a waterfall braid is stunning and intriguing, doesn't mean it has to be the main event. When you've thrown your locks into some charming carefree curls like these, a waterfall braid can be the perfect accompaniment. Achieve that ever-popular boho-look by pairing this effortless style with your fave boho inspired outfits.
Purple Rose Waterfall Braid: Straight Long Hair
Even bold, vivacious hair colors like this shocking deep purple hue can get a little dost of feminine charm with a waterfall braid. But to set yourself apart from the sea of waterfall plaits, add in a sweet rose to the side of your look. With a little bit of practice you can do this look in a matter of minutes, and the end result is a stunning style with girly personality all around.
Red Jeweled Crown: Loose Wavy Long Hair
Red hair is FIERCE, but you can tame down the sex appeal and enhance the utter beauty of this hairstyle by twisting your locks into an enchanting crown. Give this look the 'royal treatment' by accenting your crown with a few sparkling jewels.
Accenting Looped Waterfall Braid
When your mane is filled root to tip with tightly wound curls such as these, you may want a little break in between. By adding in just a simple looped waterfall braid around the crown, she gives off a more regal and pulled-together style that will keep loose strands at bay.
Looped Waterfall Braid with Waves
When looking like a princess is your goal but you DON'T want to spend hours styling your lengthy locks, then this is the best choice. A subtle looped waterfall braid wrapped around the crown leaves you with a regal touch, while naturally-dried waves below keep things cool ans casual.
Thick Waterfall Braid
Thick hair can overrun a waterfall braid in an instant, so to ensure your luscious, full locks don't hide away this beautiful style, make your waterfall braid extra thick. It looks great on all hair types, but is especially wonderful on a shorter haircut as it gives the look plenty of feminine personality with bounce and flare.
Miniature Hanging Side Braided Waterfall Braid: Ombre, Balayage Long Hairstyle
It is NO doubt the boho look is HOT right now, so if you want to give your traditional waterfall crown a bit of a bohemian feel, add in a miniature hanging side braid off of your wrap-around plait. A subtle touch of waves ensure the boho beauty comes to life, as do your accompanying boho clothing.
Soft Twisted Waterfall Braid: Pretty Holiday Hairstyles
When your main goal is looking soft and delicate for a prom or wedding, pay less attention to the precision of the waterfall plait and tangle your tresses together in a looser manner. Enhance your style with voluminous ringlets using a large-barreled curling iron.
Continous Waterfall Braid: Balayage Long Hair Styles
Waterfall braids don't have to stop in the middle of the crown; to give your look a bit of an edge, continue your waterfall braid into a traditional three-strand braid right down the center of your mane. The half updo gives off a more casual and everyday look that's great for schooldays.
Highlight Waterfall Braid
Another benefit to indulging in a glorious waterfall braid is it allows darker undertones to come to front in a way they normally wouldn't. As clearly seen on this lovely model, darker hues are intertwined with lighter highlights to showcase all the unique and beauteous hues found in her hair.
Miniature Side Waterfall Braid
Stepping out of the house with stick straight locks can be a BORE! Instead of being disappointed and bored by your straight tresses, simply toss in a super-trendy and lovely side waterfall braid. This is an awesome choice for thin-haired gals who don't have a lot to work with but still want to indulge in this popular braid style.