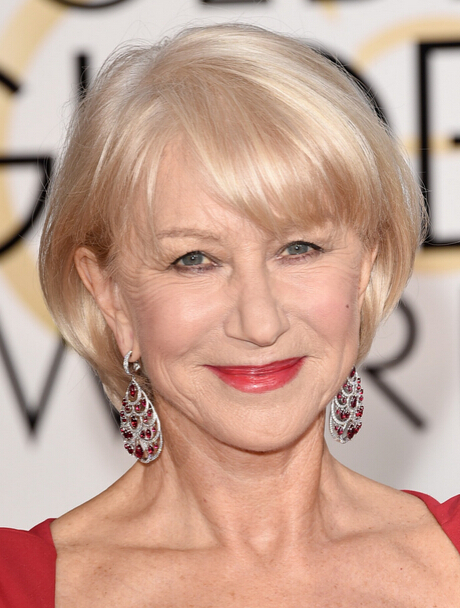 18 Modern Short Hair Styles for Women
Most women over 50 find that one of the many short hair styles for older women give them their 'best' look. And although it's now quite acceptable for women who still love long hair, to keep it at shoulder-length, the short hairstyles for older women do tend to flatter the face more!
Hair texture
It's also quite normal for women to experience a change in the thickness or texture of your hair during your 50's. For example, some women notice their hair is thinner and if you have a lot of grey hair, this may be coarser making it difficult to style and control.
Kris Jenner Short Layered Razor Haircut: Short Hairstyle Ideas for Women Over 40 /Getty Images
Short shag hairstyle
Super-straight styles are not the most flattering for mature women and you should try to get a little volume and movement in your hairstyle. The latest short shag is one of the best hairstyles for older women.
This is because there are lots of layers which can be styled to give you volume on top or around the sides and back, to balance out your face shape perfectly.
Short Shag Hairstyle /Via
Jane Fonda and Raquel Welch are great fans of short shaggy haircuts and have been wearing them for years, in a selection of different short styles,which they just tweak each season to stay totally up-to-the-minute with style, colour and highlighting trends.
For all hair types
A short shag with spiky textured tips is one of those hairstyles that always looks modern! And with a little styling cream, the layers can be lightly curled or waved to give fine or thinning hair the density and volume it may lack.
Coarse hair also looks great with a short shag cut, as you can get plenty of natural shape razored into your thick, bushy hair and enjoy a very easy-care style!
Bobs
Another of the latest trends that will add a modern touch to your look is the asymmetric bob. The geometric, angled bobs are especially suitable for balancing out a round face, as the strong asymmetric lines counteract the roundness in full cheeks.
Helen Mirren Short Bob Haircut: Short Hair Styles for Older Women /Getty Images
Long faces look good with a chin-length, sliced bob that creates some nicely rounded volume at the sides, to add width at cheekbone level.
Pixies
Pixie cuts are trendy for everyone this year and this is good news for anyone searching for short hair styles for older women! Although there's no need to cut your hair short as you get older, the fact is that a lot of us find that a short style can knock years off how old we look!
Maggie Gyllenhaal Short Hairstyle: Pixie Haircut for Fine Hair /Getty Images
Pixie cuts with a long, sweeping asymmetrical fringe are very popular and along with a spiky textured finish, smooth waves or lively, tousled curls are all giving older women the chic short hairstyles that really flatter.
Take a look at our Pophaircuts.com fantastic Inspiration Gallery now and choose your favourite new look from lots of short hair styles for older women and stay gorgeous!
Pixie Haircut with Side Bangs: Modern Short Hair Styles for Older Women /Getty Images
Niecy Nash Short Hairstyle: Cute Haircuts for Black Women /Getty Images
Vanessa Paradis Texture Short Wavy Hairstyle: Women Over 40 – 50 Haircut Ideas /Getty Images
Rachael Harris Formal Curled Out Bob Hairstyle /Getty Images
Faith Hill Messy, Layered Short Pixie Cut /Getty Images
Casual Everyday Hairstyles for Women Short Hair /Via
Modern Blunt Bob Hair Styles for Older Women /Via
Square face Hairstyle for Women Short Hair /Via
Elegant and Mature Short Hairstyles for Older Women /Getty Images
Short Hairstyles for Older Women with Glasses /Via
Easy Short Pixie Hairstyles for Older Women with Glasses /Getty Images
Ombre Curly Bob Hairstyle for Women Over 40 – 50 /Via
Hairstyle Ideas for Women Over 40 -50 /Via
Messy Layered Pixie Hair Cut /Via