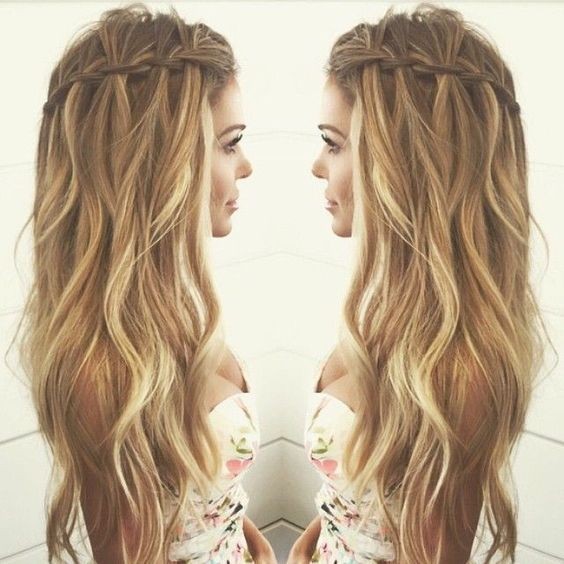 10 Pretty Waterfall French Braid Hairstyles
Waterfall French Braid hairstyles are definitely eye-catching and extremely stylish, but not always easy to do for yourself at home. However, if you have long hair it's well worth your time learning how to put a waterfall French braid detail in your hair, or asking your stylist to do it for you!
Creating a great impression
Your hairstyle says a lot about your personality and it's one of the first cluesthe people you meet will use to decide what sort of person you are. This means that you should think very carefully about what type of impression you want to create and choose a hairstyle that helps you appear in a positive and appropriate light.
Simple Waterfall Braid
Be original
Waterfall French braids are special and unusual and always project the image of an original thinker with cool fashion sense. So wearing a simple, waterfall French braid hairstyle to a job interview may be the detail that gets you remembered and hired over other applicants.
If your hair is fine and straight, adding a line of waterfall French braiding is a great way to add some fabulous texture and fashion style to an otherwise forgettable haircut.
Youthful
There really isn't any other style I can think of that creates such an attractive, youthful look on long hair than a pretty circlet made by a waterfall French braid around the top of the head.
It evokes a past age when young village maidens would decorate their hair with a daisy-chain circle for a country wedding. So it's adds a very young and feminine vibe to your overall look.
Trend-setter waterfall style
If you're looking for a job in the fashion industry or any job where you want to look like a smart, trend-setting professional, try a fabulous diagonal waterfall French braid hairstyle!
Asymmetry is hot and getting an asymmetrical waterfall French braid will put you in the top trendy category instantly. And you can add separated, defined waves draping down from a waterfall braid for a totally high-fashion Boho image, too!
Balayage Wavy Hair
Casual Summer Hair Styles for Long Hair
Easy, Loose Waterfall Braid
Short Bob Haircut
Pretty Curly Long Hair Styles
Cool Braided Hairstyle
Waterfall Braid Tutorial
Different Types of Waterfall Braids
Waterfall Braids for Short Hair
Glamorous Waterfall Braid
Formal waterfall French braid hairstyles
And if you're looking for the perfect look for a formal event, you can really go to town on long hair with an intricately woven French braid hairstyle that's sure to get you lots of compliments!
Take a look at our fantastic gallery now and choose your favourite waterfall French braid hairstyle today to refresh your look!