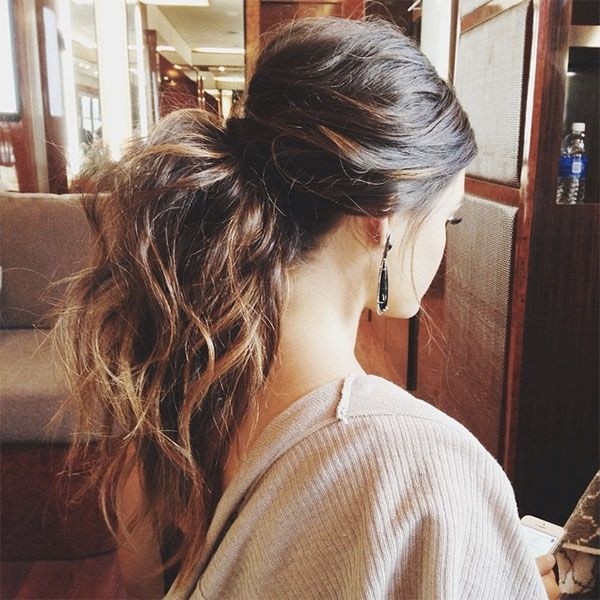 20 Ponytail Hairstyles: Discover Latest Ponytail Ideas Now!
Ponytails must be one of the oldest hairstyles known to womankind, yet every new season the fabulous hair-fashion designers manage to come up with a new twist on this very popular hairdo!
The ponytail has stayed popular with woman all over the world for so long, because it's practical way to keep long hair controlled when you're at work or having to battle against winter wind and rain.And it's a great way to draw attention to your best facial feature, too.
Lots of cute ponytail ideas can be used as the base of a glamorous updo that's perfect for a formal social event, or as a convenient way to keep cool in the summer!
Half up half down ponytail ideas
Half up half down styles are everywhere this season and rely on a cute ponytail to achieve a totally contemporary look. One of our favourite ponytail ideas has a little extra volume on the top, which you can achieve by lightly back-combing the section that runs from forehead to the crown.
Big Messy Ponytail Hairstyle – Half up half down ponytail /Via
Positioning of ponytail
The variety of positions in which you can fasten your ponytail is at the heart of the best ponytail ideas, because they all give a completely different beauty image. High ponytails suggest glamour, especially if you add a stunning hair accessory, asymmetric ponytails are chic and low ponytails are relaxed and casual.
Ponytail Hairstyle with Braids /Via
Glamorous pony-tails
To highlight a good bone structure, try a 'no-fringe' brushed back ponytail that's fastened high up at the crown. This will keep all the focus on your face and you can wear lots of eye-makeup and a bright lipstick to emphasise the glamour!
This is also a good style for adding length to a low forehead as it leads the attention up to the same height as the hair fixed at the crown of your head.
Summer Hairstyle Ideas /Via
Ponytails for long faces
On a long face, the most flattering ponytail idea is one that uses a fashionable long, side swept fringe to reduce the length of face and cover the forehead.
To further balance your face shape, ensure you have extra volume at the sides from pulled down choppy layered sections that are no longer than chin-length.
Cool, Messy Braid Ponytail Hair Style /Via
Lengthen a round face
And to add length to a round or plump face, you need to have a 'bump' of volume on the top and no volume at the sides. Round faces already have a lot of curves, so avoid curly ponytails and ask your stylist for a strongly angled fringe with trendy choppy layers.
Adding asymmetrical angles is always the best way to counteract a symmetrical, circular face shape.
Layered ponytail ideas
The asymmetrical low ponytail is another fashionable style at the moment. Get a few trendy layers for a relaxed and casual ponytail that looks good on any occasion!
Layered Ponytail Ideas /Via
Take a look at our Pophaircuts.com fabulous Inspiration Gallery of super-cute ponytail ideas – with a 21st century twist – now!
Messy Cute Ponytail Hairstyle for Medium Hair: Easy Everyday Hairstyles /Via
Perfect Ponytail Hairstyle for Curly Hair /Via
Pretty, Messy Braid Ponytail Hairstyle /Via
Topsy Ponytail Hair Tutorial /Via
Cute Mohawk Braid Ponytail Hairstyle for Medium, Long Hair /Via
Textured Double Ponytail /Via
Twisted Ponytail: Easy Long Hairstyle for Summer /Via
Fashionable Ponytail Hairstyle with Side Braid /Via
Creative Twisted Ladder Braid Ponytail Tutorials /Via
Dutch Braid Ponytail Hairstyle – Women Long Hair Style /Via
DIY Double Fishtail Braid Ponytail Hair Styles /Via
Half Up Ponytail : Elegant Wedding Hairstyles /Via
Easy Braided Ponytail for Medium Hair /Via
Easy Braid, Ponytail /Via
High Ponytail Hairstyles with Headbands /Via