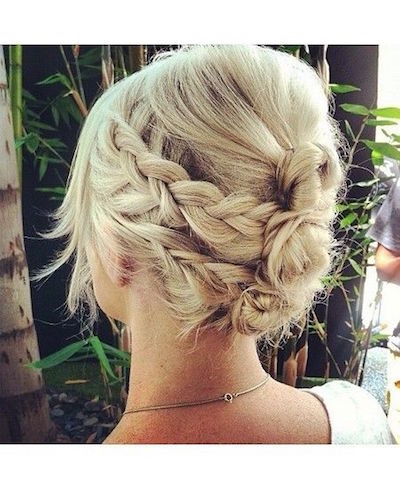 20 Gorgeous Updo Hairstyles for Short Hair
Short hair, while fun and refreshing, can also be a pain. When it comes to variety, options are limited in comparison to those with long hair. I know. I struggled with this. However, that doesn't mean that there aren't some stunning and simple updos that work on short hair, because there are plenty. All it takes is a little bit of creativity and time and the ability to make braids. They will be your saviour. Trust me.
1. Messy Pinned Bun
Forget trying to get all your hair into a ponytail. With short hair, that is an impossible task. Instead, grab a handful of bobby pins and go crazy!
2. Double Twist
This gorgeous double twist is simple and stunning. Bonus? It takes less than a minute to do.
3, Voluminous Waves
You can never go wrong with big waves!
4. Triple Layer Bun
Who knew short hair could have so many layers? This look is soft and flattering on all.
5. Half Up
A classic when it comes to short hair updos.
6. Braids Galore
Do it up with beautiful braids and a triple bun.
7. Pinned Under
When in doubt pin your hair away! It's the perfect updo that works for work and a fancy night out.
8. Hidden Twist
This stunning do may be tricky, but it is definitely worth it.
9. Casually Done Up
Keep it casual with this naturally beautiful look. The loose waves around your face will be very flattering and feminine.
10. Wind Blown (With Hairspray)
While it looks natural, we all know it's not. But that doesn't mean it won't work for you!
11. Pompadour
Play with volume! Have fun styling a look like this for your next outing.
12. Illusion of Curls
Tight coils pinned into place is an easy way to make your straight hair look wavy!
13. Wild Ringlets and a Clip
Restrain some wild curls with a fancy clip!
14. Rope Twist and a Bow
For a more casual look, try this gorgeous rope twist. Jazz it up with a simple bow.
15. Curls and a Headband
It's all about the accessories when it comes to short hair. A thin headband can be a life saver!
16. Optical Illusion Braid
It never ends! You may have to look up a tutorial for this one.
17. The Stefani Curl
Pop sensation Gwen Stefani made this look famous. Who says you can't rock a more subtle version of it?
18. Pearl Pins
Nothing classes up your standard hairdo like some pearl pins!
19. Tucked Away: Short, Updo Hairstyles with Bangs
Again, I stress the need for pins. You can do anything with them.
20. Slick Back with Hidden Braids:  Prom Hairstyle Ideas with Short Hair
But if you're looking for a hairdo with more edge, this may suite you best of all.