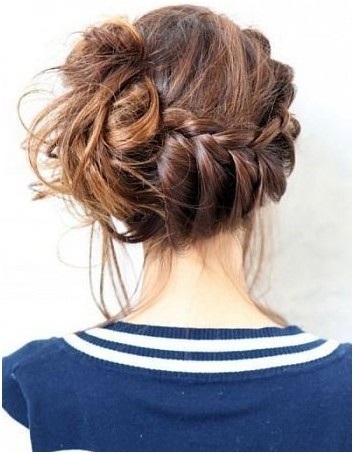 10 Trendy Messy Braid Bun Updos
Bun updo hairstyles have quite a long history and with the creative ideas, more and more stunning bun hairstyles emerge and obtain wide popularity. The braided bun looks super luscious and it is always picked up by people who desire to keep all their hair away from their face for a charming look.
The messy braided bun can make the wearer more feminine and elegant all day or night long. The sweet and romantic braid adds much fresh and daisy factor to the usual buns. If you also specie up your boring hairstyle, you are lucky to come here.
Messy Braid Bun for Medium Hair: Updos Tutorials /Via
This is a messy bun with teased top. All the hair is combed away from the face. For more effect, you can match it with some shining accessories.
Messy Braided Bun Updo Hairstyle: Side and Back View /Via
The braided bun is quite romantic and glam. The trendy hairstyle recreates that fun look by wrapping woven braids of hair with smooth strands. The charming braided bun is certain to many head-turns. The dainty braid bun draws people's eyes to the nape of the neck and will be super sexy with low-back dresses.
Messy Braided High Bun Updos: Updo Hairstyles for Summer /Via
The splendid braided bun hairstyle exposes the sexy neck and pretty forehead. It is certain that the ultra-voguish and special braided bun can earn lots of admiring glances. The upgraded and magnificent messy bun is suitable for any special occasion.
Wonderful Braided Knot Bun Updos: DIY Updo Hairstyles /Via
The wonderful braided knot plus the cute side braids creates a classy and messy look with modern elegance. This braided bun features much volume and causal style tips. Some bobby pins helps keep it in place longer.
French Braid Bun Ideas: Side Updo Hairstyles /Via
The French braid bun looks subtle yet sophisticated, glamorous. This delicate braid bun is ultra-easy since the bun and wrap around braid attach securely with a hidden pins. For added effects, you can pair it with some little flowers or jeweled hair accessories.
Messy Braid Bun Updos Tutorial /Via
The long manes are created into luscious and wonderful braided bun that id of super charm and grace. The adorable hairstyle can flatter many events and works greatly for people with fine to medium and long hair. You can add some accessories to make the bun more impressive.
Easy Messy Bun Updos: Back View /Via
Everyday Hairstyles for Braid Bun /Via
Trendy Messy Braid Bun Ideas /Via
Messy Braid Bun /Via