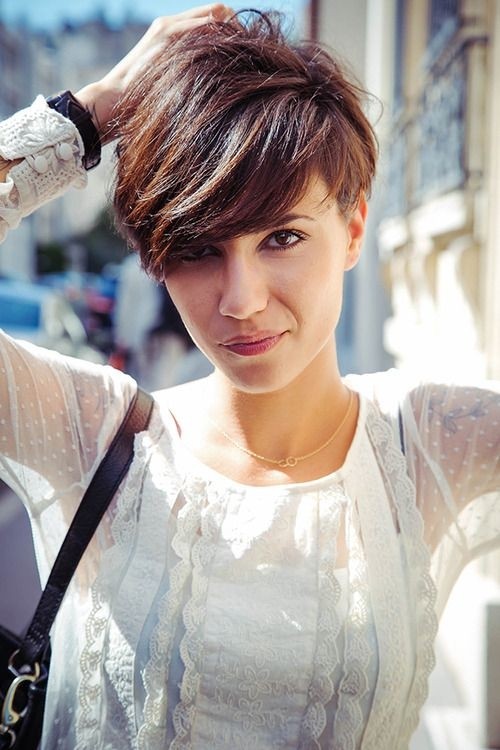 Best New Short Hairstyles for Long Faces
Want a spiffy, easy-care but contemporary look, but not sure which will be the best of the short hairstyles? For long faces, there are lots of fabulous short haircuts that are especially designed to flatter!
Very few people have a perfectly oval face, so hairstyling is commonly used to balance out the face and make it closer to the oval ideal.Here's some advice on how to flatter a long/narrow face, using the latest short hairstyles.
Stylish Straight Bob Hair Cut /Via
Shape and volume in short hairstyles
For long faces, the main rule is keeping the verticalfocus on the centre of the face, that is from the eyes to chin-level, but no longer. This is a very successful way to diminish the length and then you just need added shape, volume or highlighting at the sides to create the visual illusion of width at cheekbone level.
Pretty Pixie Haircut /Via
Fringes
There are several ways to do all of this and have a super-trendy hairstyle for long faces, too! For example, fringes are a great way to cover up the forehead and 'shorten' your face shape.
Try a fashionable long fringe cut to sweep across the face from an asymmetrical side parting. By choosing an asymmetrical parting, you will break up the narrow symmetry of a long face and make one of the focal points draw the eye outwards, giving the impression of a wider face.
Cute Long Pixie Cut /Via
Short shag cuts and choppy layers
Amongst the latest trends, you have a fabulous choice of suitable styles including the short bob cuts and the popular pixie cut. The short shag is definitely one of the winners in this year's popularity stakes and it's perfect for adding side volume with a trendy, short hairstyle for a long face.
Choppy layers and uneven lengths with almost ragged-looking tips are a strong trend, too, giving a futuristic unconventional look.
Stylish Shaved Hairstyle for Short Hair /Via
Retro flicked-up look
One of the best retro-styles to add width is the short bob with flicked-up sides. And by adding lighter balayage colour accents or highlights to accentuate the sides, you can make your hair appear even thicker at that point.
Trendy Short Hairstyle for Thick Hair /Via
Fine hair
On fine or thin hair that lacks natural volume, the layered bob or pixie are always flattering and by fluffing out or curling the sides, you can add the width that will balance out the length of your face very effectively.
Everyday Hairstyle for Short Hair /Via
Smooth elegance
If you prefer a sleek, smooth style you can have that, too! Choose a chin-length bob that's smoothly styled on the top, add a long curved asymmetrical fringe and gently back-comb the sides to add a nice touch of width.
Easy Short Haircut for Fine Hair /Via
Why not take a look at our Pophaircuts.com latest Inspiration Gallery of short hairstyles for long faces and see exactly how your current cut can be changed to a more flattering shape!
Women Short Hairstyles for Long Faces /Via
Loose, Short Wavy Hairstyle with Side Bangs /Via
Straight Long Bob Hair Cut /Via
Blunt, Shoulder Length Bob Hairstyle /Via
Cutest Bandana Short Hairstyles for Summer /Via
Messy Short Haircut for Thick Hair /Pinterest
Red Pixie Haircut for Long Bangs /Via
Best New Short Hairstyles for Long Faces /Via