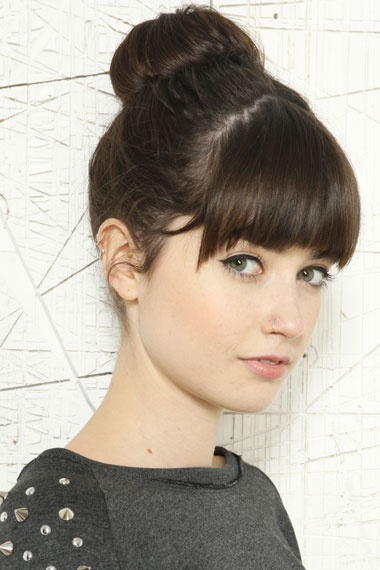 18 Quick and Simple Updo Hairstyles for Medium Hair
After years of long, straight hairstyles worn around the shoulders, it's marvellous to see the amazing variety of mould-breakingnew styles that are bringing in lots of fresh and original hair designs!
Versatile, varied and original
The medium bob has become more popular than ever, as women discover you don't have to have long hair to wear a relaxed or formal updo. After the uniformity of long, straight styles, everything has changed and now versatility, variety and originality are the key to contemporary hair fashion!
And you won't find a more interesting and varied gallery of quick and easy updo's for medium length hair, than I've chosen for you today!
Cute, Easy Updos with Bangs /Via
What the salons say
There's been a huge swing towards medium length hair recently and salons report that the main reasons are clients no longer want to spend a hefty amount of money on extensions. Moreover, after having to spend so much time and effort on careful washing, conditioning and generally keeping hair extensions in good condition, women have finally asked themselves, 'Why am I doing that, when I have perfectly good natural hair?'
The salons say most women are asking for a medium length bob, with or without layers, so they can style it at home in several different ways and with the minimum of fuss! And that's where quick and easy updo's for medium length hair come in!
Trendy
Updo's are currently super-trendy and not only for special occasions. In a fashion-throwback to the 1960's, when upstyles where a major fashion for a number of years, updo's are once again a popular choice for work, home and leisure.
Unlike the problems of arranginglong, heavy hair into a stay-put, comfortable and attractive style, quick and easy updo's for medium length hair are so much simpler to achieve!
Pretty Messy Updo Hairstyles for Summer /Via
Curly or smooth
Curly styles are super-cute and all you need to do is fix up your hair into a ponytail at the crown or just below, then pull out some pretty ringlets to frame your face and you have an absolutely adorable, youthful look!
Romantic Messy Updos Hairstyle for Wavy or Curly Hair /Via
For elegance, keep your updo smooth and select one of the many symmetrical, asymmetrical or edgy updo's that take less than five minutes to style.
Modern highlighting styles
We have a wider range of different highlighting techniques and colours than ever before, so do experiment!
Messy braid bun: Easy updo hairstyle for Medium Hair /Via
The modern twist, making this season's quick and easy updo's for medium length hairso fresh and appealing, are the totally fabulous colour effects you can create from hair that's ombréd, sombréd, balayaged or dip-dyed!
So, if you'd like to see the new season's quick and easy updo's for medium length hair – complete with a 21st century twist – here they are!
Cute Messy Bun Updos /Via
Messy Braid Bun for Medium Hair /Via
Twisted Updo /Via
Twisted Headband Updo Hairstyle /Via
Braided updo hairstyles for school, workouts, sports, and everyday for medium hair /Via
The Knot Hawk. Or a knotted french braid. Hight five for a messy updo for medium length hair /Via
Updo Hairstyles with Bangs /Via
Office Hairstyle Ideas /Via
French Twist Updos /Via
Twist Updos /Via
Braids with Updos /Via
High Bun Updos /Getty Images
Five-Minute Bun Updos for Medium Hair /Via
Quick and Easy Updos for Medium Length Hair /Via