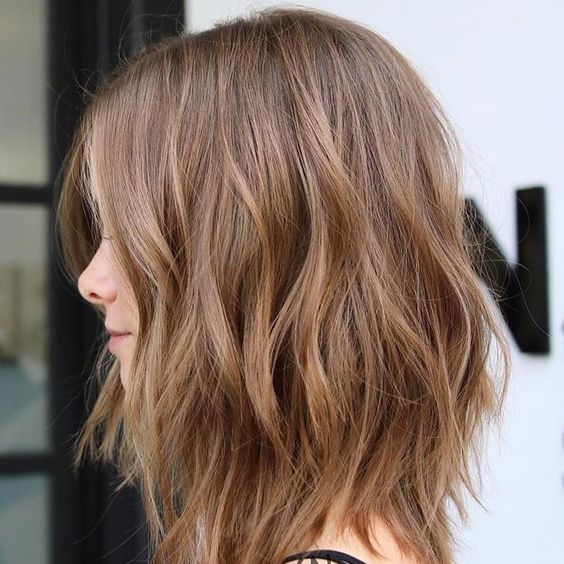 10 Flirty Light Brown Hair Looks
Light brown hair looks flirty and flattering in a very natural way! It's a trendy new option to update your hair color, without the expense of keeping up a blonde hair color. And light brown hair gives a far softer, younger frame for the face! You'll love the variety of shades on offer right now, to suit cool, neutral and warm skin undertones. So dive in and choose your new season, light brown hair shade here:
Casual messy layered light brown hair looks
This loosely tousled light-brown lob haircut is a more sophisticated way to wear long hair. It's short enough to have body and bounce, but long enough for a touch of casual sexyness! The natural look is emphasised with cool beige and subtle copper balayage on a neutral-warm, light-brown base. The layers are long with tapered tips that add a hint of shaggy rebellion that men find irresistible!
Quirky ash-blonde topknot on smoky light brown hair looks
This super light brown hair look combines a quirky top-knot with an expert blend of smoky-beige and light brown hair color.  The roots are a warm, coppery shade of light brown which transition seamlessly to soft gray-blonde in the long same-length haircut. The new shade is just like the fur on a baby koala bear! So full marks for innovation to this talented colorist!
Gleaming metallic-gold lob on light brown hair looks
Metallic gold highlighting on light-brown hair packs a major style impact! And some would say it's more flattering to anyone over-25 than full-on blonde hair color. This modern long bob haircut is suitable for fine and medium hair types. Trendy, bendy waves create a lovely face-frame with attractive side volume. And the tips are carefully textured for a soft, spikiness on this centre part haircut for oval faces!
Shaggy long bob with copper glints on light brown hair looks
Thick hair is sculpted and controlled to create a wild and shaggy look in this long bob haircut. That sounds a little contrary, but sliced layers and carefully textured tips will just fall back into the style after washing! And the color design is also new and exciting, with cool, ash-beige blonde balayage mixed perfectly with warm, coppery highlights around the top of the head.
Choppy medium bob with vertical highlights for fine/medium hair
Here's another demonstration of the latest long bob trends. The parting is slightly to one side of the centre, which suits lots of different face shapes. And the stylist has cut the hair to be same length, but graduated down from a shorter back. This favors fine and medium textured hair, as it keeps all the original density of the natural hair and makes a thicker looking shape. Wiggly waves and neutral, mid-blonde vertical highlights create the popular 3-D effect we all love!
Light copper & strawberry-blonde lob for fine hair
This is a real masterpiece of highlighting techniques that take ginger/copper colored hair to a really glamorous level. There are 4 trendy shades here, starting with lovely, rich copper-brown roots and ending with a slightly darker brown shade on some of the tips. In between you can see lively texture from casual waves and broad highlights of gleaming copper-beige blonde!
Wavy light brown lob with silver metallic sheen
Here's a great look for a trend-setter! It's a romantic, long wavy bob that has classic style – updated with a modern, silver/ash brown ombré. And the beautifully tapered tips also make this a contemporary look. It's a lovely idea for a special date or dinner-dance, where you want to show your tasteful, contemporary fashion creds. The centre part is a great style to show off an oval face by framing it with softly flattering waves.
Long wavy bob with caramel and beige balayage-ombré
Interwoven defined waves always create a very attractive and 'natural' look to long bobs. And this goes very well with the natural, light brown base of this hair color design. This length is about as long as you should go with fine hair, because it's sufficiently lightweight to gain balancing volume from bendy waves. Any longer and fine hair can look thin and flat. And to add to the look, beautifully matched beige-blonde balayage is added in the lower layers for gorgeous 3-D color depth.
Mid-brown lob with bright copper-blonde ombré balayage
This is a super way to light up dark-blonde/mousey hair in a very stylish look! And the final image is bright and lively, matching the model's rich, red lip-color, in a sophisticated hairstyle. This sliced layer haircut looks best on medium to thick hair with enough density to take the shattered layers and spiky tips. But on thick hair you get this fabulous, shaggy, mid-blonde ombré that contrasts beautifully with the smooth, darker roots. And a gorgeous, sexy, blonde-edged wave draped over one eye!
Edgy sloping bob with bright blonde vertical highlights
This edgy graduated bob has a modern short-cut at the back. 'Cos the latest short bobs have longer layers cut in a bulkier shape at the back, instead of the close-cut stacked-back from a few seasons' ago. And this adds a snazzy, modern twist that changes the silhouette, so we never get bored. This colorist has added lots of texture and color depth using broad and fine vertical highlights in two or three blonde shades. Long, disconnected layers draped below the chin add the look of long hair framing the face with soft waves.
So if it's time for you to choose a new season hairstyle, you can't do better than choose one of the latest light brown looks that can be adjusted to suit any skin tone perfectly. There's a great new haircut here for fine, medium or thick textured hair and bobs can be tailored to suit any face shape! So . . . happy new hairstyle!