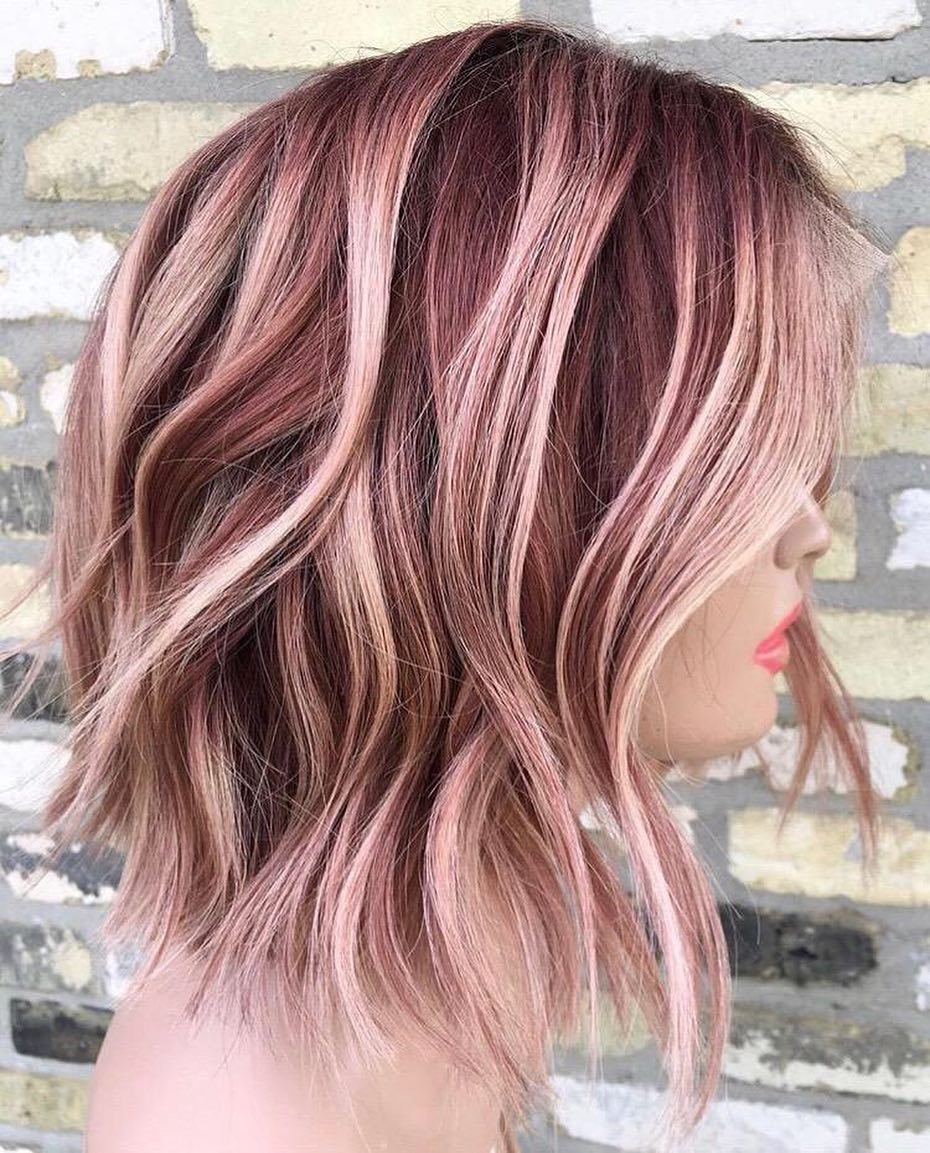 10 Creative Hair Color Ideas for Medium Length Hair
Whether you want to dye your hair pink or just add some highlights, coloring your hair can be a fun and creative way to transform your look. The color you choose for your hair should depend on its length. Different colors, highlights, and balayage patterns look best on shorter cuts, while others are flattering for long styles.
These color ideas are all designed specifically for the in-between medium length haircuts. If your hair reaches the midpoint between your chin and your neck but doesn't fall more than a few inches past your shoulders, these creative color ideas are for you.
1. Pink Highlights, Medium Hairstyle for Thick Hair
Pink hair has never looked more elegant than in this unique, multi-color style.
This style includes multiple shades of pink that range from dark to very light. Baby pink-tinted blonde highlights help ground this look and make it look less artificial and overwhelming.
2. Bright Silver Blonde with Medium Length Hair
This transition from brassy, root-y bleach blonde to sleek silver blonde shows the real power of some salon-level toning.
The end result of this color shift is a bright silver blonde color that is totally on-trend. Despite its cool tone, the color is bright enough to flatter a wide range of skin tones. An inch of slightly darker shadowed roots that fades into the rest of this silver style helps create a more natural finish.
3. Cool-Toned Blonde with Shadowed Roots
If you're thinking about going bottle blonde but don't want your hair to look too artificial, this is the color for you.
An inch of completely natural roots that fade seamlessly to mid-shaft dirty blonde and white blonde at the ends add dimension and subtlety to this bright blonde hair. Plus, the root growth intentionally incorporated into this style allows you to wait longer between trips to the salon.
4. Dark Brown to Cool-Toned Blonde Balayage, Wavy Medium Haircut
This gorgeous balayage color transitions effortlessly from summer to fall. In fact, it's trendy in any season, so you don't have to think about changing your style every time the calendar pages turn.
Dark brown shadowed roots give this style a natural finish. Blonde ends brighten up this balayage, but even its lighter sections are cool-toned to blend seamlessly into darker brown at the roots.
5. Dark Brown with Honey Blonde Highlights, Balayage Shoulder Length Hairstyles
The roots and bottom layers of this A-line bob are a natural dark brown. Its top layers are highlighted with a honey blonde shade that adds warmth and interest to this style.
If you're a natural brunette, this color could be perfect for you. Its darker bottom layers allow you to keep most of your hair natural, which minimizes damage and salon expenses.
6. Pink and Blue with Natural Roots
Natural roots fade effortlessly into blue, purple, and pink in this multi-toned style, which includes three wildly different shades that still manage to blend together seamlessly.
Colorful hair can be a major challenge to maintain. This style makes color management less high-maintenance by intentionally blending your natural hair color into brighter artificial colors so your roots won't stick out as an eyesore when they start to grow out.
7. Pink with Natural Roots
Bright pink tends to clash with natural hair colors, but this root-y pink style proves that there are exceptions to this rule.
Its blend of bright pink and pink-orange shades blend effortlessly into several inches of dark, natural roots while maintaining a seamless finish. This style is the best of both worlds for women who want pink hair but don't want to feel forced to up their roots every other week.
8. Gray Blonde with Purple Bangs
This bold style is easier to pull off than you might think. Its gorgeous gray blonde color has a subtle lilac tint that enhances its trendy cool undertones.
Purple bangs add a daring finish to this colorful style. The lilac-tinted gray blonde sections blend smoothly with these brighter purple bangs to keep this two-toned color from looking silly or over the top.
9. Dark Auburn to Bleach Blonde Balayage
This rich auburn balayage is perfect for women who like to keep warmth in their hair year-round.
Dark, warm-toned auburn roots fade gently into honey blonde and light bleached ends. This style includes several different colors that range from very dark to very light, but their common warmth gives this look a bright, seamless finish.
10. Rich Silver with Dark Shadowed Roots
Silver is currently one of the trendiest hair colors, but it can also be difficult to pull off successfully. This rich silver style shows just how majestic silver hair can be when it's done right.
Black shadowed roots fade into the bright, intense silver that takes center stage in this style. These dark roots help this coloring look less artificial and keep your natural hair color from clashing with silver as your roots grow out.