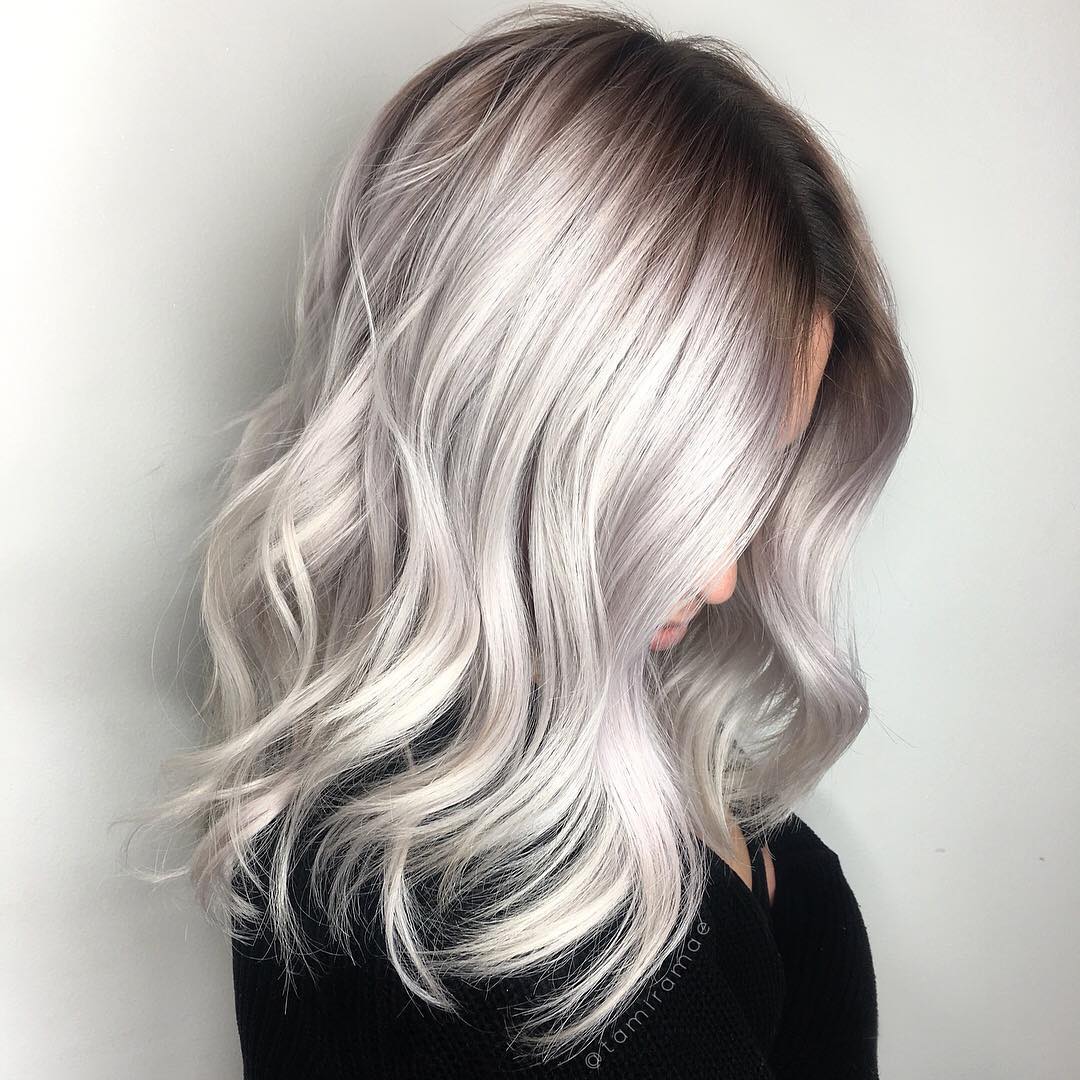 10 Balayage-Ombre Long Hair Styles from Subtle to Stunning
Remember when balayage-ombré long hairstyles were offered as a more natural way to tweak your natural hair color! Well, we've come a long way since then and today's trendy hairstyles are full of clever new techniques to achieve your favorite fashion look.  And that can be a futuristic silver-blonde on sexy long locks, or a softly gleaming pearl-blonde balayage adding natural, color-dimension to dull, dark-blonde.  Dark brunette hairstyles leap into life with copper, auburn or caramel-beige highlights, too, so feast your eyes on this spiffy selection!
Sexy shimmering  silver-blonde balayage-ombre long hair styles
Forget the nick-name 'silver-surfers' as a reference to the over-60's p.c. user, 'cos youngies are now almost as likely to have silver hair, as oldies!  And why not?  It's always been a very attractive hair-color, unfairly avoided as it tended to indicate 'senior' status.  These days silver-blonde hair is more likely to signify an ultra-modern fashion hairstyle on a gorgeous young thing! So if you have fair hair, now's the time to go all-out for a fabulously eye-catching long, silver-blonde look!
Pearlized neutral blonde balayage-ombre long hair styles
On the other hand, you may have dark-blonde hair that just needs some color-tweaking to create a trendy look that's appealing in a natural way.  On fine or medium long hair, broad strokes of beige and neutral blonde balayage add shine and color-depth.  Using subtle colors that are just one or two tones apart keeps your hair looking natural, but with oodles more style!  And worn on a long hairstyle with loose, tousled waves really shows-off the gorgeous gleam of pearlized blonde!
Fine highlights & wheat-blonde balayage-ombre – long hair styles
If you wear your long hair in a straight, smooth style, add lots of contemporary style to a traditional look by adding this expert color design.  This lovely color-makeover uses neutral-blonde vertical highlights, seamlessly blended into golden-beige half-way down.  And this sophisticated twist on long, blonde and straight hair, is perfectly finished by a gleaming, wheat-blonde ombré.  This is another of the lovely ways to lift mousey or dull light-brown hair into a completely fresh color range that looks stunning up, down, braided  – or a mixture of all styling options!
Triple-blonde highlights – balayage-ombre long hair styles
Vertical highlighting on long dark-blonde hair is still popular with many women.  And here you can see the effect  of neutral blonde/white shades on natural hair that's quite colorless to begin with.  The final look is also quite colorless and in my opinion, doesn't  harmonize at all with the model's warm-toned skin.  If your skintone is warm, having triple-blonde highlights in white and neutral tones can create the ageing impression of long, gray hair.  So if you're looking for a flattering, color lift for your warm-toned skin, ensure there are warm-beige/apricot/golden tones in there!
Neutral-brown hair with cool-blonde highlights & ombré
Here's another way to go blonde, without appearing to have gone for 'too much' of a color change.  The first 4″ – 6″ from the roots have been left in the model's natural color.  And then subtle strands of neutral blonde start to appear, with the shorter face-framing layers turning blonde at eye-level.  If you compare the root and ombré hair colors, there's quite a big contrast.  But in the hands of an expert colorist this color change can look as if your hair has always been blonde in the summer-time!
Gorgeous copper balayage on coffee-dark brunette
Moving along to some of the gorgeously warm ways of adding trendy copper shades to long dark hair, here's a fabulously soft and flattering color makeover.  The model's natural hair is coffee-brown, which doesn't reflect much light and can appear a solid and 'ordinary'.  However, the lovely waves of this long, angled bob are beautifully highlighted with dual-copper balayage and a soft, copper-beige ombré at the tips!
Ash-blonde ombré on thick long hair
Thick hair with plenty of natural body has been left in long layers, with just a little shaping in the last couple of inches.  With the bulk removed from the ends and concave layers, with lightly tapered tips, you can get this beautiful, curved shape.  The roots can be left natural for this look which moves gradually from dark to three shades of classy, beige blonde.  The lovely 'pleated' texture, is perfectly complemented by the wide-spread of ombré-balayage!
Wavy lob with beige-blonde & copper balayage for fine/medium hair
This wavy, long angled bob is extremely trendy right now and certainly moves long hair into the 'chic' category, usually reserved for shorter haircuts.  You can wear this style with a center- or off-center parting, depending on whether your face shape is oval or nearly oval.  Silky fine hair is perfect for these sinuous, but casual waves, as the gorgeous beige-blonde balayage-ombré reflects lots of flattering light.  This is my favorite color makeover combo to lighten medium-brown hair up to a classy, naturally blonde look!
Flame-shaped waves in cool-blonde ombré
Very long hair, with large, loose 'flame' waves cut in a V-back are often dyed red and yellow for spectacular effect at hairdressing competitions.  But this color-combo of gray roots, with pink toner, and a white-blonde cascade has turned that color cliché on its head!  Instead, you get a show-stopping, modern long blonde hairstyle, with a beautiful ombré.  And, as you can see, it's absolutely packed with super-cool style!
Cute long haircut with a gentle-blonde ombré
And if you just want a classy way to go blonde, with the minimum of fuss, try this lovely, neutral-beige ombré.  The model's naturally light-brown color just needed a little neutral-blonde nudge.  And if you increase the blonde down to the tips, you can move from being unnoticeable, to become an eye-catching, chic, 'blonde'!  There's a pink toner, ensuring the color complements this model's 'warm' skin undertones.  And on a long, straight hairstyle, you can really appreciate how gently the color changes brown to oat-white blonde!