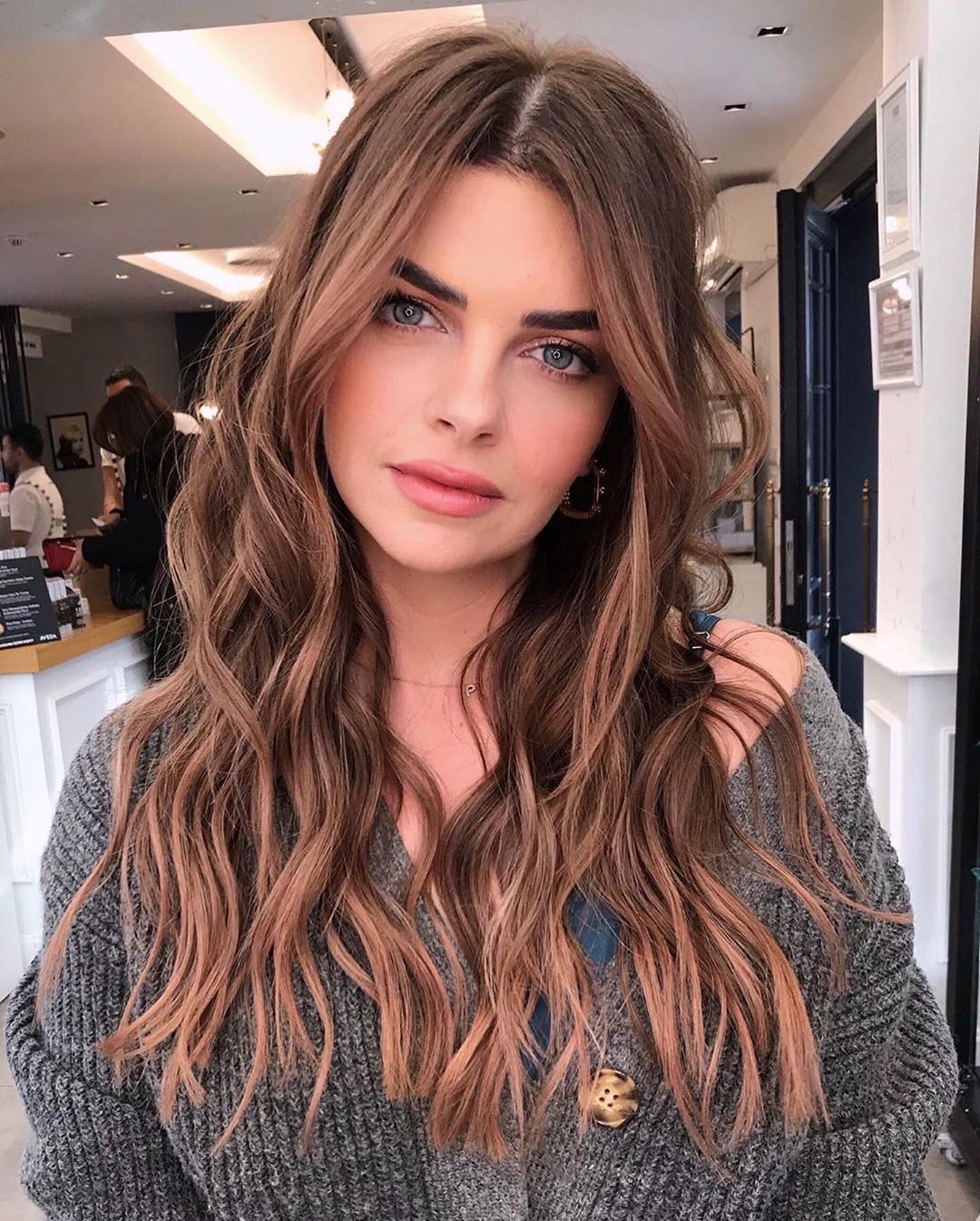 10 Female Long Hairstyles with Color Trends
Blonde is beautiful in all its different shades, tones and balayage patterns. And thanks to the variety of colors available now, there's a flattering shade of blonde to suit most skin tones. So if you think your hair is too dark to be blonde, why not browse these trendy new ideas? You'll soon find a light, medium or dark blonde balayage that can freshen up your look. So go ahead and bring yourself up-to-date with the latest hair fashion color trends here!
1. Light-brown with blonde balayage female long hairstyles with color trends
There is a trend to call almost all hair color products some type of 'blonde'. And this happens even on quite dark hair dye products. But I think we should use the traditional names of hair colors to avoid falling into the idea that every woman should be blonde! This model has lovely neutral light-brown as her main color, lightened with subtle golden blonde balayage. And adding the perfect finishing touch, cool blonde face framing vertical highlights!
2. Soft neutral blonde bayalage on light brown hair – female long hairstyles with color trends
Here's another model whose base color is either known as 'dark-blonde', or more accurately as light neutral brown. But those blue eyes tell us that this model has cool undertones to her skin tone and can take flattering, lighter hair.  Yes, even though her skin tone looks tanned and warm! I think the colorist has made a wonderfully flattering color choice here, with a neutral blonde ombré that's beautifully blended and natural!
3. Soft neutral-beige wavy blonde – female long hairstyles with color trends
These lovely waves really show-off the expert coloring in this appealing neutral-warm light blonde color. And I particularly like the fact that there's just the merest hint of darker blonde 'shadow' at the roots. It's just right for color designs that aim for a subtler, more natural finish. This is basically a blend of soft and neutral light-beige, with medium pinky-beige balayage adding warmth and 3-D color depth!
4. White-blonde balayage on straight gray long hair – female long hairstyles with color trends
This mainly gray and white hair color design is saved from being harsh by the subtle addition of pale gold blonde tones. The roots are a soft, beige gray adding a touch of warmth and 3-D color depth. 3-D color dimension always makes hair appear thicker, so it's especially recommended for anyone with fine hair. And I love the broad streaks of white-blonde balayage that attract attention in a classy way!
5. Cool dark hair with trendy neutral blone balayage on messy waves
This is a fabulous everyday look that doesn't seek attention in an obvious way. Instead the colorist has lightened fairly dark hair to neutral blonde tones that look natural. And yet, if you look closely you will see there are two horizontal bands of golden blonde adding flattering warmth. These are placed between the dark roots and the lighter blonde balayage. And again around the shaggy-cut tips at the ends!
6. Light-brown to light-blonde ombré-balayage
This youthful pale blonde look really is an attention-grabber. And the blend of warm, neutral and cool tones is totally flattering to the model's skin tone. She probably has neutral undertones, which means that warm and cool colors suit her complexion. The lovely soft light-brown roots habe been expertly blended into a perfectly balanced balayage. The balayage includes white-blonde and pale-gold blonde for a fabulous, high fashion look!
7. Muted beige-copper blonde balayage-ombré
This is definitely one of my favorite trendy, new balayage colors! It's a light, warm brown with gorgeous subtle copper-blonde balayage. Although strong copper shades usually flatter women with dark hazel, brown or black eyes most, copper-beige-blonde is a lot lighter. And it suits lighter eyes and skin undertones that are warm or neutral perfectly. Classy beige-copper and cinnamon are very fashionable this season!
8. All-over natural white blonde with hints of lavender & yellow
This eye-catching blonde hair color trend creates a youthful, arty and super-trendy image. I love the sublety of the color touches from lavender and this season's daring new canary yellow tones. And although elders with naturally white hair struggle to eliminate yellow tones, this colorist has added them in a flattering balayage pattern that adds superb color dimension!
9. White-blonde with coral-pink roots & soft balayage
This is a divine take on the fantasy hair color trend! It's not done in the bright, vivid colors of female warriors in popular anime shows. But instead it has a super-romantic look that is very feminine and alluring. Coral-pink is a little more chic that the pink shades and adds extra style to any hair color design. The waves are casual and the relaxed finish always adds a young vibe to hairstyles.
10. Super-soft light blue-gray blonde for cool skin undertones
Here's another new hair color trend that takes the blending of gray and blue to a lighter and softer level. And although the short section of top roots is darker, the main event is a lovely, long, straight fall of hair in a very appealing baby-blue/gray blonde shade!