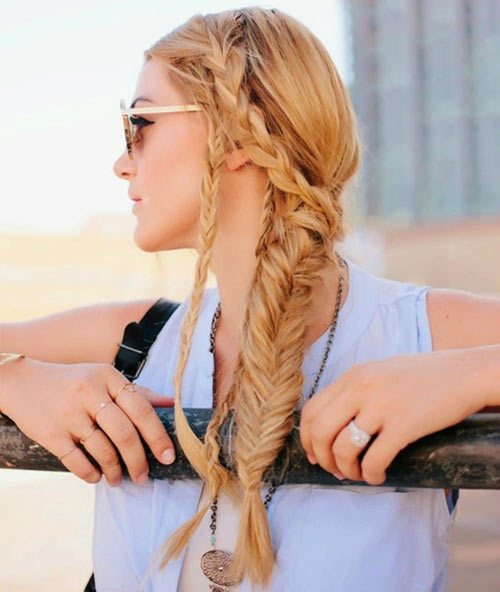 10 Best Braided Hairstyles from Fun to Formal
Today's lively gallery brings you the latest trends selected from The Best Braided Hairstyles, which are voted for by women all over the world!  So these looks are hot!  This year we're seeing the fabulous color patterns that ombré and balayage make when braided. And they're definitely all-new color combos, which we've never seen before, so well-worth a look.  Whether you're after a new twist to jazz up everyday braids, something totally shocking, or a spectacular wedding/glitzy party braid creation – we've got the lot right here!
Best braided hairstyles in mid-blonde amber and beige
Although this model is projecting a casual, summertime image, this gorgeous hair design is equally suitable for a semi-formal event!  The beautiful blonde color is a combination of flattering mid-blonde shades with pale beige balayage highlights.  The head braid and over-the-shoulder fish-braid are full of pretty color pattern and lovely texture.  And the two cute thin braids are a new detail that adds style to a very feminine and appealing look!
3 quirky blonde & ash-brown best braided hairstyles
Whilst the first image shows a formal, neatly woven braid, the trendy color design creates fabulous light/dark patterns!  Having darker roots is expected in blonde hairstyles, but this fab color design has darker, coppery tips, too!  In the middle image, the beautiful ash colors are shown in an asymmetric, waterfall braid.  And the right-hand image is different again, showing light-brown layers under the gleaming blonde braid set to one side!
Best braided hairstyles for party fun – ash-white braid wig
Whether you're dressing up for a costume party or a fun night out with the girls, this party wig will give you a completely new image! As the model has brown eyes, it would be too damaging to bleach her natural hair to such a light ash-blonde.  But we can all live our cool blonde fantasies with a sexy, over-the-shoulder wig, horn-rimmed specs, black nail color and a seriously flirty look!
Gorgeous brown & blonde ombré on best braided hairstyles for clubbers
This year we're starting to understand the fabulous braid possibilities of the ombré trend!  I knew there would be some stunning looks and this is definitely one of the best color blends.  The warm brown base has lovely blonde balayage decorating the sides and fab dual-blonde in the braids.  The color design is sophisticated adding tons of style to schoolgirl braids with a back parting.  The last few inches of braid are left loose, adding a casual touch to a grown-up, 'little girl' look!
Super-cool light gray & white semi-formal braid
This full-volume braid in high-fashion white and gray is worthy of any red-carpet celebrity!  There's symmetry in the center-back braid, but a few loose strands create a casual finish. The gray and white colors create fantastic light and shade patterns in the side-sections.  And the loose braiding style with large links tapering from crown to tip is definitely eye-catching!  You need medium to thick hair to get this amazing, snow princess look.
Adorable formal braid half-up style for girls
This fabulous, half-up style is perfect for girls with a special occasion on the horizon.  It's a wonderful wedding hairstyle for a pretty, flower-girl – omitting the loose tendrils around the face that can be bothersome.  The expertly-woven braid is cute and individual as it decorates the back above adorable loose ringlets.  This little girl's very lucky to have such thick, blonde hair and there's a hint of beige toner in the beautiful braid, too!
Shocking cherry & black rock-chick braid hairstyle
Here's a fab teen tribal look in glorious cherry-pink intermingled with black!  The fabulous in-braiding along the top is a strong trend this year, making amazing patterns.  The hairstyle and color-design are designed to complement each other, with vivid pink ombré on the top layer and roots-to-tip black on a thin layer beneath.  If you're planning this look, be sure to choose an experienced colorist.  It's worth paying for a professional job to avoid disappointment!
Hair-ring braid accessories are everywhere this year!
Here's another original, braid hairstyle that looks totally hip on long hair for summer!  The attractive orange ombré is colorful, but not too yellow, because there's a touch of beige in there to tone it down. There's a center-parting, with braids starting each side along the top and down the back.  You don't need fancy braiding techniques with such an eye-catching color.  And this year's edgy, punky hair accessory is small, hoop earrings, a trend that's caught on in a big way!
Neat nape braid on thick mid-length hair
This image shows a chic way to get control of thick hair.  The dark hair has dainty blonde balayage highlights, which accentuate the movement and texture of this pretty braid.  It's a great way to keep cool in summer, lifting most of the hair up off the nape.  And it's a quick and easy hairstyle, keeping your hair neat and fashionable, when you're too busy to give it much attention!
Clever braid up-style on mid-length hair & 3-D highlights
This image shows mid-length hair that has been expertly teased and coaxed into a super braided up-style!  Braided hairstyles aren't only for long hair and touches of trendy blonde and pink balayage definitely make this a 'special' look.  Hair's swept back off the face, with attractive volume and curvy shape along the top and down to the nape. The 3-D blonde highlights seem to jump right out from a contrasting brunette base. And the side and back views are just gorgeous!