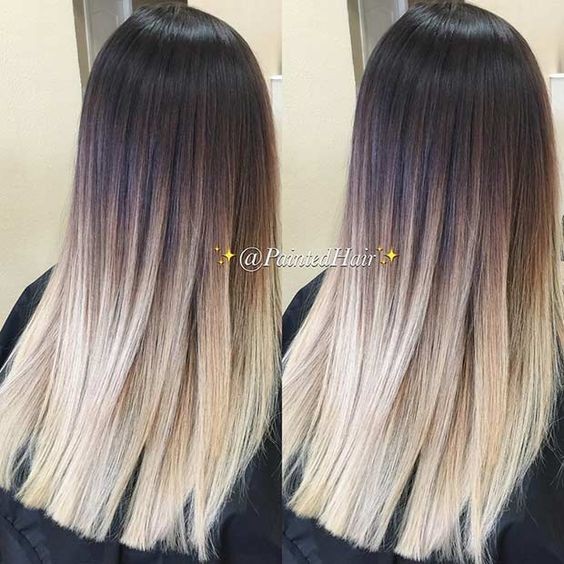 10 Stylish Hair Color Ideas: Ombre and Balayage Hair Styles
Ombre and balayage are hair colouring techniques which blend one colour to the other seamlessly and beautifully. Creating a natural colour melt, these hair transition methods have grown in popularity no end. Here at the PoPHaircuts.com office we couldn't be happier about this! We adore both the balayage and ombre hair techniques. So much so in fact, we've created a gallery of them! Here you can find some stunning ombre & balayage hairstyles. We'll even tell you how to recreate them with your own hair. So let's begin!
Black and Red Ringlets – Curly Long Hair, Women Hair Color Ideas
Starting with a stunning and curly red ombre blend! This hairstyle is absolutely perfect for long hair. Cut your hair in a blunt line an inch or so below the shoulder. Add lots of faint layers throughout the hair working upwards for a fabulous feathered style. Blend your hair from a glossy black to a deep mahogany red. Add big barrel curls from top to bottom to recreate this immaculate effect.
Caramel to White Blonde Blend – Balayage Long Hair Styles with Wavy Hair
This perfect blonde hair is oh so gorgeous – it reminds us of mermaid hair! Opt for a caramel to white blonde balayage blend to create the most beautiful sun kissed style. Keep your hair long so that it cascades down your back. From root to tip add pretty ringlets. This will give you the beautiful romantic style pictured above.
Light and Dark Copper Curls – High Ponytail Hairstyle with Curly Long Hair
Occasionally, a stunning colour transition is best showed off by an up do. Why not choose a collection of coppers for your colour? Blend a dark and light shade of copper together through the ombre transition. Add big ringlets from top to bottom and tousle your hair. The bigger the better! Sweep the hair into a high ponytail and let the curls do the talking.
Dark to Light Blonde Beach Waves: Balayage Shoulder Length Hairstyle
Beach waves are a style we simply adore. They create the perfect blend between smart and casual style! Cut a long bob into your hair, falling an inch or so below the shoulder length. Add shorter layers around the front to frame the face to perfection. Start with an ash blonde at the root and blend into a breathtaking white blonde at the tip. Add loose curls and run your fingers through for this beach effect.
Chrome and Silver Loose Curls
Dramatic and glamorous are two words to describe this look! You can recreate this look with ease. Keep your hair incredibly long so that it falls down your back. You can thicken it up with hair extensions or by back combing. For the colour, opt for a combination of silver and metallic purple in a balayage combination. Add big and loose curls from top to bottom for this glamorous look.
Brown and Copper Graduated Bob – Women Medium Length Hairstyle Ideas
Graduated bobs are stunning bobs which are longer at the front and shorter at the back. Ask your hairdresser for a medium length graduated bob which will fall around shoulder length. Add warm brown and copper tones using a balayage hair style. This will add stunning light and shade to your cut. Work lose curls into the ends of the hair for a bouncy finish.
Brown, Blonde and Grey Curly Bob Cut – Shoulder Length Haircut for Women Thick Hair
Another gorgeous graduated bob style! Opt for a cool mid-length bob cut which falls around the jaw level. Add shorter layers to the front of the face for the perfect frame. For the colour, go from dark brown to blonde, finishing with grey at the ends. This will create a top trendy finish. Work loose waves from top to bottom for a fantastic night out style!
Dark to Light Blonde Bob with Loose Curls, Balayage Hairstyle for Women
Black to Caramel Wedged Bob Haircut
Wedged bob hairstyles are full of shorter layers to the back of the head, creating a curved silhouette. Copy this style by asking for a wedged hair style. Be sure to add lots of short layers to the back of the head and at the top. The front section of hair falls longer towards the front of the face. Blend from dark brown to caramel to recreate this impeccable balayage blend. You can add curls or straighten your hair!
Brown to Blonde Straight and Sleek
Lots of this gallery have featured curly hair, so we thought we'd showcase a straight style. Sometimes opting for sleek looks shows off your colour blend even better! No matter what length your hair, blend dark brown at the root into white blonde. Using a balayage technique will show a stunning selection of colours at work. Keep your hair straight to show off the gorgeous colours at work!
Balayage is such a natural colour transition which allows you to be playful with your hair colour in the most beautiful way. You can choose vibrant colours or more neutral shades, either style looks impeccable! Leave us a comment below to let us know which style is your favourite.