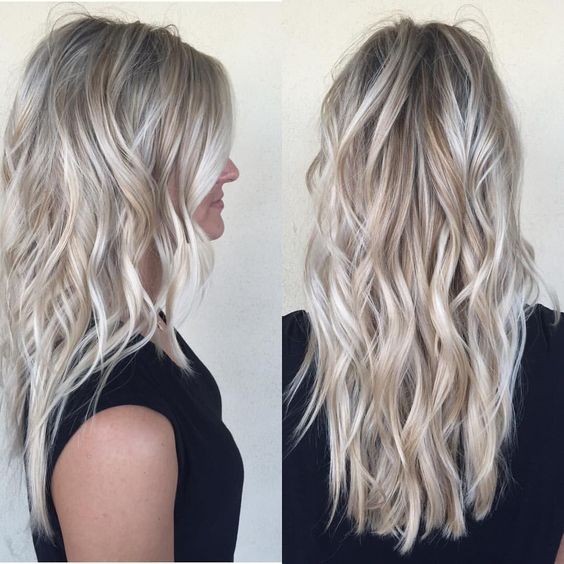 10 Gorgeous Long Hairstyle Designs: Stylish Long Hair Style Options
If you're blessed with lovely long locks, whether they're real or thanks to some lovely hair extensions, then there are almost an endless array of hairstyles you can recreate to simply transform your look. From up dos to braided styles, elaborate curls or straight and sleek, long locks provide an incredibly versatile canvas which can help you create a range of different styles, time and time again. The Popular Haircuts team have selected some of our favourite pretty long hairstyles to add to this gallery, readily available for your inspiration.
Chunky Silver Braid with Flowers – Braided Hairstyle for Long Hair
If princess style hair is your inspiration, then we're sure you'll love this gorgeous braid! This incredible French braid style has been pulled to create a loose effect, and accessorised with pretty white floral decorations to finish and create a truly bohemian look which we cannot get enough of. This lovely lady has left beautiful strands all loosely around her face to perfection.
Loose French Braid Effect
If your hair is brought to life by a variety of different colours and highlights like this lovely lady, then the best way to show off the colour transition is by working a braid into your luscious locks. This one is a loose French braid, sweeping up the hair loosely to create a more relaxed effect. Leave the front sections of hair loose for the perfect finished effect.
Half Up Half Down Braid: Ombre Long Hair
Bring your beautiful long hair to life by recreating this stunning half up half down hairstyle. Start by separating your hair into two sections, and working a loose braid into the top layer from the back of the head. With the rest of your hair, work lovely tight ringlets from top to bottom to show off your stunning hair in style!
Highlighted Blonde Tousled Locks: Balayage, Layered Long Hairstyles
These beautiful long locks are a gorgeous golden blonde, which have been highlighted with a white blonde colour to add lift and light to the style. This lady has parted her hair in the centre to create a symmetrical finish, and the layers are ever so slightly shorter at the front of the face. She's added loose curls from top to bottom and we simply cannot get enough!
Braided Half Ponytail with Tousled Curls
This stunning half up half down hairstyle is gorgeous and glam, perfect for a night out style! The hair blends from brown to blonde with a balayage transition, which has been curled and tousled. She's separated her hair into two sections, and with the top section worked three french braids from the front of the head to the back, finishing in one high ponytail.
Tousled and Textured Brown Hair
Layers can well and truly bring a hairstyle to life, as this lovely lady has proved. Her hair is a combination of light and dark browns thanks to the ombre effect, and has luscious long locks finished with shorter layers at the top of the head and towards the front of the face. She's loosely tousled and curled the hair for an exciting edgy finish.
Balayage Ringlets with Centre Parting – Layered, Curly Long Hairstyle for Thick Hair
Balayage is a hair transition which the PoPHaircuts.com team simply cannot get enough of. It blends one colour to the other seamlessly, in this case working from a rich dark brown to a gorgeous golden blonde. This lady has parted her long hair in the centre and added tight ringlets from top to bottom for a finish which will make you swoon!
Unique Pulled Braided Style
With lovely long hair on your side, you can be incredibly creative, as this lady has proved with her stunning hairstyle! Her hair is a gorgeous combination of shiny silver and pastel lilac, and has been brought to life by this elaborate pulled braid look. The front of the hair has been twisted and pulled back to create this amazing braid, which cascades down her back in style.
Brown to Blonde Balayage Ringlets – Long Hair Color Ideas
Another stunning look to add to the collection; this breathtaking curly hairstyle works from brown to golden blonde by using a balayage transition, and features stunning curls at the ends of the hair, with a ringlet style that absolutely brings the hair to life. The middle parting offers a beautifully symmetrical finish which is oh so striking, don't you agree?
Twisted Half Up Half Down, Ombre Balayage Hairstyle
Ombre has been an ever-growing trend in the world of hair, and after one look at this gorgeous lady it's really not difficult to see why! Her hair blends from dark brown to golden brown, and has been worked throughout with luscious curls. She's twisted some of the front sections of hair backwards and pinned them to create this half up half down style which we simply adore.
Let our gorgeous gallery of long hair looks inspire you to be more daring and creative with your own style. Let us know in the comments below which of these styles is your favourite, and what looks you'd like for us to explore next!