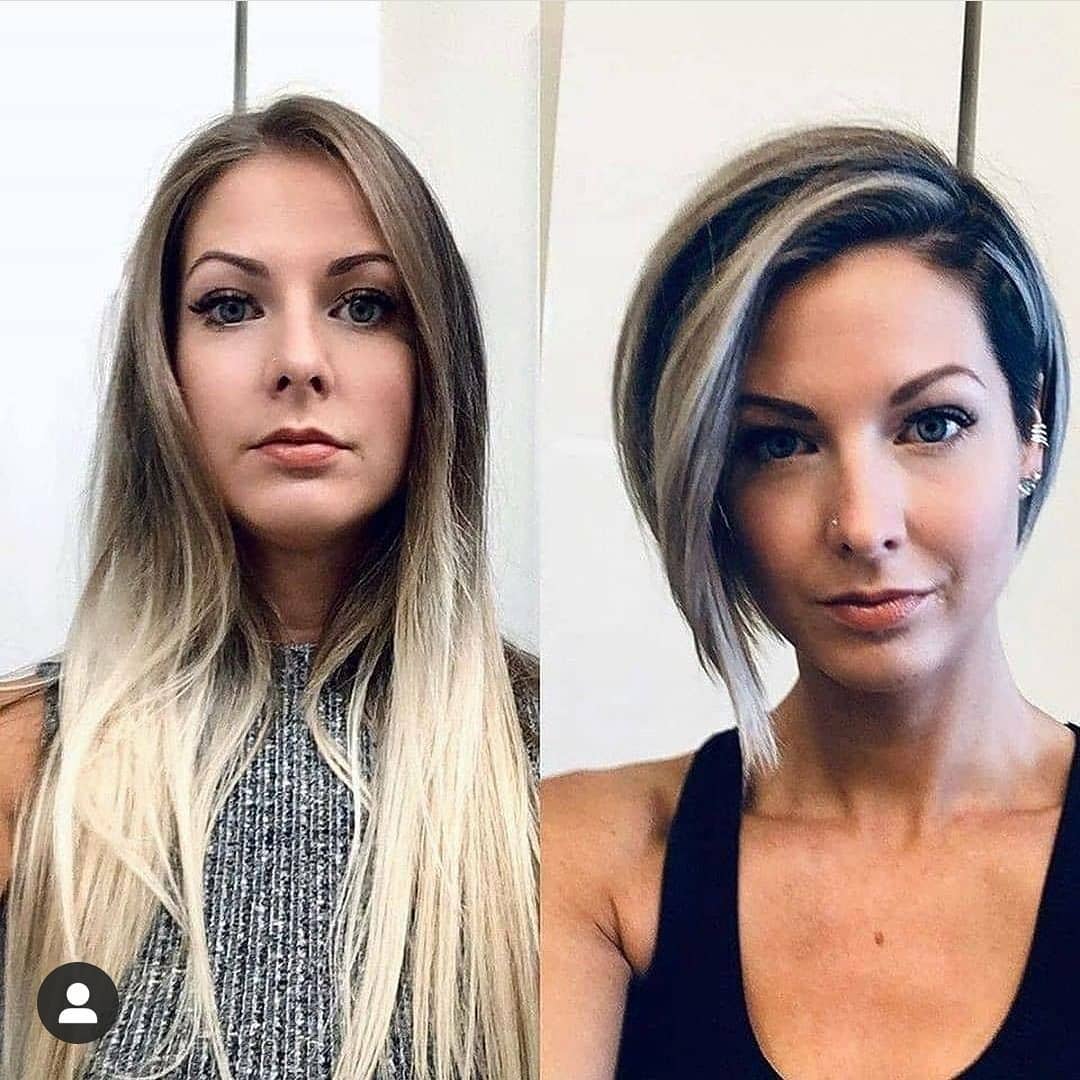 10 Amazing Long Hair to Short Hair Transformation- Before and After
And it's no exaggeration to say that the image switch in these long to short makeover haircuts is amazing! Because all of them look more stylish and fashionable. Sometimes we need to change from a 'girlish' image to get taken seriously at work. And the long to short makeover haircut is a great way to get more respect as an intelligent, modern woman!
1. Beige-blonde ombré long bob – amazing long to short haircuts – before and after
Lovely long hair in the 'before' picture doesn't do anything special to highlight pleasing facial features. And hair hanging straight and flat over your chest can ruin the line of your figure and hide your assets. But the long bob cut has lots of movement and 'swing' about it, suggesting you're a person with energy and style. The blonde ombré moved up to frame the face is more flattering, and an side-part can add a lots of interest to a simple haircut, with lots more natural volume!
2. Bland-blonde switched to dramatic asymmetric bob – amazing long to short haircuts before and after
Hair is definitely the crowning glory of lots of women and men, but these days that doesn't mean just long and lying flat. If you want to project individuality and an original take on the world, choose a makeover like this! If I had to choose a tough manager for my business, I would instinctively go for the 'after' model who looks as if she know what she wants and takes care to project a strong, stylish and modern image! The asymmetrical short bob suits her face and the dramatic dark and light balayage suggests a daring personality!
3. Muted copper makeover – amazing long to short haircuts – before and after
Ever found yourself at this stage? No particular style and perhaps too fine to make a successful long, straight haircut. The lovely natural auburn shade of the model's hair deserves a strong, simple style to show it off. And that's exactly what the clever stylist has done. The forward styled short bob shows off both her hair color and her face. With a cute peek-a-boo long fringe adding interest on the longer side.
4. Adding style to a shapeless blonde haircut – amazing long to short haircuts – before and after
This transformation highlights the miracles a good stylist can achieve! It's the same pretty model in both pictures, but could you pick them out as the same person? The stylist has moved the volume further up the head to emphasise the eyes. And less volume around the chin makes the chin look slender and attractive. Finally, a 'warm' shade of ash-blonde lifts the whole fabulous look from frumpy to ultra-trendy!
5. Long hair to short cut that creates a younger look
You may have a lovely face and lovely long hair, but have you got 'style'! 'Style' is one of the most noticeable things we register when we meet new people. And the more stylish the individual, the more attractive, and younger, they appear to us! So in this case, cutting off the long hair and replacing it with a face framing, long pixie cut makes this model appear younger, more energetic and contemporary!
6. From center part to side-swept fringe on asymmetric short bob
This ombré is turning a yellowy-orange. And there are no layers cut to highlight parts of the face. So the look is fairly plain and has no special style features. But with a long, side-swept fringe creating a diagonal line across the face, you get less forehead and more emphasis on the eyes, cheek-bones and lips. The very trendy light-brown and beige-blonde balayage add oodles of style to an already fashionable cut!
7. Outdoor girl to cocktail party chic
We all need to make a decision about what image we'd like to project. And if you want a sophisticated image to help you get on in life, this is how to do it. Wherever you work, if you want good work promotions, a short, chic long pixie is a great asset. Because with a trendy haircut you always look like a modern-thinker!
8. Medium muted copper color in a chin-length bob
When your hair is naturally a pretty shade like this muted auburn color, it's very tempting just to grow it long and let the color be admired! But a time comes in most women's life when they want to be more fashionable and a little more individual. And the simple and easy to manage style in this makeover is the perfect way to achieve that. The shorter length suits her face, and shows off her neck and decolletage!
9. Yellowing ombré to mellow beige waved long bob
Fashion changes at an incredible speed these days, and you can either ignore it, or stay stylish and get noticed! There's nothing less attractive than last year's blonde that's looking yellowed. The long bob, which ends a few inches below the chin, shows you're a trend-setter not a follower. This makeover includes a fabulous color improvement to soft, beige-blonde shade with warm tones, that's far more natural and chic than the 'before' image!
10. Thick black long hair becomes sophisticated edgy short hairstyle
Imagine these were two different young women. How would you guess their personality types? The long haired model probably finds it so difficult to deal with her long, thick, curly hair that she just leaves it to grow willy-nilly. But the other picture projects a very special image, suggesting an intelligent, modern and educated woman with lots of style! One model looks a bit disorganised, but the 'other' model looks confident and capable!