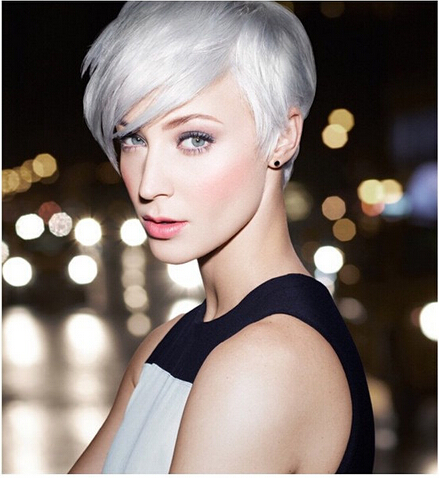 31 Superb Short Hairstyles for Women
Feeling bored with your hair? Or getting tired of spending hours styling it, when you've far better things to do? Well, you've found the right place to get a fabulous new look – so read on to discover the latest short hairstyles for women!
With short hairstyles for women currently the top fashion choice for anyone wanting to look hot, here are the major trends to help you choose a fabulous new look!
The trends in cutting and highlighting are more exciting than ever before and the range of new short hairstyles for women is wider than ever, too! So whatever your reason for wanting a trendy short hairstyle, you'll find one in our Inspiration Gallery below!
Chic Long Pixie Haircut with Side Bangs /Via
Easy-style short hairstyles
Many women prefer a short hairstyle solely because they don't have time to fiddle about with longer hair that quickly becomes a shapeless mess, if not primped and petted throughout the day.
And have you noticed that as we've moved away from buying tonnes of hairspray to keep hair under control, the hair product manufacturers have invented an enormous new range of styling products they insist we need! Well, that's one way to make up their lost profits, I suppose.
With short hair, you can go without expensive hair products and just keep your hair in a healthy, shiny condition with no need for endless deep-conditioning treatments and 'spray-on' hair-gloss.
Cute, Layered Short Hairstyles for Heart Face Shape /Via
Latest trends in short hairstyles for women
The big trend this year is for asymmetry and irregularity in the cut. We've moved on from 'messy' styling, to embrace another unconventional look which includes choppy layers, shaggy cuts and spiky pixies.
This means there is a perfect short hairstyle for every face-shape and when you've chosen your favourite photo from our Inspiration Gallery, your stylist will advise you on how to adjust it to flatter your face beautifully!
Trendy Short Haircut Designs for Women /Via
Slim a round face
In particular, choppy layers and asymmetry are a great way to slim down the roundness of a symmetrical, round face. Pixies with added height on top, tapered down to sleek sides are great for round faces.
Balance a long face
On a long face, short bobs with layers can be styled to produce the width at cheekbone level you need and a fashionably long fringe, will also reduce the 'length' of your face shape.
Flatter a heart-shaped face
Heart-shaped faces, which are wide at the forehead and narrow at the chin, look super with a short hairstyle. The best styles for you will have a fringe that shows some forehead in the centre and have extra volume at chin-level.
So take a few moments to choose your flattering, new look from our latest Inspiration Gallery of the latest short hairstyles, for women who love style, (but hate the chore of styling!)
Shaved Pixie Haircuts /Via
Very Short Hairstyle with Blonde Hair – Summer Haircut Ideas /Via
Classic Stacked Short Bob Cut – Short Straight Hairstyles /Via
Round Full Face Women Hairstyles for Short Hair /Via
Messy with Layers – Stylish Short Haircut /Via
Textured Short Haircut Side View /Via
Stylish Everyday Hairstyles for Women Short Hair /Via
Short Hair Highlights Ideas /Via
Casual, Short Shaggy Hairstyle for Straight Hair /Via
Asymmetrical Short Hairstyles with Long Bangs – Shaved Haircuts /Via
Trendy Shaggy Hairstyles with Blonde Hair – Messy Short Haircut Designs /Via
Short Crop with Swoopy Bangs – Short Straight Hairstyles /Via
Amazing, Cool Short Haircut /Via
Short Haircut for Fine Hair – Ombre, Short Hairstyles /Via
Hot and funky bob hairstyle for short hair that you can try on and set a new bob style /Via
Perfect Short Straight Hair Styles /Via
Great Short Pixie Haircuts for Fine Hair /Via
Super Short Hairstyles& New Trends /Via
Extremely Brief Pixie Cuts /Via
Square Face Shape Hairstyles for Women Short Hair /Via
Pretty Short Bob Haircuts with Straight Hair /Via
Pretty Short Stacked Bob Haircut with Straight Hair – Busy Mom Hairstyle Ideas /Via
Stylish Hair Color with Pixie Hairstyles /Via
Formal Short Haircuts with Heart Face Shape /Via
Cute Short Haircut with Side Long Bangs /Via
Very Pretty Hair Color with Short Curly Hair Styles /Via
Easy Short Pixie Cut – Everyday Hairstyle Ideas /Via
Trendy Asymmetrical, Short Hairstyle – Popular Short Hair Cuts /Via