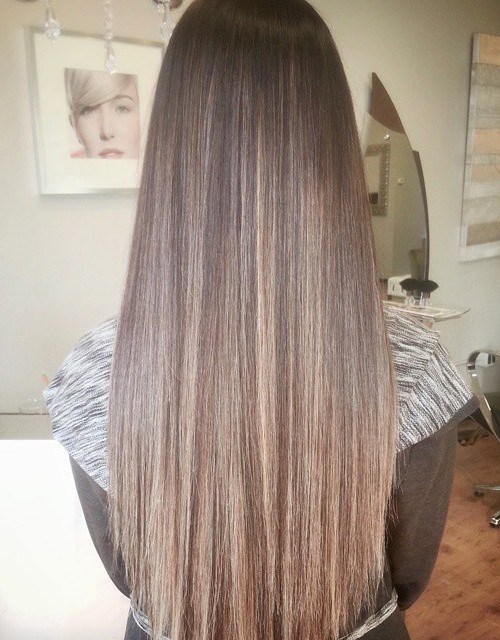 20 Best Ways to Wear Brown Hair
Brown hair– it's attractive, beautiful, and downright stunning. But just like any other color, leaving it one-noted can be a bit mundane. If you're looking to switch things up a bit with some highlights or just lighten your overall style altogether, you're sure to find a brown hairstyle on this look you adore.
Will you choose a hairstyle that's glowing with rich golden ombre? Or will you do a minimalist look with just a pinch of scattered highlights throughout? So many styles to choose from, you'll be glad you were blessed with some rich brunette tresses.
Light Ombré Balayage Hairstyle for Long Hair
Ombré is the hottest hair coloring technique right now, and it's easy to see why in this lovely lady's locks. Instead of tossing highlights up top, let your natural beautiful brown roots grow out on top while lightening the lower half. It's an easy, natural-looking transition that's very appealing to the eye, and works on hair lengthy like this or even on shorter cuts.
Brown, Ash, Ivory Trio: Ombre Long Curly Hairstyles
Making a BOLD impact with every step is exactly what some women are looking for, and you can certainly make that wish a reality with this flavorful trio. Her dark roots are verging on jet black, making quite a powerful statement with the ivory down below. But to make the transition a tad bit easier and add even more flare to her hair, there's a tinge of ash in the center to balance everything out. Make these colors standout and flow together beautifully with long, luscious curls.
Subtle Golden Balayage: Chic Shoulder Length Hair Styles
Ladies with light brown hair like this may want to hold on to their natural color as much as possible, while still providing some dimension to their hair. One easy way to do this is to indulge in the balayage hair color technique, choosing a color that's very close to your own. The result is a natural, sun-kissed beauty that's great for every occasion.
Honey Ombré
When it comes to brunette ombré hair ideas, you can mix and match with a load of colors. This woman chooses a warm honey lower half with hints of reds and Browns for a ravishing style that's welcoming and brilliant. The subtle lightening contrast is a great match for her tan skin tone.
Golden Brown Balayage Lob Hair Style
Fall requires a hairstyle that's warm, something that will pair well with the beauty of the falling leaves around us; and this style NAILS it. A golden brown balayage hair hue combines gentle and soft Browns together with just a hint of red for a stunning finish that looks extra appealing on a gently waved lob.
BRONDE
We saw Bronde on some of the biggest names in Hollywood, and we were all dying to try it; and it's clear to see why! Bronde infuses a glamorous blend of Browns and blondes, the perfect mix for a perfect finish. Toss it off to the side and pump it up with some hairspray for that sassy sex appeal that'll make heads turn.
Layered Light Auburn Balayage
Creating luscious volume is as simple as adding a multitude of layers in a variety of lengths, from short ones on top to lengthier ones underneath. The contrast is superb, but to add even more density and bulk to your tresses, toss in some lowlights and highlights as well. Her balayage has fabulous auburn notes that remind us of the grace we find in the fall season.
Light Golden Ombre
Crazy contrast? Yes please! Her light golden brown ends are loaded with yellows, oranges, and other delightful colors for a bright and perky finish that's heavily contrasted against her dark chocolate roots. Showcase those light golden ends even more with bouncy ringlets.
Blonde Highlighted Face Framing Waves
With a delightful 70s throwback feel, this shaggy 'do is great for creating graceful dimension and luscious body. She starts off with a brunette base, lightening intensively with some blonde highlights. The face framing cut is great for women of all ages, especially with some divine loose waves that let the colors meddle together flawlessly.
Golden Ombre
What girl doesn't love GOLD? Whether it's on a ring, a bracelet, or in your hair, you know gold is going to shine and shimmer from a mile away; and that's what is so wonderful about this ombre. Her darker roots are the ideal platform for golden down below, a mix that's intoxicating and very sultry. Such a regal look that's made even more desirable with some thick, luscious curls.
Dark Blonde Highlights
For a lighter take on ravenous brunette locks, make it glow with some gorgeous dark blonde highlights. They have a way of brightening your face and giving you a fresh, youthful glow that's great for ladies of all ages and hair types. Just look at that divine contrast!
Ash Brown Waves
This color is undeniably cool, with a smoky effect that's warm and clever. It's a great option for gals who want to shake things up in the brunette field, and those waves give this look a feminine touch.
Ash Brown Wavy Lob Haircut
Sometimes leaving your hair one-noted is a fine idea, especially if you have thicker hair and don't need ANY more dimension. Her dark ash brown bob is simply adorable, especially with those thick fringes that go just below the eyebrow. A cute, bouncy look, that still has a bit of diversity thanks to those cute waves.
Ash and Brown Duo Waves
With the perfect amount of ash and the perfect amount of dark brown, this look is styled up with perfection. It's a rather simple color idea, as you won't need to touch up the roots all too often. It looks natural and appealing, especially when tossed with some natural waves that look as if they came straight from the beach.
Rich Gold
When you indulge in a seductive and regal gold such as this, you MUST apply some shining product to ensure those babies really GLOW! Her hair looks illuminating and downright breathtaking, and we're loving the addition of loose waves for that sexy volume.
Honey Balayage Curls
Honey; mm, oh so delicious! Whether you're eating it by the spoonfuls or indulging in a sensuous honey shade, it's sure to be enjoyed one hundred percent. Hey honey balayage is the perfect balance to her mousy brunette locks, and those curls are just oh-so-sweet.
Minimal Highlights
Minimal highlights? MAXIMUM EFFECT; especially when you're hair is tossed and spritzed to utter perfection! Her simple highlights add just a tinge of glow to her dark brunette base, a lightening enhancement that pairs well with her skin tone. And those long, luscious waves? Sizzlin'!
Ash Blonde Ombré Balayage Hair Styles
If you have super dark brown hair that's verging on black and want to make a bold tonal contrast, consider an ash blonde ombré hair hue. The two colors look bold yet brilliant next to each other, with a wide variety of lowlights and highlights to create crazy dimension that's downright stunning.
Dark Silver Ends
It may seem too much to douse your entire head with grey hair, so ease into this unique and new color trend by adding some silver to the ends. For some volume and feminine bounce, toss in some thick waves for fluidity that will catch every mans eyes.
Smoky Brown
Creating that sexy 'smoky' effect, as if you were coming right out of a dream, is a cinch with brunette hair. Toss in some ash blondes and grays throughout your mane for that heavily smoky appeal that's really unique and illuminating. Don't forget some waves to add a feminine touch.