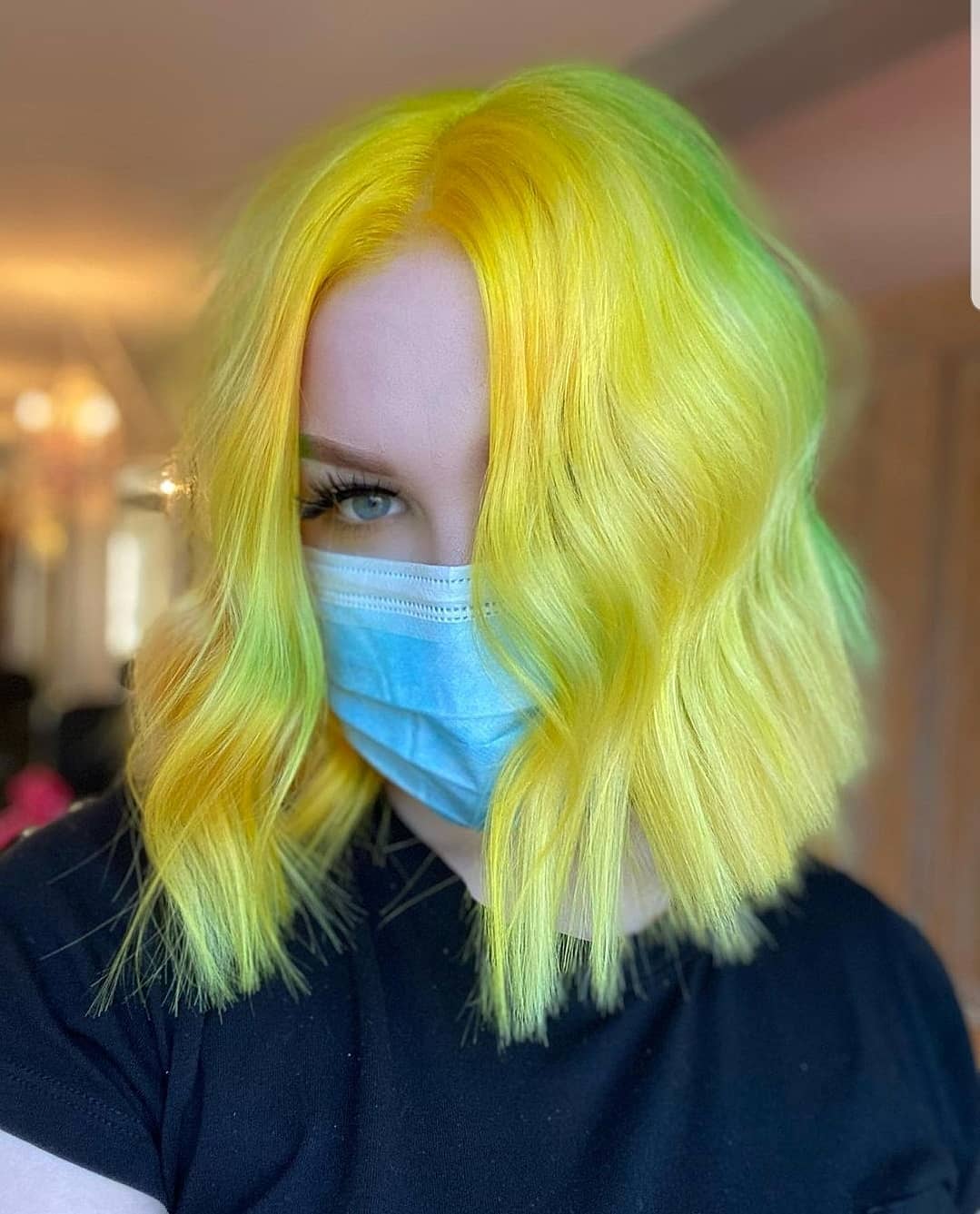 10 Pretty Medium Length Wavy Haircut Ideas for a Colorful Big Night Out!
Medium length wavy haircut ideas are mostly centered around trendy, long bobs this season. And that means there are lots of different wavy haircuts to choose from. But not only that, these high-fashion haircut ideas all have a new and exciting hair-color design, all ready for your next big night out! So take a look and plan your next makeover hairstyle now!
1. Creamy-beige bob with green, yellow & red balayage – pretty medium length wavy haircut ideas
If you're planning a summer full of dancing and parties, you need a hairstyle that will suit your mood! And this is a lovely, natural, golden-beige blonde hair color, which has been lit-up with balayage like fairy-lights on a summer's evening. The yellow highlights really trick your eyes into thinking they're electric lights, don't they? This eye-catching, tousled, wavy lob hairstyle will help you enjoy the summer like never before!
2. Pink & lavender bob – pretty medium length wavy haircut ideas
Get romantic with this pink, lavender and gray long bob haircut, which just shows how you can make a simple, almost straight, hairstyle incredibly interesting! Red and lilac roots add color depth to lighter shades added to a neutral, oat-blonde base. And this range of colors, which are all very close in tone, creates a fabulous, fantasy hairstyle with gorgeous lavender, blue and pink balayage! If you're a girly-type, you couldn't choose a better, color makeover – designed for this year's trendsetters!
3. Light-brown & platinum-blonde – pretty medium length wavy haircut ideas
Light-brown is such a pretty and flattering color, yet it's been very neglected during the last few years. And this style is perfect if you're the indecisive type. You can rock both the natural look and a platinum-blonde bombshell vibe all at the same time! Light beige-brown looks gorgeous against the model's green eyes and green, cord jacket. And there's also a medium-brown section on the blonde side, so you can wear fabulous head-braids with beautiful color patterns, too. This is a very chic version of the half and half hair color design!
4. Oat-blonde wavy bob with aqua/pink balayage – pretty medium length wavy haircut ideas
Here's a fancy summer hair-design to liven up your hair ready for some fun in the sun! This pretty pink, aqua, green and blue balayage design projects a really happy vibe. And it shows the model is getting ready for some great nights out. This trendy, warm-weather look is perfect for dancing, parties and beach-time and it will match the latest pastel fashion clothes perfectly! The balayage has mostly been done on the underneath layers of this fashionable, steeply angled bob, so you can control how much color is on show. Just add a fun hair accessory to clip up your hair and show it all, or just let it show through the top layers.
5. Fiery copper & taupe hair colors on sexy tousled wavy lob
If you're looking for something lively and eye-catching, for brunette or mousey-brown hair, this fiery look could be perfect for you! It's a super-trendy mix of warm and cool colors, carefully chosen to complement each other. Deep pink roots gradually change to taupe brown balayage on the top layers. And the middle section is red-copper, which smoothly transitions to yellow-orange in the straightened ends.
6. Platinum-beige & black vertical highlights
The classic black and white theme in hair color designs is never completely out of fashion. Today's medium and long bobs all have a special hair color design options available. And these can turn your easy-care, fashionable haircut into an avante-garde statement of your fashion credentials! This option swaps white-blonde for a super-soft, creamy-beige blonde with gray balayage. And you get a fabulous contrast with carbon-black vertical highlights, which add loads of 3-D color depth and make fine hair appear thicker! Totally trendy!
7. Yellow wavy bob with green balayage for fine hair
Ready for a change? If you have fair or blonde hair, this stunning yellow color is a great hair color design to wear for summer! Fine hair can be difficult to wear long, so a medium lob gives you enough hair to swish about, without it being pulled flat to your head by the weight. And an angled bob cut with trendy, choppy, textured tips, and one major wave, will stay in shape all day.  A fashionable center-part is suitable for oval face shapes and the addition of green balayage ensures your medium hairstyle will always look fresh!
8. Taupe with lavender & burgundy balayage
I love the way that fashionable clothing colors are now being used to create fabulous, hair color designs! As lavender, purple, pink, gray and taupe are all popular fashion colors for this season, why not match your hair to your outfits? This pretty, color blend works well on thick hair, which can be styled in defined waves to show off the different shades. This set of cool colors will look best on women with cool/neutral undertones to their skin. Will it cover up gray hair? You betcha! LOL!
9. Beige-blonde wavy side-part lob & white balayage
Here's a classic Nordic blonde look in cream, beige & white blonde colors. And it's a fairly natural look with shadow roots and flashes of golden-beige and white balayage. It's cut with heavily degraded tips, which create a feathery look to the ends of thick hair. And the finish is totally this season, with defined waves arranged in a heavily tousled style. The asymmetrical side-part creates a soft wave that frames the face in a gorgeous, blonde look that's perfect for romantic evenings a deux!
10. Soft beige blonde & cream balayage on center-part bob
Soft, cream blonde is one of my absolute favorite hair colors for creating a cute, natural look! And the colorist has done a fantastic job with soft, shadow roots, which transition gently into light taupe before switching to a creamy-blonde shade from lip-level to the tips. This is the best light-blonde shade for women who want a trendy look that's a little more forgiving on the complexion than cool, ash-blonde. It's a sophisticated blonde shade that will always enhance your fashion and beauty style.