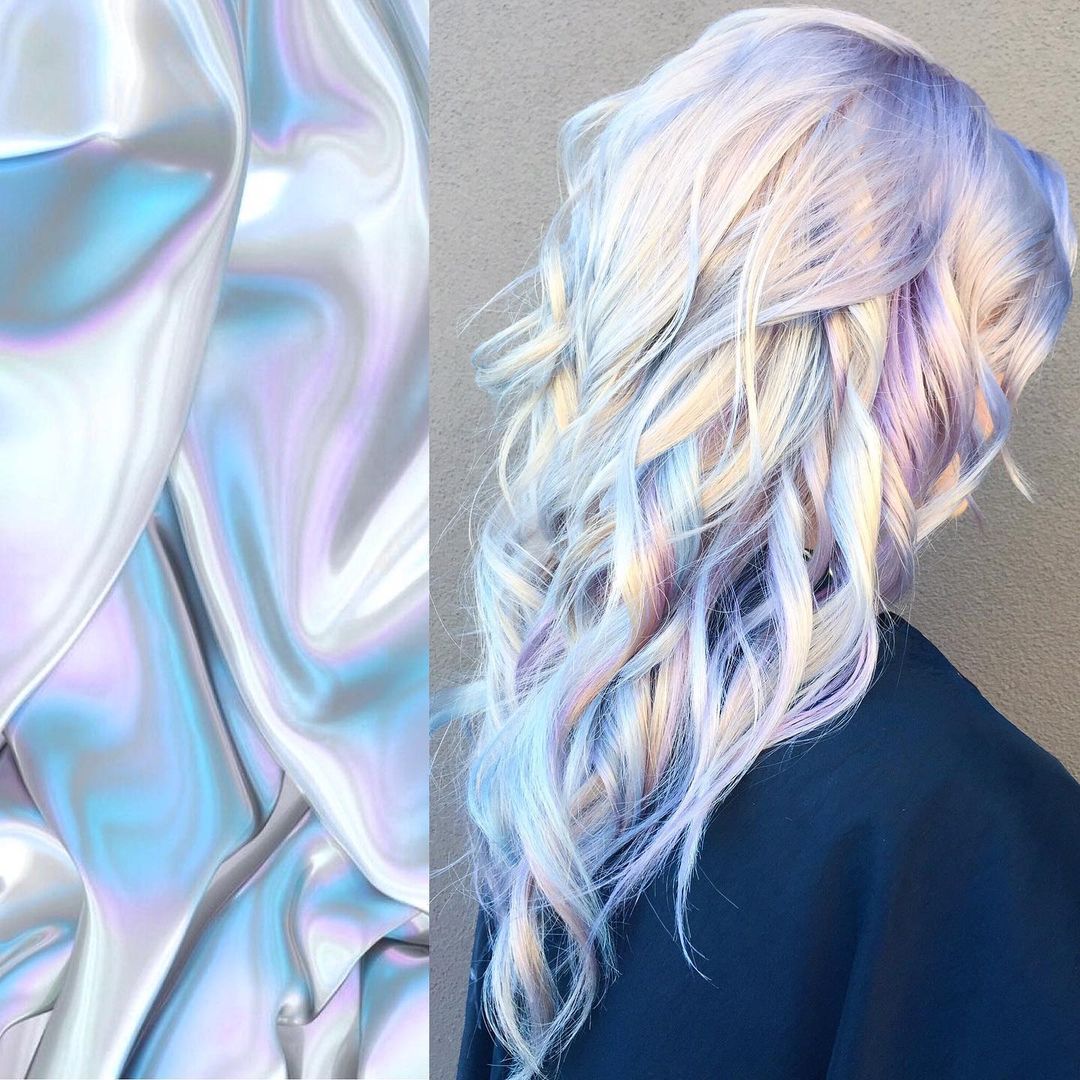 10 Long Hair Color Design Ideas | Long Hairstyle Trends
Can't wait to see what's new in hair color designs for your long hair this year? They're truly exciting! And now that we have fantasy hair colors, we can match up with the latest fashion colors for summer. So take a look at soft, pastel colored hair designs for long hair, which also include super, new khaki, beige and taupe blondes! Phone your salon now and book an appointment – you'll be desperate for a trendy makeover after you've seen these fabulous, new looks!
1. Light lavender-blue waves on long hair color design ideas – long hairstyle trends
If you're looking forward to plenty of nights out this summer, now is the time to pick a special haircut. Gray roots and tips, combine with a central, horizontal band of super-cool, lavender-blue hair color that's a real head-turner! And this lovely, long hairstyle is also very appealing, with tousled waves contrasted with heavily textured tips.  The colorist has applied slightly deeper shades of blue to accentuate the smoothly defined waves. And the white-blonde balayage creates excellent 3-D color depth, which makes hair look so much thicker!
2. Gray & russet-red long hair color design ideas – long hairstyle trends
This reverse ombré has lighter roots, tinted a special gray-beige blonde shade. This blending of warm and cool shades fits the season's trend of mixing hot and cold colors for stunning, new looks. And you can see how eye-catching it is, when the soft color gently transitions to an intense orange-red shade! Notice that partings have changed this season and we're seeing more off-center parts, as above. This is a bold look for a confident woman, but if you can pull it off, you'll be the envy of everyone around you!
3. Pastel-green & coral long hair color design ideas – long hairstyle trends
Horizontal bands of rainbow color are becoming a traditional, summer makeover trend! And this lively look combines gray, yellow, green and coral-pink for a gorgeous, high-fashion hair color design. The straight top and ends are contrasted by bendy waves in the centre section. And this accentuates the contrast between cool and warm colors. Imagine how fabulous this long hairstyle will look in a loose, casual braid over one shoulder!
4. Pearlized pastels on long hair color design ideas – long hairstyle trends
How clever is this gorgeous mixed color hair design? The colorist has taken inspiration from a futuristic art image and reproduced it in the form of hair color! The pastel colors of white, lavender, pink and pale blue are all high-fashion colors for this year. So you'll find it easy to buy clothes to match your glamorous new look! The stylist has woven the wavy strands into a lovely pattern, which adds lots of volume and makes fine hair appear thicker. It's a show-stopping style for a special event!
5. Border highlights of neutral blonde on medium brown long hair
Taking balayage, 'baby-lights' one step further, you get these more sophisticated, 'border' highlights. This superb new highlighting technique not only lightens the face-framing strands, but also goes on to apply blonde balayage to the layers underneath, in a symmetric pattern. Can you see how the colorist has also graduated the shade of blonde from warmer beige around the face, to a cooler beige at the tips?
6. Punk neon lime-green with white blonde asymmetry on long straight hair
This long hairstyle has a symmetrical cut, with long layers and heavily tapered tips. And that creates a contrast between the smooth, straight texture and spiky ends. However, there's also high-fashion color asymmetry between the two sides, which are eye-catching, punky lime-green neon and platinum-blonde. This is a fabulous look for anyone who's part of the alternative fashion scene!
7. Natural taupe with cool white blonde ombré & centre part
This neutral taupe-blonde hair-color is perfect for matching with trendy, summer colors. It's a cool color that goes really well with lavender, pink, blue and red. And the color transitions into soft, white-blonde with golden-beige, warmer tones at the tips. So this adds a warmer color that also complements skin with cool/neutral undertones. Taupe is a subtle blend of gray and brown, and it's a fabulous colour to wear if you have green eyes!
8. Warm light taupe with shell-pink ombré
Pastels are the high-fashion hair design colors for this year! And that's good, because they're also the trendy colors for fashion clothes. Here's a lighter shade of taupe which covers the top section of the hair for a shadow roots effect. And then it gently changes to cute, shell-pink, a lovely cool shade that suits skin with cool/neutral undertones. Vertical highlights in lighter, white blonde add plenty of texture and movement to this romantic look!
9. Ultra-glam wavy hairstyle in aqua-blue shades
The style is 'old Hollywood' glamor, but the color design here is definitely futuristic! And the two hairstyle ideas may be decades apart, but together they make a pretty hot look! Long layers allow you to style your hair in gorgeous, deep waves. And the blurred side parting creates a quiff for added height, which is great for adding 'length' to a round or wide face shape. Cascading waves make an alluring peek-a-boo feature, which drapes sexily down one side of the face. And this delicate blue and white hair color design is a great way to draw attention to a pair of pretty, blue eyes!
10. Beautiful pearlized shell-pink and peach wavy hair
Pearlized blonde shades make hair appear ultra-soft and totally glamorous! And we love the way the colorist has varied the colors so delicately, to emphasize the waves with pink, peach and white balayage. The stylist has cut long layers to get these beautiful waves, which taper at the tips to a dainty finish. And this makes a creative contrast between the softness of the waves and the trendy, spiky ends. This image also shows how to successfully match your new hair color to the colors of any tattoos!