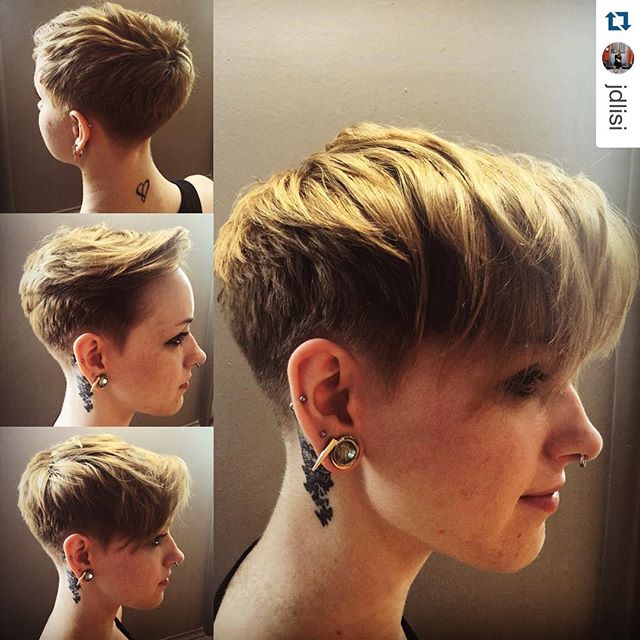 21 Incredibly Trendy Pixie Cut Ideas: Easy Short Hairstyles
Pixie cuts are trendy and stylish, and there's so many fashionable cuts to choose from! If you're looking for your next cute pixie cut, check out these incredibly trendy pixie cut ideas- everything from lengthy with loads of layers to edgy shaved sides.
Lovely Layers and Short Side Cut
This look has it all: a beautiful natural-looking blonde color with plenty of lowlights and highlights, a stylish side cut short and funky, and tons of lovely layers that add some serious bounce. It's a rather simple haircut, but that doesn't mean it lacks in elegance or beauty. The perfect pixie haircut for women of all ages, whether you're a girl in her teens or a women over 50.
Girly Mohawk
Who said girls can't rock a mohawk? Think again! For girls who love an edgy, look-at-me haircut, we highly recommend this wild 'do. She shaves the sides of her hair, leaving plenty of strands up top to be styled into an enchanting mohawk. How incredible is this look!? Don't forget to match it with all your fav studs and chains.
Shaved Back
Her black and white oreo hair coloring is an absolute knockout, perfect for any time of year. But what about that cut?! It's incredibly modern and stylish, featuring a shaved back and tons of layers up front. This makes it easy as ever to add some serious body and volume with a bit of teasing, and don't forget a trendy side sweep.
Layers and Bangs Galore
If we could describe this hair in one word, it would be HOT; or perhaps even SIZZLING. There's so much to love about this mane, from the gorgeous and expressive red color to the enticing long layers throughout. We love the addition of front bangs that skin the top of the eye; sultry and seductive, two of our favorite things.
Short Above the Ear Cut
Totally unique, this fashionable look has length and shortness all in one. She leaves the top of her mane lengthy and fresh, while the sides are cut extra short above the ear. A flawless look for spring, summer, fall, OR winter!
Shy Shaved Side
Wow. Just wow. We're adoring the hair color on this woman! The sea foam green is exotic, and it just looks simply amazing against her skin tone. As far as the haircut goes, here we see a super polished look that just has a hint of shaved side- one of the most popular trends this year. If you're not bold enough for an entirely shaved side, consider this shy peek-a-boo shave.
Short Back
Much like our beloved shaved back hairstyle, this is another trendy 'do with the same idea in mind: to add plenty of volume up top while keeping the back short and manageable. For this look, the left is kept super short while the rest of the locks hang loose in layers. She finishes off her modern look with super popular gray and violet locks!
Classic Boy Cut
So maybe a mohawk isn't your thing. But what about subtle spikes? Girls can totally rock spiked hair- don't let anyone tell you differently! This lovely classic boy cut features shorter hair throughout, made vibrant and unique with purple and black hair coloring and a few spikes up front.
Bowl Cut
A bowl cut? I thought that was a fashion faux pas we left to second grade boys! Well, NOT anymore! The classic bowl cut is making a HUGE comeback, being recognized as a fashion STATEMENT rather than a faux pas! Just look at how chic and edgy she looks, love it. Plus you can style this haircut in SO many amazing ways, like you see in the pictures below!
Extra Lengthy Pixie Cut
This haircut leaves the hair SO long, it's almost not considered a pixie cut anymore- but it is. In fact, it's perfect for the gal who doesn't want to completely chop her locks, still seeking a bit of lengthy and perky attitude. Loving the longer bangs surrounding the face, too. Great choice for girls with a round face.
Shaved Side Cut
This girl rocks. There, we said it. From her intense eye makeup and perfect brows to vibrant violent hair color, she's as edgy as it gets; and she only takes her rockin' style to the next level with a shaved side!
Super Short Layers
So you're one of those girls who would love to chop your hair incredibly short and rock an edgy and seductive style, huh? Well we've got the perfect cut for you! This haircut is absolutely fab and rather alluring. The entire mane is cut short, leaving enough room for some super short layers from front to back. Finish off this seductive cut with sultry makeup shown here.
Lengthy Back
We've seen a short back and a shaved back, but what about a lengthy back? We love this cute look because it allows for some length to your pixie style. Sweep it to the side and even add some curls if you want to really bring this beauteous look to life.
Asymmetrical Layers
A pixie cut isn't a pixie cut without the classic length side bangs, just like we see here. But what really makes this haircut stand out is the variety of asymmetrical layers throughout. Extremely stylish and bouncy, matching perfectly with any wardrobe from subtle to wild, elegant to casual.
Very Lengthy Layers
For women struggling with thick hair or just wanting to add some simple life to your locks, this is a great choice. It works easily for women over 60 or women in their teens and anywhere in between. Long layers spruce up lifeless manes and give it that youthful bounce we all know and adore. Don't forget some cute bangs up front to soften the face!
Classic Long Pixie Cut
Modern and classic, this long pixie cut has everything we love about a pixie haircut. The hair is parted deeply to one side, a classic and attractive look we love. Next, one side is kept semi-short, skimming the ear, while the other side is the perfect length for sweeping across the forehead. Loving everything about this sleek look.
Short Spunky Layers
Short layers? Yes, please! Just look at this bouncy and fun haircut! The variety of super short layers give this hair some serious life, and just requires a little bit of gel to keep it bouncy and fun. Perfect for women of all ages!
Long Layers  over Shaved Back
Keeping the back of the head completely shaved is an awesome idea if you're looking for a haircut that's easily managed. What we love about this particular style is the fact that the rest of the hair is kept longer with layers, which allows the hair to dangle gracefully over the ear and shaved back for a heavily stylish finish.
Long Cut with Choppy Bangs
An adorable, perky haircut with plenty of funk and attitude, this particular pixie haircut is a great option for younger girls who like a cute look. The length is left rather long and filled with tons of charming layers while the bangs are cut super choppy for a unique and bubbly finish.
Super Lengthy Bangs
Black locks with hints of deep blue? LOVE. It's edgy and spicy and think it's absolutely perfect for the cold winter season. Now let's talk about that edgy haircut! The back is kept short and easy to manage while the front is left extra lengthy. The end result? A hot and sexy hairstyle that would go perfect with dark pouty lips.
Funky Layers and Short Side Cut
Want to add instant bounce and volume to your mane? Then turn up the layers! This lovely little cut features a variety of shorter layers, creating a delightful finish that can easily be styled up with some waves like we see here. Super adorable and the brown hair color looks gorgeous paired with natural makeup.
Who knew there was such a wide variety of cute pixie cuts to choose from! Pophaircuts.com which chop will be your next choice?