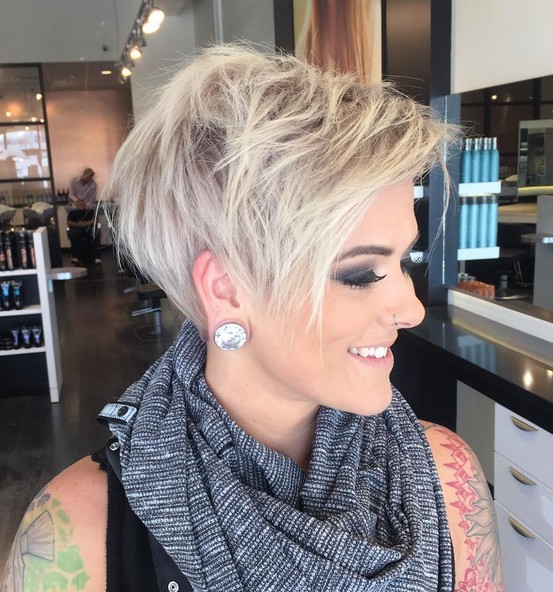 Adorable Pixie Haircut Ideas with Bangs
Pixie haircuts are the perfect choice for girls who are looking a trendy, stylish, and ultimately carefree hairdo. We've come up with a list of adorable pixie haircut ideas that incorporate bangs into the mix, a great idea for all women who want that flirty accenting hair around the face.
Tousled Pixie with Bangs
This red-hot look is as cool as it gets! She starts off her look with some fierce auburn hair, with hints of bright red to capture the sun. Her lengthy pixie haircut can be styled freely and tousled up a tad before heading out on the town, and of course that side swept look with accenting lengthy side swept bangs ties it together perfectly.
Shaved Undercut with Highlights
Live life on the edgier side with this unique 'do! First she starts off with an incredibly trendy blend of silver and pink, two must-have colors for 2016. The shaved undercut is extremely cool while her lengthier counterparts are blown back and swept to the side for ultimate style. Can't forget your cool shades to match!
Red Hot Shaved Pixie
Shaved hair is SO in style right now, but if you're not looking to completely shave off your mane, try adding a bit of a tighter shave in the back. Let the lengthier parts of your pixie dangle cutely and elegantly, and take your look to the next level with a fierce red hue.
Aqua Green Waves
This might be the coolest look we've seen yet: with a unique aqua green shade, her personality shines through. But why leave your mane stick straight when you can spice it up with some loose volume? Her waves are sassy and sophisticated, and with those extra-large dangled earrings and perfectly crafted eyebrows, it's a stunning look that can even be worn to the office or fancy occasion.
Tossed Back Bangs
Volume doesn't have to be limited to the back and sides of your hair. To make your face shine bright and let those features stick out, try blowing back your bangs and dousing them in hairspray for that uplifting, upright finish.
Blended Bang Styles
There's a TON of texture going on in this look; and no, we're not complaining. If you're a lover of layers, try it out on your pixie haircut for easy dimension. If that's not enough, try adding a blend of bang styles like you see here. The contrast is fabulous and oh-so-cute.
Short Side Swept Bangs
Side swept bangs don't have to be three miles long! If you're looking for a cute and perky way to sport side bangs, then chop them short and leave them above eye-level. A lengthier pixie that drapes barely below the ear is an awesome addition to this style.
Edgy Side Sweep
So you've indulged in some seriously edgy and saucy shaved sides and undercut, eh? What's a girl to do now, with those lengthy strands up top? Well, what better way to add some sauciness to your style then by sweeping them off to the side and texturing them up a bit; now THAT'S hot.
Silver and Blue Side Sweep
We saw silver and pink earlier, but another awesome combo that's sweeping the fashion world by storm? Silver and blue! This charming color is accompanied with contrasting lengths, with a shorter side on the left and a lengthier counterpart. She tosses her lengthy pieces over to an extreme side for an edgy and stylish finish that lets those highlights shine bright.
Classic Pixie
This good old-fashioned pixie haircut is one we see everywhere, but we love it and can't get enough of it. The short in the back long in the front 'do is a favorite among women of all ages, and she leaves her bangs skimming over one eye for a little attitude.
Volume!
You know what works well with bangs? Some serious VOLUME! This is an awesome look for older women, as the delicate height and swept back look adds a youthful glow.
Super Short Shaved Undercut
Talk about ATTITUDE! If you're a girl with a fierce personality and a 'come at me' attitude, be ready to take on the day with this awesome cut. Her shaved undercut is fiery and full of punk-rock attitude, but those platinum blonde pieces tie it all together. These platinum side swept bangs look perfect with a dark purple pout!
Purple and Blonde Balayage
A lengthy pixie haircut with super side swept bangs is ridiculously trendy, but one easy way to set yourself apart from the crowd of pixie 'dos is to amplify with some sassy colors! This blonde and purple mix is heavenly, an eye-catching and exotic blend that couldn't BE any trendier.
Wavy Side Sweep
With caramel highlights like these, you wouldn't want to leave them alone. Let these brightened locks be the star of the show with some fab waves.
Mess it Up!
Leaving your pixie slicked down can be cool and all, but sometimes you just want to indulge in that sexy bed head style before stepping out! This look is not only flirty and cute, but you can literally do it in a matter of minutes- seconds even! So on days when you're short on time, tousle up your pixie!
Highlighted Ends
Oh, gotta love that saucy color! If you're a lover of your natural dark brown locks, simply brighten them up a bit with some highlighted blonde ends. The combo is fierce and with that super side sweep, it's an edgy 'do that is sure to turn heads.
Height on Top
This is one of the all-time favored pixie hairstyles, with short sides and tons of length up top. But don't let those lengthy strands just settle loosely and boring-like on top; give them some edgy bounce and style it up with some back-combing. Some dangley earrings make this look go from flirty to elegant!
Messy Long Pixie
If you're not ready to completely chop off your mane, then a lengthy pixie is an awesome choice. And if you're looking for a punk-rock inspired 'do, this is certainly it! She adds some seriously messy texture to her look for that perfectly imperfect finish that's only completed with some extra long side bangs and wine lips to match.