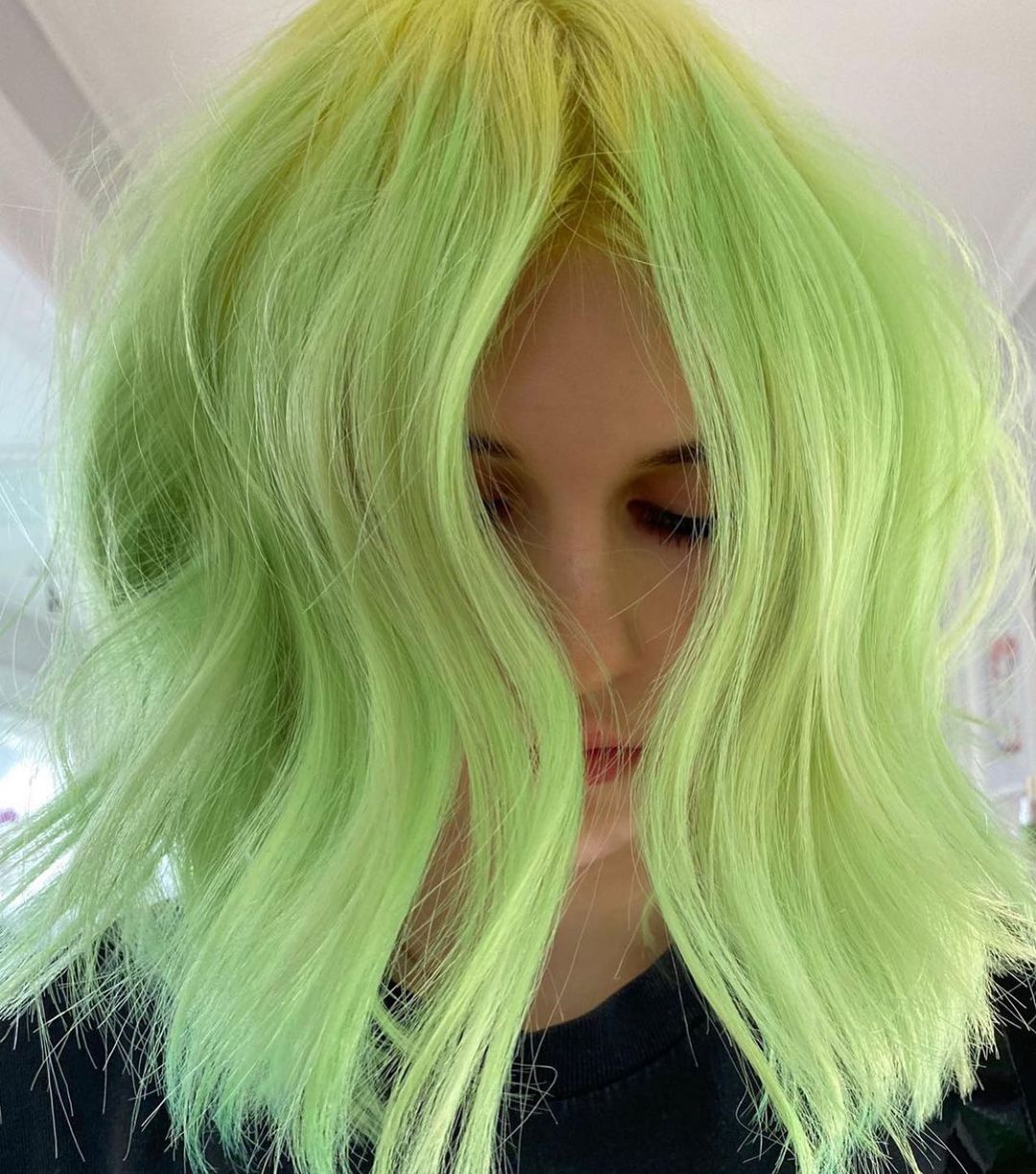 10 Medium Length Haircuts & Creative Hair Color Designs
If you're getting ready to create a fashion splash this year, try one of these fantastic, rainbow hair color designs! From cool silver to hot copper and with lots of shades in between, these showstopping, medium lobs are bursting with rich colors and new balayage techniques. So get ready to be amazed by the latest creative hair color designs!
1. Lavender-gray & coral medium length haircuts & creative hair color designs
This is a new technique that not only contrasts warm and cool colors, but also splits them in a top and bottom layered pattern! The hairstyle is a little wild and tousled, as this is definitely a rad new look for rebels who enjoy the latest trends. And those lovely, loose waves give us just a hint of the super looks you can achieve with two cute colors. Imagine this in a head-braid style, or half-up/half-down – the options are endless and exciting!
2. Lavender-blue & pink medium length haircuts & creative hair color designs
An extreme, angled lob is a great contemporary fashion hairstyle, but when you add an expert hair color design like this, it moves straight up to hairstyle competition winner range! With lavender-blue roots moving effortlessly down to pearl-white, you get a super-glossy effect. And the pink tones in the tousled waves beneath, are just gorgeous. It's a very romantic and gentle look that's perfect for wearing with this year's summer fashion clothes colors!
3. Vertical rainbow stripes – medium length haircuts & creative hair color designs
Here's a super way to make fine and medium hair appear thicker! Long, straight fine hair can be difficult to manage as it tends to look a little boring when left straight. But if you get a creative hair design on there, you can really change the vibe into a fun, trendy look. This design has a base color of oat-blonde, to which the colorist has applied a lovely set of pastel colors in softly mingled, vertical balayage. The styled back sections add lovely texture and movement. And all you have to do is keep your hair well-conditioned!
4. Asymmetrical orange & brown medium length haircuts & creative hair color designs
This fabulous look for brunettes has all of the latest hair fashion features on display! The centre part and curtain bangs are this season's newest twist. And the orange balayage is varied between the two sides. One side has the top layers tinted orange, and the other side has balayage in the layers underneath. There's also trendy border highlighting on one side of the fringe. Orange always looks good with dark-blue, so the colorist has also made sure that the hair color complements the model's tattoos!
5. Fabulous glam wavy lob in pearlized pink & white
This is such a glamorous look, but it's also soft and romantic, which makes it very attractive! The talented colorist has added horizontal bands of pearly-white balayage, which mimic the look of light reflecting off the beautiful waves. And although pink is a cool color, there are touches of warm peach added to help define the waves. This hair color design will work best on hair that's naturally fair to blonde, and skin with cool undertones. And just look how well it goes with the model's blue eyes and blue-gray sweater!
6. Punky green center-part lob with bendy curtain wave
This is more stylish hair design than the original neon-green punk look, but it's still a color that reminds us of the original, retro looks. And that's why green is popular with 'alternative scene' fashion fans. This sophisticated version blends green with yellow tones, especially at the roots. And adds slightly deeper, grass-green in the middle section to accentuate the sinuous movement of the hair. And although the style doesn't have short, curtain bangs, you can see it's styled in the curtains look worn by Melania. This is an excellent way to minimise prominent cheekbones.
7. Tangled wavy ash-blonde long bob with gray and coral balayage
I love the new, tangled wave styles, as they add exciting volume and 3-D texture to any medium-length hairstyles! And as we all want our hair to look as thick as possible, this is a clever, high-fashion way to achieve that on medium and fine hair. The top section of this angled lob is gorgeous, silvery ash-blonde. And there's artistically applied gray, pink, yellow and coral balayage on the lower lengths. So it's a stunning, trendsetting look that will make you the center of attention wherever you go!
8. Tan & copper balayage on choppy wavy lob for auburn brunettes
Burnt orange, tan and peachy colors are very fashionable this year for fashion clothes, bags and footwear. So brighten up your brown hair with a multi-toned, choppy orange waves! Matching your hair, shoulder bag and Oxford shoes will give you a ton of trendy, style impact. And these warm colors are very attractive to those around you. Defined copper waves with expert balayage also make fine hair appear thicker. And this trendy haircut, with spiky tips, just needs a quick shake of the head to refresh the casual look during the day!
9. Rich blue with pale-blue balayage on choppy angled lob
If you favor cool colors, like gray, black, blue and pink, you'll find this extremely blue hair-color design will fit right in with your current wardrobe! An all-over color can be mixed and matched with fashion clothes to create absolutely, 'head to toe', casual or formal style that has lots of impact. The easy-style, choppy, wavy lob has been one of the most popular cuts for several years. So if you love your lob, but feel it needs refreshing this year, why not try a fabulously fun, blue makeover hair color design?
10. Sophisticated silver-gray & lavender angled lob 'showstopper' hairstyle
Every one of these fantastic new hairstyles is a 'showstopper' in its own right. But any hairstyle that makes your hair look like shiny, metallic silver is exceptional! If your skin has cool/neutral undertones and you have light-colored eyes, this is a fabulous makeover style for this year. Gray roots magically become a gorgeous, silvery, band of light around the center of the head. And then the loose waves become defined spiky tips with soft lavender balayage. This is perfect for a special occasion, like a cocktail party or dinner-dance where you definitely want to shine!