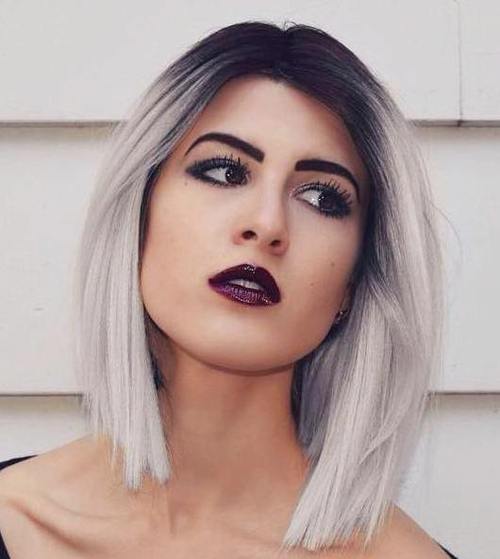 20 Ways to Style Sliver and Platinum Hair for Spring
Springtime is the best time to get rid of darker shades of hair and try out something lighter and brighter to match the beauty of the world around you; and silver and platinum blonde is the perfect way to go!
Silver hair coloring is one of the trendiest hair color styles of 2017- believe it or not! No longer is gray subjected to older ladies, and is now seen on women and girls of the youngest ages. And as for platinum blonde? This is a hair color that truly never goes out of style and can look good on women of any age. Here you'll see a great collection of silvery and white hairstyles perfect for the spring season! Don't be afraid to go LIGHT and BRIGHT!
Platinum Thick Milkmaid Braid
Milkmaid braids are undeniably popular for 2017, a look that had an innocent and historical appeal that's simply beauteous. For thick-haired gals, it's a simple style that makes a bold, yet dainty statement, especially when pushed back a few inches to leave a few strands loose around the face.
Platinum Side Braided Low Bun
Locks illuminating with a flurry of highlights and lowlights can benefit greatly from a braid, allowing the darker pieces to come to front and meddle together with lighter strands for a divine contrast that dazzles underneath the sunlight. This low bun with accenting side braid is a sweet, soft style that pairs well with lacy tees and light makeup shades.
Ash Blonde Bob
For the girls who crave an effortless style day in and day out, there's no better option than a cute short bob. Blending some highlights into ash coloring adds lovely dimension while heavy bangs frame a longer face beautifully.
Blonde Messy French Roll
French rolls ooze with sophistication and sass, making it the go-to look for fancy dinners and wedding nights. Messing up the roll gives it a touch of sex appeal that's heavily appealing to the eye.
White Razored Bob
An undercut with an overcomb makes for one outlandish style that has that edgy punk rock appeal that's perfect for those rocker babes out there. The pearly white hair coloring ensures your locks are standout and eye-catching at any public place.
Polished Platinum Mohawk
Slick, polished, and unbelievably edgy. This rockin' mohawk 'do lets your let out your inner punk rock chic, making this the ideal choice for crazy rock concerts or wild downtown parties. The sides are buzzed extra short to really draw attention to the heightened mohawk, a striking scene that's super crisp and polished with plenty of hairspray.
Voluminous Ringlet Lob
Beauty comes in many forms, but one of the most beauteous styles known to the hair world is none other than voluminous ringlets. The more bold and voluminous they are, the more fabulous and stunning they truly are. This blended platinum has plenty of flawless dimension, those ringlets showing off the meddling of lowlights and highlights perfectly.
Silver Tight Ringlets
Bright, look-at-me silver tresses are easy to spot and lovely to look at, but giving your look that extra dose of bounce is a huge plus. Tight ringlets that flow through your entire mane all the way to your bangs has a Marilyn Monroe effect that's sexy, alluring, and loaded with enticing volume. Perk it up even more with black eyeliner and a pink pout.
White Blonde Rose Updo
When making a huge statement at a high-end event, you need to pull out all the bells and whistles from your finest earrings to your loveliest dress- and of course your hair. Don't fall flat when it comes to fancy; instead, wrap your striking white-blonde locks into a fascinating and downright breathtaking rose Updo.
Platinum Textured Pixie
Bring out your chic and sassy personality with a textured pixie such as this! The lengthier pieces up top can easily be styled with some edgy life, while razored sides create some dimension that's wild and funky. A great look for the artsy gal who loves some messy attitude with a bright red pout.
Lengthy White Loose Waves
The looser the waves, the more casual the look! These loose white waves are the optimal choice for days where you want to kick back and relax, but still look your absolute best. A middle part first creates a cool feel, while that white hot hue ensures your hair is charming and bright.
Platinum Bedhead Bob
Who said you can't jump out of bed and be on your way? Forget hours of styling and headaches from styling tools; get up and go with a cute bob haircut like this and you'll STILL have heads turning thanks to that bold white hue!
Extra Voluminous Platinum Ombre Ringlets
A queen needs a hairstyle that can match her refined beauty, a style that can capture her essence of grace, while still being the star of the show; and that's exactly what you will find in this highly desirable hairstyle! Her extra tight ringlets give her body some serious volume, especially when tossed to the side. Leaving just a pinch of dark roots peeking out ensures there's plenty of contrast in case you're worried about looking pale.
Buzzed Pixie
It's the epitome of ease of styling- it's the buzzed down pixie. Great for rounder faces, this effortless look lets your facial features do the talking while your hair takes the backstage. And don't think you can't show off a platinum hair color just because your skin is on the darker side- it actually looks incredibly nice, creating a bold contrast that brightens your complexion immediately.
White A-line Lob Hair Styles
A-lines are cool, chic, and sophisticated, and leaving your white a-line completely stick straight provides a polished appearance that's great for the office. Run a straightener through your tresses before heading out to show off the precision of this haircut.
Silver Retro Waves
Silver hair is the up-and-coming hair color that every girl is trying out; it's not just for the older folks anymore! Tossing in some glamorous retro waves ensures your style has that flashback looks that's highly desirable, whether or not you pair them with hot red lips or softer tones.
White Ombre Loose Curls
If you love platinum blonde locks but don't want to lose too much of your natural darker roots, then consider ombre! This unique technique allows you to still maintain a bit of contrasting natural darker colors, with an illuminating lower half that's made bouncy and refreshing with loose curls. Great option for thin hair types.
Fishtail Dutch Braid Combo
Boho chic? Absolutely! This bohemian inspired look is exactly what you need to pair with your boho attire! A dutch braid is brought together to a magnificent finish thanks to a hanging fishtail braid down the center. This style really lets the blend of blondes gather together in a charming way, while the messy texture gives off a casual and relaxed effect.
Dark Rooted Lob Haircut: Ombre, Shoulder Length Lob
If you're looking to make a BIG, BOLD statement, then you may consider indulging in an ombre technique such as this. Her jet black roots are contrasted completely by a white lower half, a look that makes an impact wherever it's worn. Add some more intensity to your look with dark purple lips and warm eye makeup.
Trio Mini Braid Half Updo
Platinum hair can be extremely one-noted and boring, so to take a break from the mundane, add some dimension to your look with a trio of miniature-sized braids leading back to a cute half updo. Everyday style that isn't boring- love it!